Building your own kitchen cabinets can save you a lot of money, but it comes with its disadvantages. Building cabinetry requires numerous carpentry skills that should not be completed without proper experience. But, if you have the experience (or online guides like Lily Ann Cabinets' video gallery), building your own kitchen cabinets is a great option.
This process allows you to put your own special touches on the cabinets if wanted, and to ensure that your cabinets are well made. There of course are other options, but we will get into those later!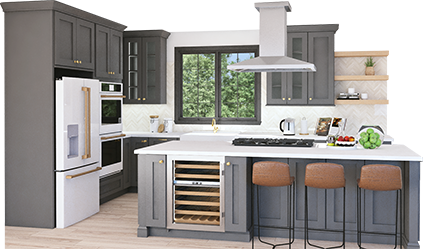 Get your FREE 3D kitchen design today!
Start Now
How much does it cost to build kitchen cabinets?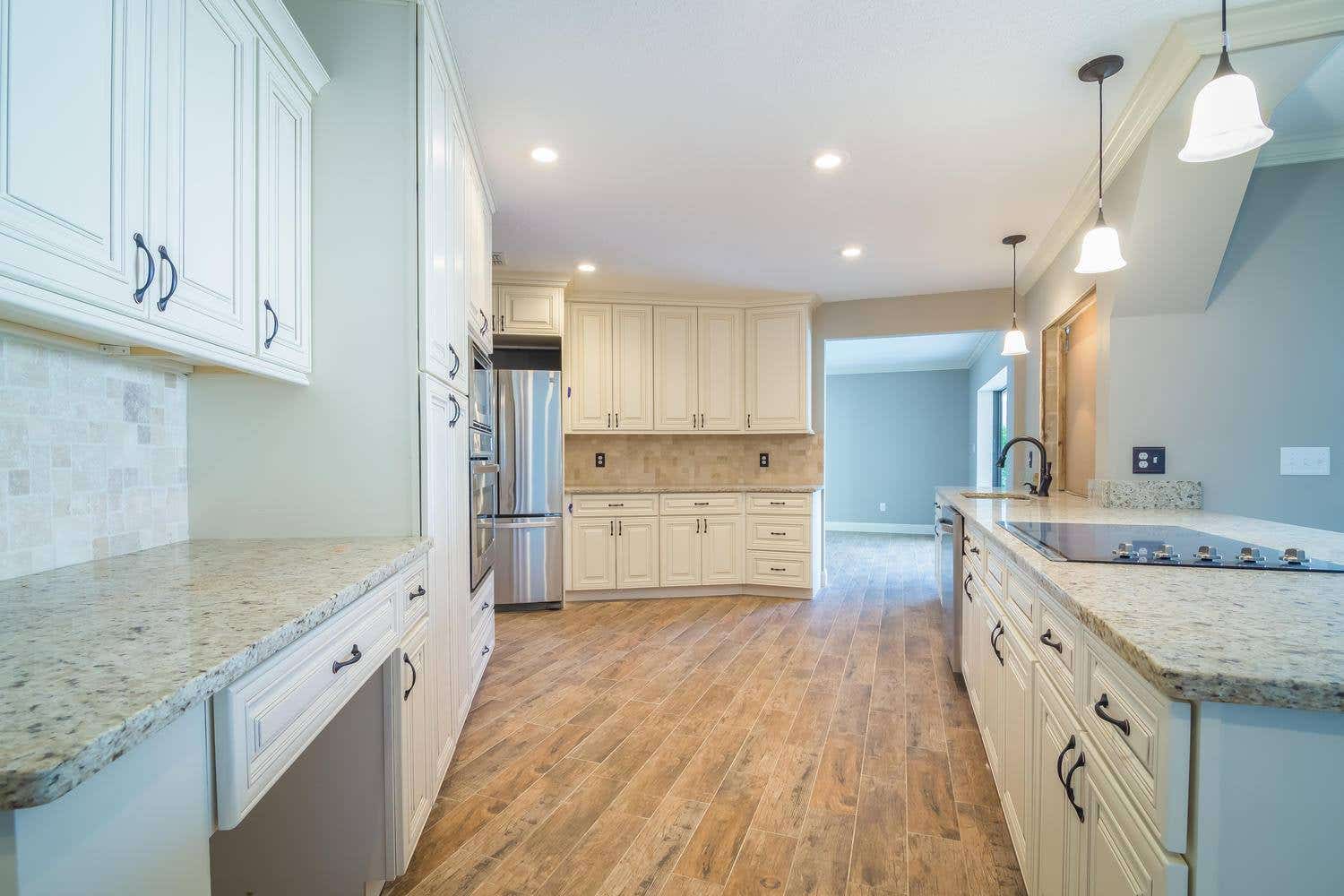 Lily Ann Cabinets - Bristol Linen
The cost of building your own kitchen cabinets usually ranges due to the size of the kitchen space. According to the cabinet building calculator, one can expect to pay around $800 to $1,200 per cabinet depending on the quality of the materials used. This includes planning, setup, equipment and material acquisition, area preparation, cleanup, materials and supplies required to build the cabinets and the potential daily rental of the machinery needed to construct the cabinets.
If you want to save money on your cabinet build, it might be a better idea to purchase ready-to-assemble kitchen cabinets. RTA cabinets ship flat-packed straight to your front door, with everything you need to quickly assemble and install. Lily Ann Cabinets' products ship factory direct, so our cabinets are available up to 50% off box store pricing!
Recommended for you: thousands of cabinet hardware options for kitchen cabinets in all styles and finishes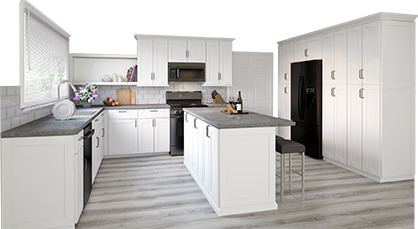 3D Kitchen Visualizer Tool
Bring your dream kitchen to life with our free kitchen visualizer!
Design Now
Can you build your own kitchen cabinets?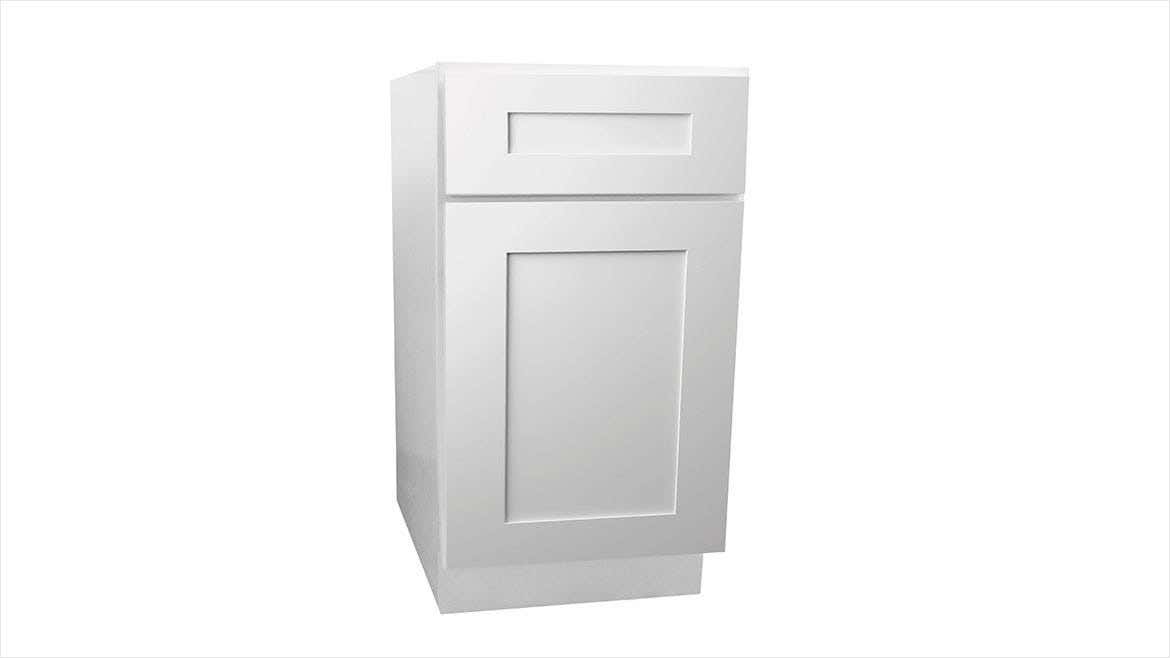 In short, the answer to this question is yes. With the right expertise, equipment, and knowledge, building your own kitchen cabinets is possible.
The trickiest part of the cabinet-building process is making the cabinet doors and the matching drawer fronts. This step can be time-consuming and easily noticeable if done incorrectly. Therefore, if you plan on building something more eccentric and detailed than simple box cabinets, be sure that you have the right knowledge in carpentry to do so.
Alternatively, ready-to-assemble cabinets come with pre-manufactured cabinet parts. The doors and drawers are already flawlessly constructed so you don't have to fuss with the carpentry that comes with building your own cabinet boxes.
How much money can you save by building your own kitchen cabinets?
Depending on the design and materials chosen for the kitchen cabinets, a small basic solid wood kitchen set would cost around $800 for materials if you are building your own. A large solid wood kitchen set would cost you around $1,800 in materials. The word "basic" refers to the fact that these costs are for the typical, simple box configuration of cabinets, not including matching door and drawer fronts or any eccentric lines.
Making VS Buying Your Own Kitchen Cabinets
Overall, the best way to construct new kitchen cabinets is to meet halfway between building cabinets from scratch and purchasing a brand new set of assembled cabinetry. If you have your mind set on making your own cabinets, try to get as much done yourself as possible, then hire a professional to finish the job. This will reduce the amount of labor that you would need to pay for.
However, if you don't have the time or resources to build your own kitchen cabinets, ready-to-assemble cabinets are your best option! Lily Ann Cabinets offers a wide variety of premium RTA cabinetry featuring solid wood box construction and the latest color trends.
Recommended: Shop our wide variety of RTA cabinets at 50% off box store pricing!
Create Your Dream Kitchen With Lily Ann Cabinets
We offer a wide selection of premium cabinetry, hardware, shelving, and more to help you create a home that stands the test of time. Pick from our large array of kitchen and bathroom cabinetry, including navy blue shaker cabinets and white shaker cabinets. Our professional designers are on standby to work with you — we offer FREE samples and FREE designs and quotes. Visit our FREE 3D design tool to get started today!
Related Blogs:
FAQ's
1. Is it cheaper to replace or paint kitchen cabinets?
It is usually cheaper to paint kitchen cabinets instead of replacing them completely. However, when you opt for ready-to-assemble cabinets from Lily Ann Cabinets, the cost of new cabinetry is comparable to the cost of hiring a professional to repaint your existing cabinets.
2. Is it hard to build your own kitchen cabinets?
It is difficult to build your own kitchen cabinets if you have little to no experience in woodworking. It requires machinery and precise measurements which are easy to make even the smallest of detrimental mistakes. If you plan on building your own kitchen cabinets, just be sure that you have a set, clear plan with all of the correct measurements, materials, and machinery. RTA kitchen cabinets are a much easier, high-quality, and inexpensive option than trying to build your own kitchen cabinets.
3. How much is the labor for building kitchen cabinets?
Labor costs for building kitchen cabinets can range widely based on the type of material chosen, style, or if it's stock or custom cabinetry. That being said, labor costs for building kitchen cabinets can range from $50 to $250 per linear foot of the space.