"Should I paint my kitchen cabinets?" "What will it cost to paint kitchen cabinets?"
It's common for homeowners to have these questions when considering a kitchen remodel. It's clear why they do! Everyone wants a beautiful kitchen on a budget. The kitchen is the heart of the home, after all.
So the question is… how can you take your kitchen cabinets from drab to fab without breaking the bank? One of the fastest ways to freshen up a tired kitchen is to paint your cabinets. Painting your cabinets is a relatively inexpensive way to spruce up your kitchen. However, DIYers beware: repainting a kitchen is not always as simple as it seems.
Here's why...
Painting Your Cabinets Changes Your Cleaning Routine
Wouldn't it be nice to easily wipe down your cabinets after a messy cooking session? While it depends on the paint job, cleaning your cabinets after a DIY paint job can be difficult.
The DIY paint coat may lack the glossy shininess of a factory finish, making it harder to clean. This leaves your cabinets with unsightly watermarks and oil stains.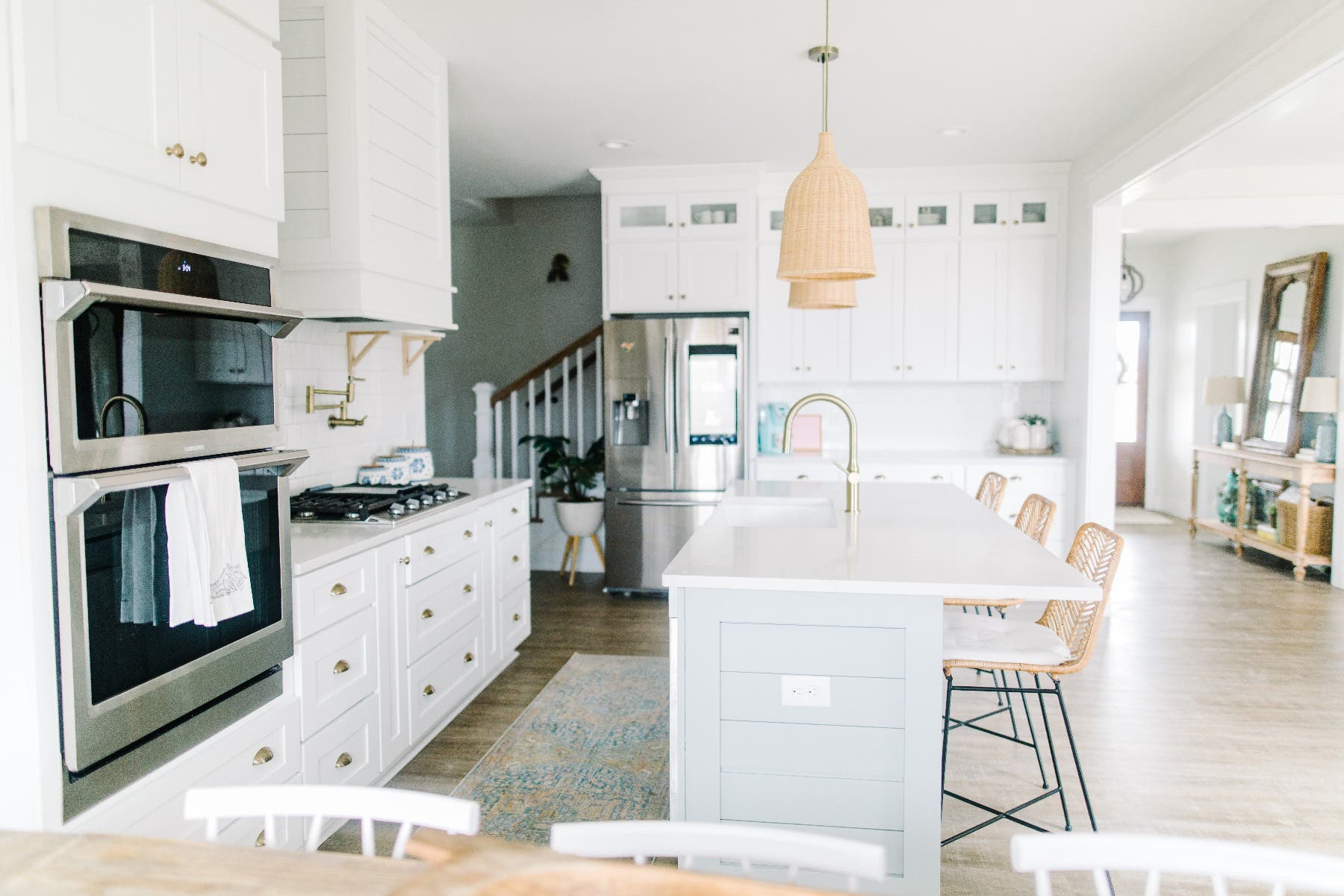 Lily Ann Cabinets - Colorado White Shake
The Paint Might Crack
It doesn't matter how cautious you are; painting your cabinets typically doesn't offer long-lasting results. Painted cabinet doors might scuff and crack when exposed to the heavy traffic of the average kitchen.
It Takes Time
Can you paint your kitchen cabinets within two days or less? Perhaps you can if you feel motivated. But if you want to do it thoroughly and properly, you need to follow the proper steps… which often take longer. Make sure to remove all the cabinet hardware, clean the surfaces, prime, paint, and allow the cabinets to dry before reinstalling the hardware and reorganizing the cabinets.
Do you have the time and patience to paint a full kitchen? This is a question worth considering!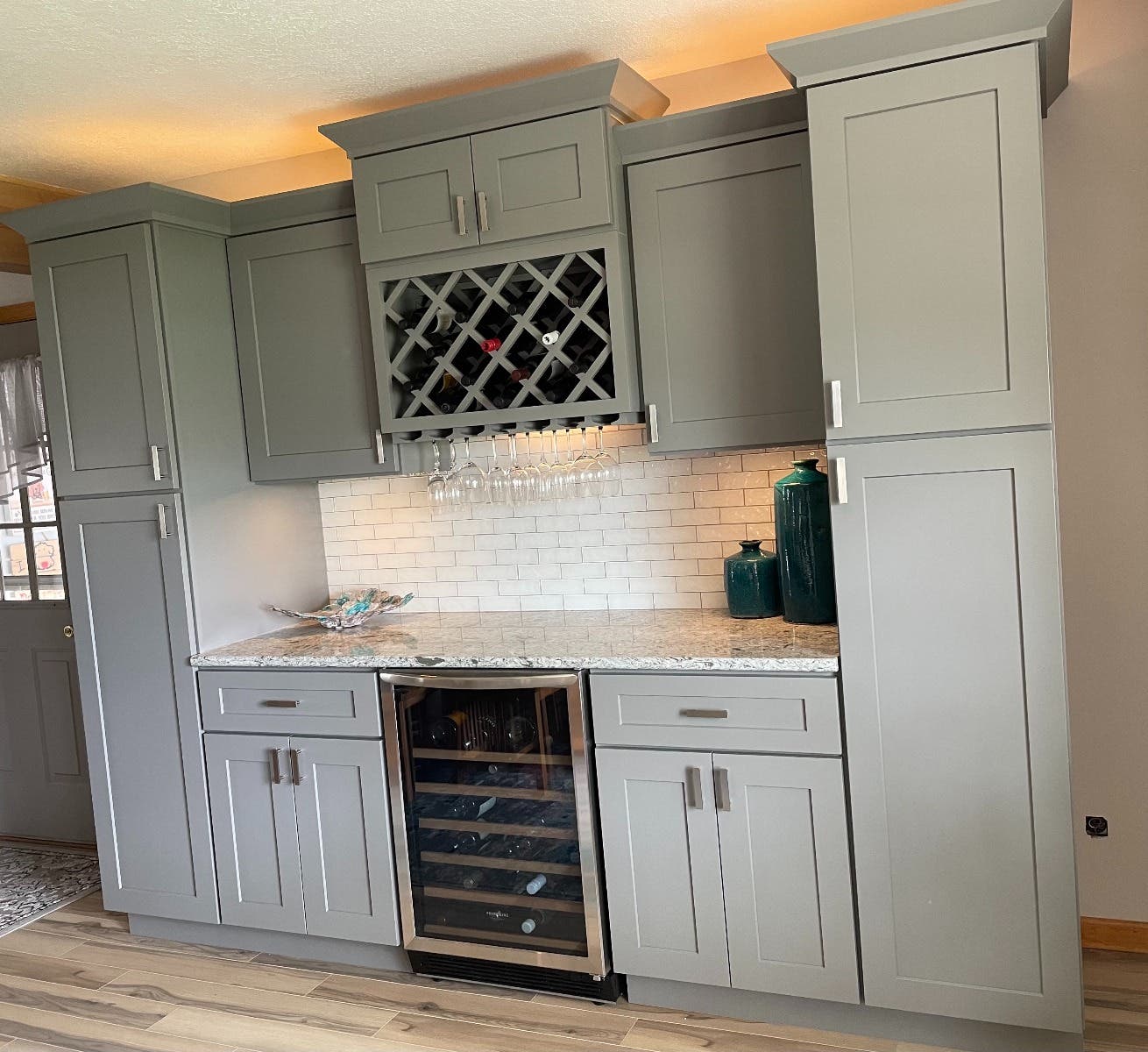 Lily Ann Cabinets - Grey Shaker Elite
More Considerations When Painting Cabinets
If your cabinet is damaged or cracked, painting it will make the flaws more visible. Also bear in mind that it is difficult to paint a cabinet with grain details, especially if you want to conceal the grain pattern entirely.
However, that is not to say that there are no benefits to going the DIY route. For the DIYers binging YouTube videos about how to redo kitchen cabinets on a budget, painting your cabinets can help you save big on cost. It also allows you to customize the color and style of your kitchen.
But...
Did you know you can actually save more in the long run by investing in a new set of cabinets?
Replacing your kitchen cabinets might cost more than the cost to paint kitchen cabinets initially, but it provides more long-lasting results and is often backed by a warranty.
In essence, investing in a new set of cabinets offers more advantages than cabinet painting, with few downsides.
Now, let's talk numbers...
What Will It Cost to Paint Kitchen Cabinets?
Let's put it into perspective by analyzing the cost of painting cabinets vs. the cost of purchasing new ones.
DIY painting
Painting your cabinets is typically the cheapest option, but also the most labor-intensive. With a DIY project, you will be paying for your cabinets with hours instead of money.
In terms of cost, DIY painting requires a variety of materials, tools, and equipment. Don't attempt to repaint your kitchen cabinets without the proper tools (you don't want to have to redo all of your hard work!) The cost can vary widely depending on the size of the kitchen and the kind of paint used. Typically, a DIY job will cost between $200 and $600.
Keep in mind that painting is a temporary fix. After a while (depending on the quality of the paint job), you will have to purchase new paint and repaint the cabinets.
Hiring A Professional Painter
Depending on your kitchen cabinet layout and paint quality, painting professionals may charge between $1,200 and $7,000 to repaint a full kitchen.
Ordinarily, the standard painting fee per linear foot of cabinetry is between $30 - $60. In other words, the bigger your kitchen, the higher the cost of repainting.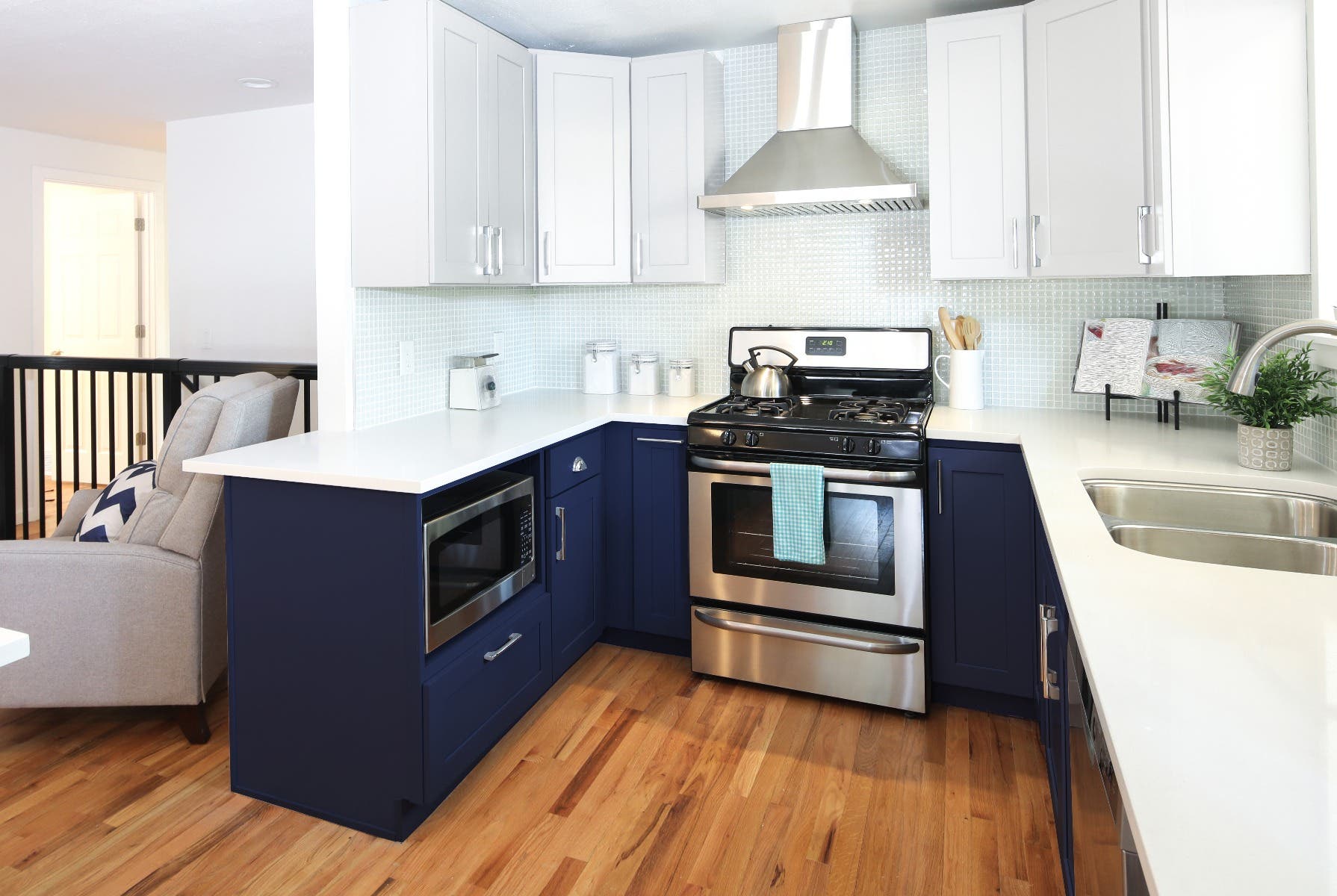 Lily Ann Cabinets - Navy Blue Shaker
Other professionals charge based on the kind of cabinets. They consider things like the cabinet box, the style of the door, and so on. As such, complex kitchen layouts will have higher painting costs. What's more, professionals often do some minor fixes before painting, which elicits more small charges.
A professional painter may also recommend that you replace some or all of your cabinet doors. In this case, the national average can rise to the range of $2,000 to $8,000.
If hiring a painting expert could cost as much as $8,000, replacing your cabinets altogether is usually a better route.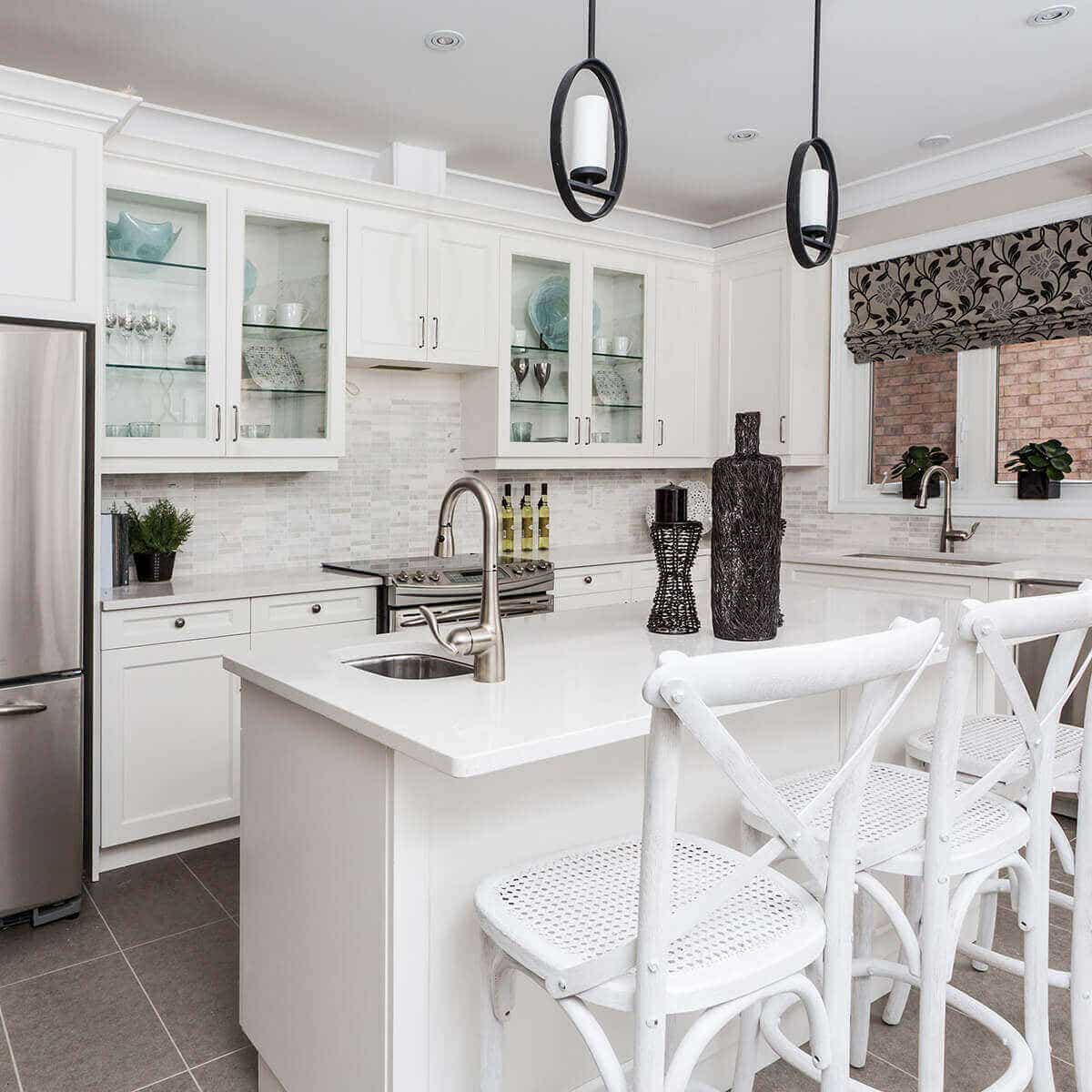 Lily Ann Cabinets - White Shaker Elite
Installing new cabinets usually costs between $4,000 - $8,000 with Lily Ann Cabinets, depending on the size of your kitchen. If you were to hire a professional painter, the cost of a new installation is actually comparable to the cost to paint kitchen cabinets.
If you still aren't sold on why purchasing new kitchen cabinetry is the better option, let's explore the benefits in depth.
Why You Should Purchase New Kitchen Cabinets
New Cabinets Are Cost-Effective
New cabinets will last a lifetime, unlike painted cabinets which will require future touch-ups. Plus, purchasing a new set of cabinets allows you to rearrange your kitchen layout if you'd like. With our free 3D design tool, the options for your kitchen design are endless!
Additionally, replacing your old cabinets will increase your home's value if you ever decide to resell. This alone usually makes new cabinets a worthy investment.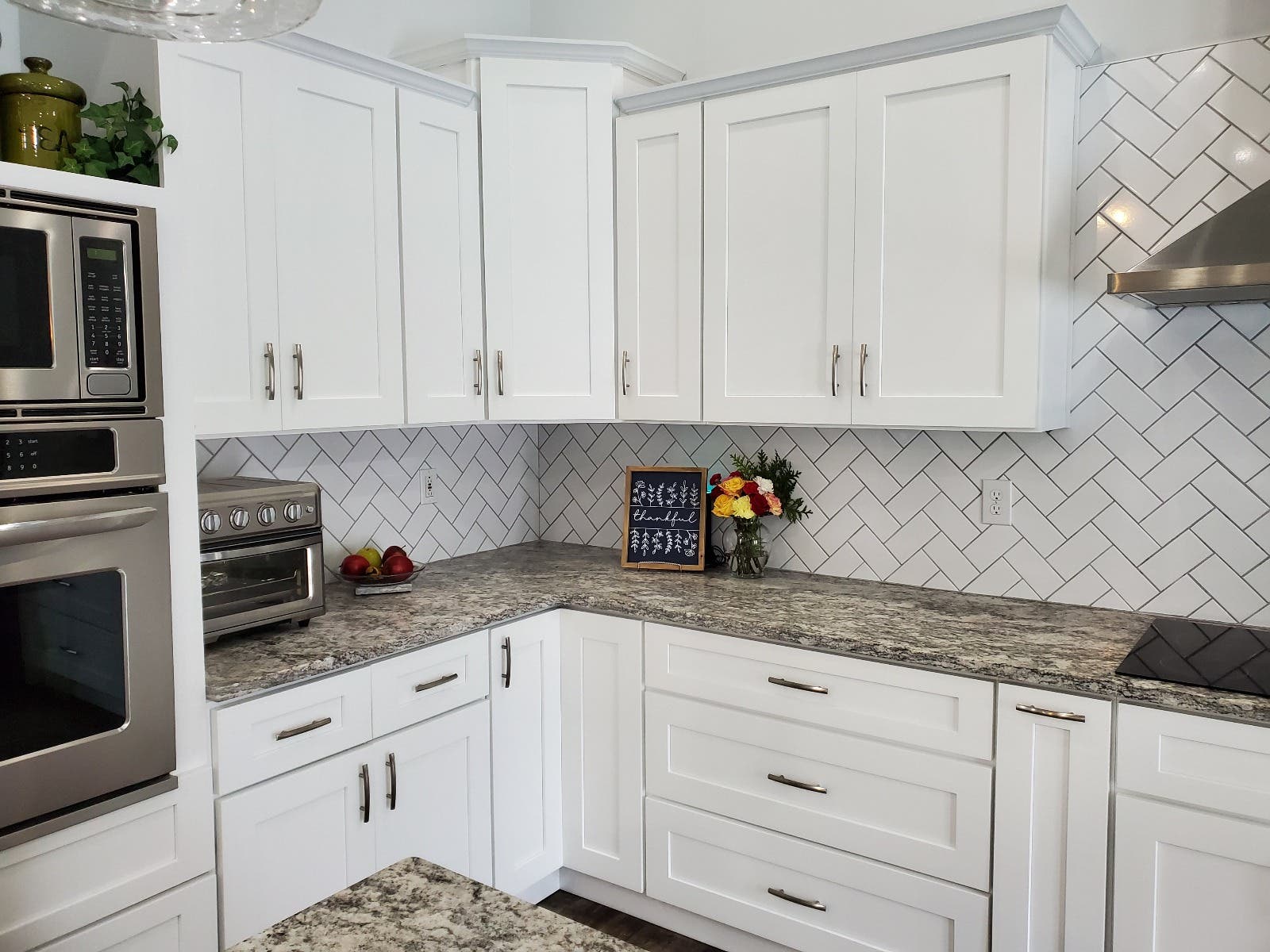 Lily Ann Cabinets - Summit Shaker
Save Time
Painting old cabinets, either through DIY or a professional, always takes time. If you plan to hire a painting professional, they will have to visit your home first and give an estimate before the painting begins. Remember, professionals may decide to do minor fixes first, which will add time and money to your painting project
We hope this guide gave you some insight into whether or not you should paint your kitchen cabinets. In most circumstances, we recommend replacing your cabinets entirely. With Lily Ann Cabinets, your kitchen remodel is quicker and more affordable than ever!
RTA Cabinets For Less At Lily Ann Cabinets
We offer premium quality ready-to-assemble kitchen cabinets at factory direct pricing. With a wide selection of unique finishes to pick from, you're sure to find the distinct look to suit your kitchen project. Visit our website today to get started.
Related Article: 
FAQs:
1. Can I paint my kitchen cabinets myself?
You can paint your own kitchen cabinets yourself, and save a lot of money in doing so. It's strenuous work, but if you are willing to do it, it will be inexpensive and worth it in the end. If you plan on hiring professionals to paint your cabinets, the costs associated with the labor would be equivalent to ordering brand new, high-quality RTA kitchen cabinets.
2. What is an easy way to modernize kitchen cabinets?
The easiest way to modernize your kitchen cabinets is to apply a fresh, new paint color. Grey, white, and beige tones of paint will all freshen and modernize any kitchen space. Along with painting the cabinets, replacing hardware with new, modern hardware will only make the newly painted cabinets more modern. Sleek, simple pulls are one of the most modern hardware options and will surely do the trick.
3. What is the cheapest way to modernize your kitchen?
The cheapest way to modernize your kitchen is to paint the cabinets a modern color (tones of white, beige, and grey), replace the hardware with something more modern and sleek (like pulls), and add a textured backsplash like subway tile, which is usually inexpensive to acquire.
4. What color should I paint my kitchen cabinets?
If you are looking to freshen up old kitchen cabinets, make them more modern, or just cover up knicks and imperfections, painting cabinets can be the perfect option. Tones of white, beige, and grey paint colors are all great options in doing so for kitchen cabinets.
5. What is the best and cheapest way to turn traditional cabinets into modern cabinets?
The best and cheapest way to turn traditional style cabinets into modern cabinets is to paint them a modern color and replace the original hardware with a modern pull. Colors that will freshen and modernize traditional style cabinets are whites, beige tones, and greys.