Rustic kitchens feature a list of defined characteristics that make the style unique onto itself. Rustic kitchens are designed like the room has been lived in, with weathered or softly distressed furniture, flooring and accessories. The style is reminiscent of a cottage feel, with color combinations highlighted by earth tones or neutral colors with minimal contrast. Additional characteristics of a rustic kitchen are listed below.
What Are The Most Important Aspects of a Rustic Kitchen
Rustic kitchens are designed like the room has been lived in
Furniture, flooring and accessories are weathered or softly distressed
The kitchen is designed like a cottage
Stone is an important aspects of the design
Color combinations feature earth tones and neutral colors with minimal contrast
Woodworking featuring knotty pine, hickory or alder
Cabinets could be chocolate brown, grey, off-white or tan
Accessories vary regionally and highlight local history or geography
For example, pottery is an accessory that could be featured in a southwest kitchen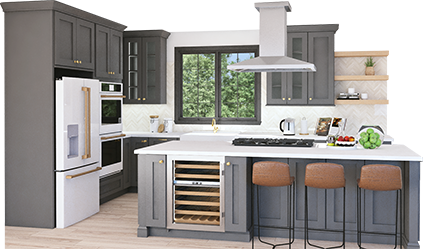 Get your FREE 3D kitchen design today!
Start Now
Softly Distressed Design
Rustic kitchens offer a quaint cottage feeling when you enter the room. This is accomplished through furniture, flooring and accessories such as kitchen cabinets that are installed and designed to be weathered or softly distressed. This helps make the kitchen look like the room has been lived in for many years of preparing and serving meals to the whole family. Often, antique wood furniture is used to accomplish this goal as well as worn wood flooring.
Earth Tone Color Combinations
The color combinations on the walls and throughout the kitchen feature earth tones and neutral colors with minimal contrast in a rustic kitchen. This means the color scheme is drawn from browns and tans or any variation of colors containing some brown or grey. The colors in an earth tone scheme are muted and flat while emulating natural colors found in soil, moss, trees and rocks. Kitchen cabinets also pay homage to this color scheme in a rustic kitchen, featuring light and dark grey along with brown.
Stone and Woodworking are Important Elements
Rustic kitchens often feature stone flooring with woodworking installed throughout. Limestone or cobblestone flooring helps to provide that cottage feel while standing up to the rigors of everyday life in the kitchen. To complement the stone floor, woodworking featuring knotty pine, hickory or alder is often used as trim, casing and panel board within the rustic kitchen. In some cases, the flooring could also be wood. In the cases of a wood floor, stone hearths or backsplashes could be used to balance out the incorporation of these two important rustic features.
RTA Kitchen Cabinets for Your Rustic Kitchen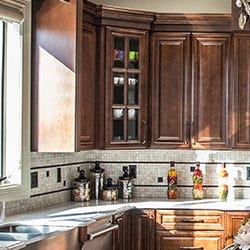 Shaker Grey Kitchen Cabinets by Lily Ann Cabinets are a great selection for a rustic kitchen. These cabinets are affordably priced and produced with quality craftsmanship. Grade A Birch is used to construct the ½ inch all-wood cabinet box that blends well with the wood designs throughout the room. The dark grey cabinets are also a nice accent to the earth tone walls and provide the finishing touches on the rustic kitchen of your dreams.

Steely Grey Kitchen Cabinets are another option that blends perfectly with a rustic kitchen design. This lighter grey hue serves to complement the stone floor of a rustic kitchen as well as the antique wood furniture and accessories. These RTA cabinets are designed with eye-catching quality at a price you can afford. It is a one-of-a-kind cabinet for a one-of-a-kind rustic kitchen.

If you're looking for a darker option for your kitchen cabinets, York Chocolate Brown Kitchen Cabinets offer a timeless color that accentuates the rustic kitchen design and feel. The rails and stiles on the chocolate brown kitchen cabinets by Lily Ann Cabinets are constructed from Grade A birch and fit together seamlessly during the assembly process. The doors are full-overlay with soft-closing concealed-cup door hinges on a ready to assemble cabinet that will take your home to the next level.
Free 3D Kitchen Design
Lily Ann Cabinets offer a free kitchen design option for your rustic kitchen. After providing basic measurements and layouts of the current kitchen, Lily Ann's cabinet experts will produce a 3D color rendering, scale drawings and detailed specifications that you can use for your home renovation project. Get your rustic kitchen install started right with Lily Ann Cabinets.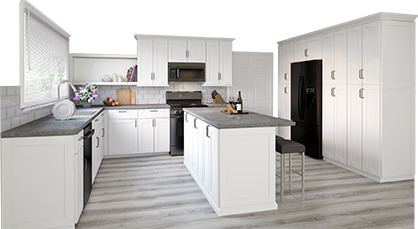 3D Kitchen Visualizer Tool
Bring your dream kitchen to life with our free kitchen visualizer!
Design Now