When shopping for RTA cabinets, it's important to choose cabinets made of quality materials. You should also make sure that those materials are easy to put together, especially if you're a beginner. Dovetail assembly offers both of these necessities while other methods of construction fall short. Let's learn some unique features of Lily Ann's dovetail assembly that set it apart from the rest.
Durability
If you're searching for a strong style of joinery that's built to last, you need to choose the dovetail method, without question. Also known as mortise-and-tenon or pins and tails joinery, the dovetail assembly method has been trusted by carpenters throughout history. The interlocking, fan-shaped joints are extremely strong, ensuring that your cabinet walls and drawer boxes stay secured throughout the many years of opening and closing to come. You can watch step-by-step guides for assembling Lily Ann dovetail kitchen cabinets in these cabinet assembly videos. Compared to other common methods of construction, such as the use of cam locks, dovetail is far superior. Cam locks are often made of plastic, meaning they bend and break easily. Additionally, they only provide two or three points of support for the joints of your kitchen cabinet walls. Dovetail assembly creates a point of contact along the entirety of the cabinet's joints, providing better support (especially for hanging cabinets) and preventing separation over time. Many big box stores will use cheap cam locks for both their pre-constructed and RTA cabinets. The price might be tempting, but you can get cabinets that are stronger and just as affordable from a wholesaler like Lily Ann. You'll be glad in a few years when your cabinets are just as sturdy as the day you built them.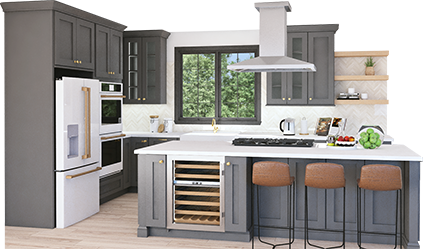 Get your FREE 3D kitchen design today!
Start Now
Easy Assembly
If you're new to kitchen cabinet assembly, the last thing you need is a hassle. Dovetail assembly is the most straightforward method for constructing your new RTA cabinets. There is no need for screwdrivers with this method, since there are no cam locks to be installed. You simply need wood glue for added security and perhaps a rubber mallet to make sure everything is firmly locked into place. Cam locks, on the other had, require inserting locks into the wood and securing tiny tubes and bolts. It's a delicate, tricky process, and is totally unnecessary if dovetail joints are present.
Obstruction-Free Cabinet Interior
On top of being durable, dovetail assembly is more practical and aesthetically pleasing than the cams method of construction. This form of joinery removes the need for bulky, unsightly pieces of plastic at every joint of your cabinet boxes. Instead, the only connection revealed when you open your cabinets is the interlocking wood pattern near the face. The result is nicer looking, and there's nothing keeping you from using every inch of cabinet space.
Look For Dovetail Assembly — In Both Drawers And Cabinets
The biggest advantage of Lily Ann's kitchen cabinets is that dovetail joinery can be found in both our drawer boxes and cabinets. Many stores, especially big box stores, will claim dovetail assembly in their product specifications when only the drawer boxes are constructed with that method. That's great for the the drawers, but not for the cabinets as a whole, which are most likely held together with cam locks. Lily Ann Cabinets cares about the durability of our RTA cabinets, which is why nearly all of our kitchen cabinets use the dovetail assembly method. We work hard to deliver a sleek, high-quality product that is simple to construct and built to last. If you're ready to start designing your dream kitchen, check out our free design tool to get help from our experts. Then, you can head over to our full catalog of RTA cabinets and take your pick!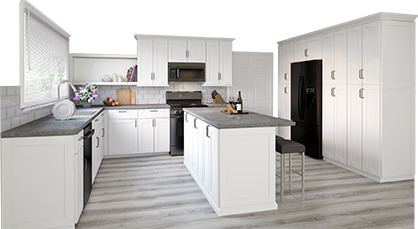 3D Kitchen Visualizer Tool
Bring your dream kitchen to life with our free kitchen visualizer!
Design Now