Before building and installing your new RTA cabinets, you need to carefully plan out your kitchen design. Keeping your vision consistent will help prepare you for the arrival of your kitchen cabinets and ensure that everything turns out exactly the way you want it. Let's explore a few important considerations for designing a beautiful and functional kitchen.
Know Which Layouts And Designs Suit Your Space
Get familiar with your kitchen's dimensions as you search for RTA cabinets and appliances. There's nothing worse than bringing all of your new pieces into the space and realizing that they don't fit. Sometimes you only have space for one wall of cabinets and appliances, which still offers you plenty of opportunities for storage and style. Other times, you might be able to add in an island, which can effectively double your available counter space. Either way, it's important to consult with a designer to get the best possible idea of which kitchen configurations will work in your space.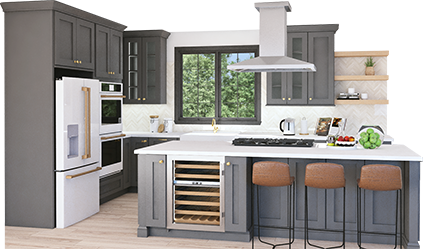 Get your FREE 3D kitchen design today!
Start Now
The way your kitchen is configured can also help you determine which designs will complement the space. While it can be a lot of fun to add pops of color or texture into your kitchen, having too much can make your new space feel mismatched or cramped. Keep your kitchen cabinets all one style and color — the same can be said of appliances. Once you have a solid foundation for the colors of your kitchen, you can then play with a colorful backsplash, bold countertops or patterned drapes (if your kitchen has windows).
Finally, consider what overall style you're aiming for. For example, if you want to create a French country-style kitchen, you should choose clean, neutral cabinets rather than knotty hickory cabinets that are more reminiscent of a rustic Americana style. You don't want to send conflicting messages with your design choices!
Give Yourself The Appropriate Amount Of Room
Think about how many people are going to be using the space, especially if you're all going to occupy it at the same time. A good rule of thumb is to leave enough space between your center island and wall cabinets for two people to walk by one another comfortably. This is an important safety concern — you don't want to collide with someone who's carrying food, hot cookware, or sharp utensils.
If you don't have room for an island, try to keep all appliances and kitchen cabinets on a single wall. The rest of your floor space will then be open for passing through. You can also look into mounting certain appliances, like your microwave, on the bottom of your wall cabinets to give you enough free counter space for multiple cooks to use comfortably.
Line Up Your Appliances Efficiently
When organizing your RTA cabinets, think about where all of your appliances are going to sit in relation to each other. Having a kitchen with an efficient flow can help save time and encourage you to use it more (for all the people out there who find cooking to be a hassle).
Look for opportunities like putting the oven across from the sink and/or dishwasher. Once you're done using a pot or pan, just turn around and plunge it into some hot, soapy water to soak. You could also organize your dishware so that your most commonly used items are in a hanging or base cabinet next to the dishwasher. When the dishes are done, you simply have to reach up or over to put them away. Talking with a designer can help you envision all the simple ways to make your kitchen as efficient as possible.
Create Work Zones
Another important consideration is where certain tasks will be done in your kitchen. When you create areas that revolve around a specific task, it becomes much easier to keep things organized while cooking — especially if you have another person helping you.
One example of a work zone could be meal prep. Your RTA cabinets could hold all of your baking ingredients, seasonings and utensils, while also having a good amount of free counter space to work on. You could also create a cleaning station, devoted to housing cleaning products, sponges, your sink and your dishwasher. Creating distinct work areas will help the cooking process flow easily from one step to the next, and maybe even save you some time.
Find The Perfect Kitchen Cabinet Styles And Layouts With Lily Ann Cabinets
There are plenty of gorgeous RTA cabinets to choose from in Lily Ann Cabinets' full selection. As you browse the different styles, you can also take advantage of our free kitchen design service. Our experts will help you create a kitchen space that is functional, beautiful and uniquely you. Get started on your dream kitchen today!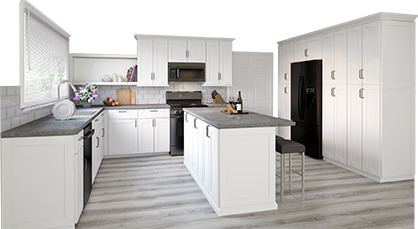 3D Kitchen Visualizer Tool
Bring your dream kitchen to life with our free kitchen visualizer!
Design Now