When you are planning your dream kitchen – looking at the different styles of cabinets and figuring out what you can afford – you will probably come across the term, "10 x 10 kitchen." And you may wonder how that applies to you if your food prep area isn't 10 feet by 10 feet. Actually, kitchens are rarely that size. So why does it keep popping up on RTA kitchen sites?
What's with this 10 x 10 stuff?
A 10 x 10 kitchen is a standard unit of measure used throughout the industry to help quickly figure how much it would cost to fill an L-shaped 10- by 10-foot space with RTA cabinets. Lily Ann Cabinets also uses the 10 x 10 kitchen for comparison pricing. On our website, when you click on any of our cabinet lines, right near the top you will see a section called "10 x 10 KITCHEN."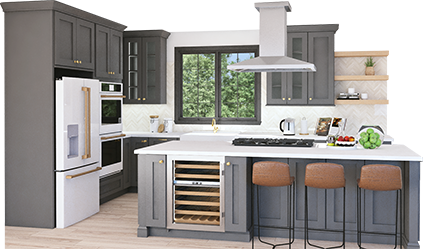 Get your FREE 3D kitchen design today!
Start Now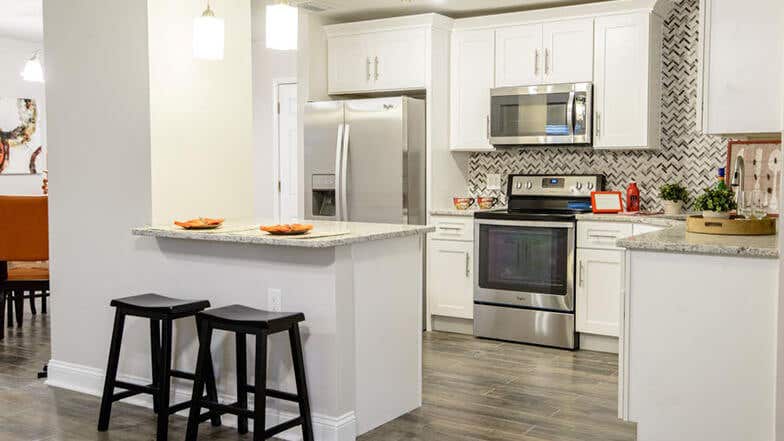 The standard RTA kitchen cabinets listed are: base 18-inch, base 24-inch, sink base 36-inch, lazy susan 36-inch, wall 36- x 15-inch, wall 18- x 30-inch, wall 30- x 15-inch, wall 12- x 30-inch, wall diagonal corner cabinet (WDC) 24- x 30-inch, wall 36- x 30-inch, and wall 24- x 30-inch. The price for these standard cabinets is listed on the webpage for each of our RTA discount cabinet lines. You can get the average price per cabinet for that style by taking the total 10 x 10 kitchen price and dividing it by the total number of cabinets (11).
Let's say you wondering how much more it would cost to add four more RTA wholesale cabinets. Of course you can scroll through the entire list of cabinet options, but when you are in the planning stages and just need a quick estimate, you can take the average price per cabinet and multiply it by four.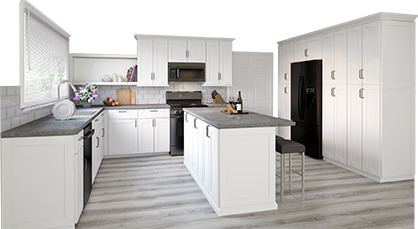 3D Kitchen Visualizer Tool
Bring your dream kitchen to life with our free kitchen visualizer!
Design Now
Free professional design.
Since most kitchens aren't really 10 by 10 feet, this unit of measurement is just a starting point. We offer FREE professional design consultation to help make sure you get the custom look you want and the exact fit you require. We offer online tools to make it easy for you. You can download our "Plan Your Project" guide to give us the info we need to make the design process as accurate as possible. To complete the guide, you will need to measure your space, which includes the following steps:
Horizontal measurement.

1. Measure from wall to wall or full cabinet run.
2. Measure from corner to window or door opening including all trim. This will provide us with the exact placement of this window or door on your wall.
3. Measure across the opening of doors or windows from trim edge to trim edge.
4. Mark rough placement of your appliances or location of water, drain, and gas lines on the drawing in the guide.

Vertical measurement.

1. Measure from floor to ceiling.
2. Measure from floor to bottom of the window including any trims.
3. Measure from bottom of window to top of window including any trims.
4. Measure from top of window to ceiling.

At the bottom of the Free Professional Design page, you can see examples of various kitchen layouts. Better yet, take a look in our Photo Gallery to see the beautiful finished kitchens in a wide variety of styles.