Side by Side Comparison:
| | |
| --- | --- |
| Particle Board:  | Plywood:  |
| Durability: The red arrow shows the material of particle boards and how they can have very low durability compared to plywood. The particle board is unable to support heavy loads. This material has a tendency to break and lose its attractiveness in a shorter period of time. | Durability: The red arrow shows the layers or "plies" of material in plywood. Plywood is thicker, stronger, and sturdier. Its crisscrossing and laminated structure make it 5 times more stable than particle board. |
| Maintenance: It's best to handle them lightly to avoid breaking or damaging the furniture. | Maintenance: Plywood has a high strength-to-weight ratio, some varieties of plywood are actually stronger than certain types of solid wood. They aren't prone to breaking or being damaged because of their quality. The layers trap air bubbles between them allowing them to be stronger |
| Price: Particle board is on the cheaper side, as it can range from $5-$50 depending on how much you purchase, including size and thickness.  | Price:  Typically prices range significantly from $7-150$ depending on the size and thickness of the plywood you purchase. |
What is particle board?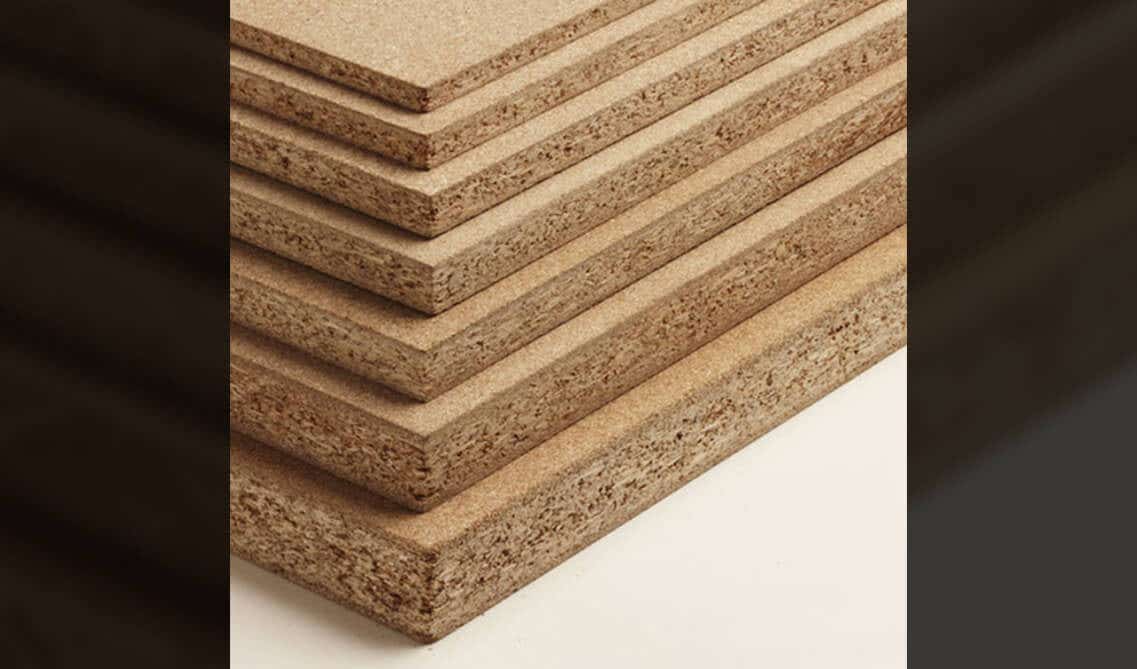 Particle board is a waste-wood product made by heat pressing wood chips, sawmill shavings, or even sawdust and resin together. An advantage to using particle board is how cost-efficient it can be. Some disadvantage of using particle board is that it is not as safe as other materials. Some manufacturers use urea-formaldehyde resin to make particle boards. This resin creates toxic formaldehyde gas if it breaks down due to poor sealing. Exposure can cause health issues, unlike all-natural solid wood.  Additionally, when placing cabinets near a dishwasher or under the sink can cause swelling due to the moisture.
What is plywood?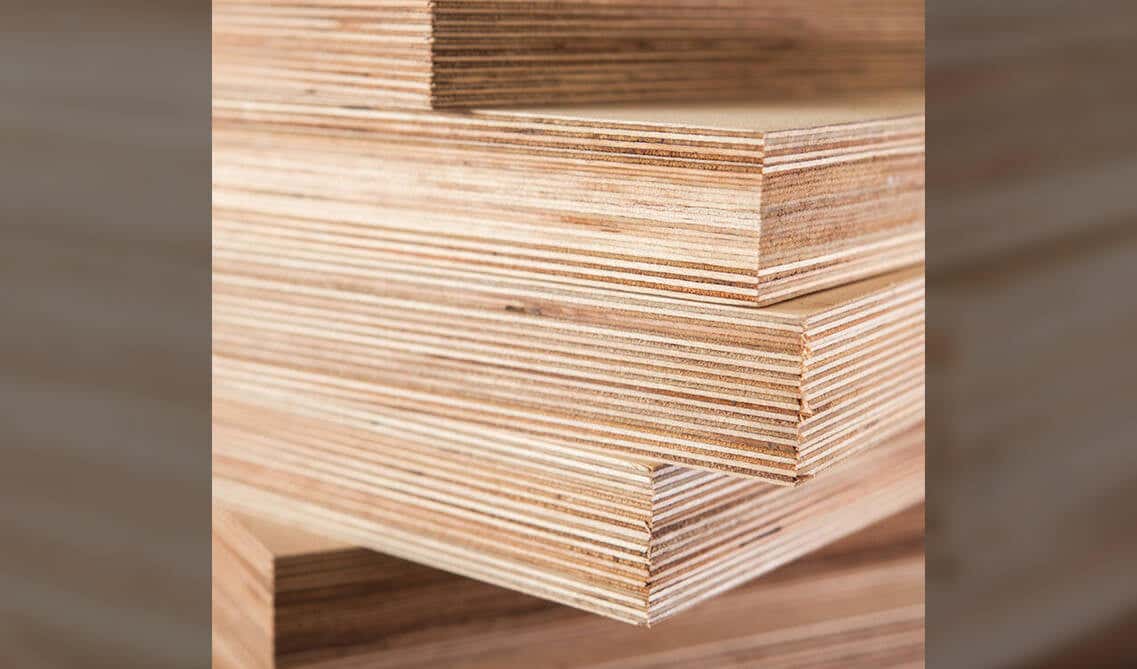 Plywood is a lightweight material manufactured from thin layers or "plies" of wood veneer that are glued together with adjacent layers. Some advantage of using plywood is that it doesn't split, warp, or expand. It's eco-friendly and has a long-lasting beauty to it. Additionally, plywood is a lot more durable than other options. However unlike particle board, when placing cabinets near a dishwasher or under the sink, the plywood will withstand more. 
Installation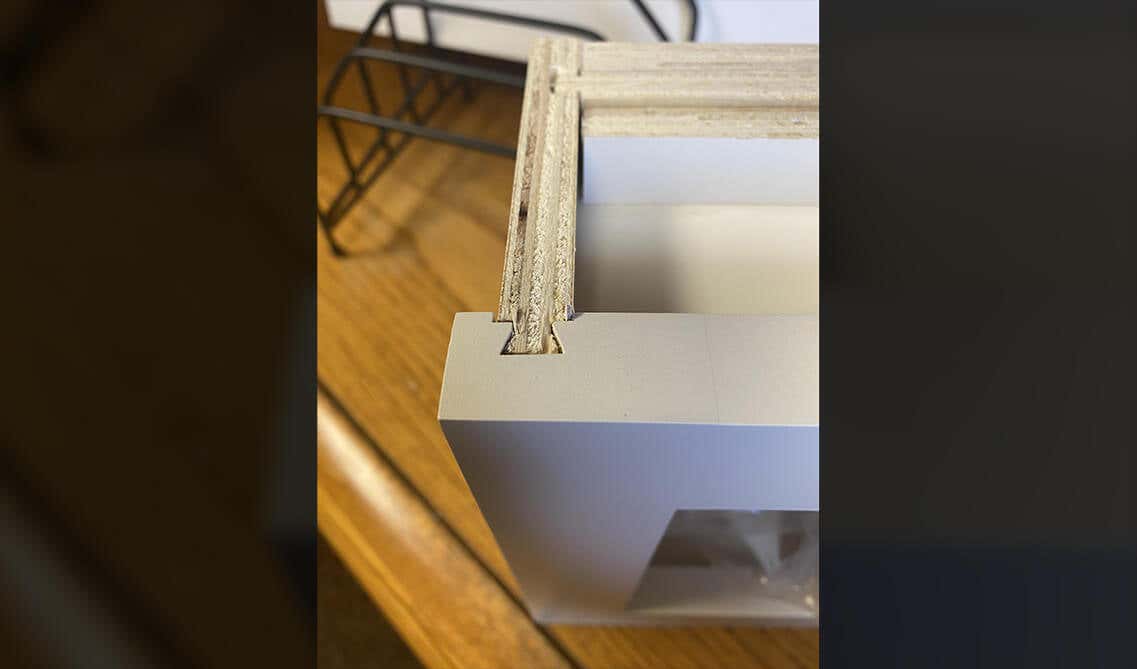 When installing Plywood vs Particle board, there are many key differences, one main difference being the dovetail feature. At lily Ann Cabinets, the majority of our RTA cabinets have a unique and innovative way of assembly, called "dovetail assembly".  We are not explicitly referencing the drawer boxes, which is where you have probably more commonly heard this phrase. Instead, we are talking about the router points or dato's on the sides and frames that are female and male triangular grooves, which allow the cabinet to simply slide together. This is a fast and more stable result, and also allows someone to assemble by themselves for the most part. Anything needing measured, like the L brackets for the glides, and hinge placement for the doors is pre-drilled.  The only tools you will really need would be wood glue and a screw gun.  This feature is superior because it makes the cabinets easier to assemble, and also makes the product extremely durable. When gluing the cabinets together. The dato joint typically used in the particle board is a much weaker joint than the dovetail. The dato makes it more susceptible to sliding out or coming apart when you glue it together. With the dovetail feature, you are locking in that cabinet giving your cabinetry hardware way more stability. 
Best Qualities of Plywood?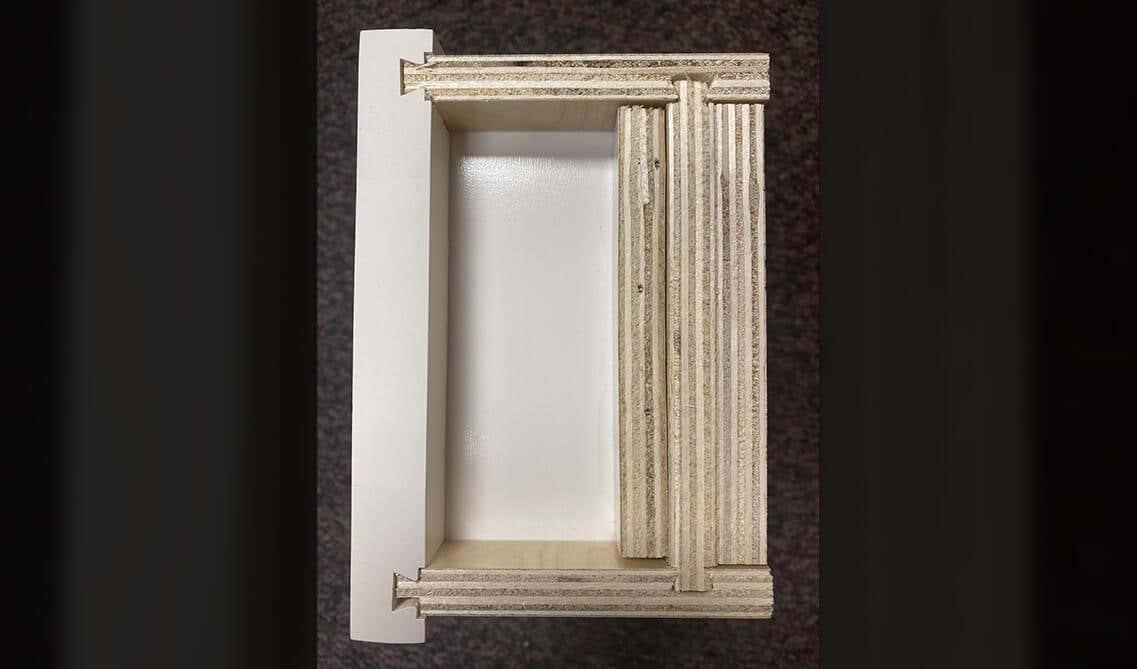 Plywood with an equivalent thickness will be much stronger and more flexible than real wood, making it much less likely to break under stress. The material's criss-cross makes the dovetail so amazing and sustainable. It makes assembling easier than it ever could be and leaves you with zero worries. Additionally, it's easier to install and has better stability for heavy objects or mass amounts of weight. At lily Ann Cabinets our cabinets are made with 7 core furniture grade plywood, and we ensure that your cabinets will be of the highest quality. The particle board cabinets are made from paper, our plywood is wood veneer, this is amazing considering when you add color to your plywood it really shows the natural beauty of the wood. 
Pricing of Plywood vs Particle Board: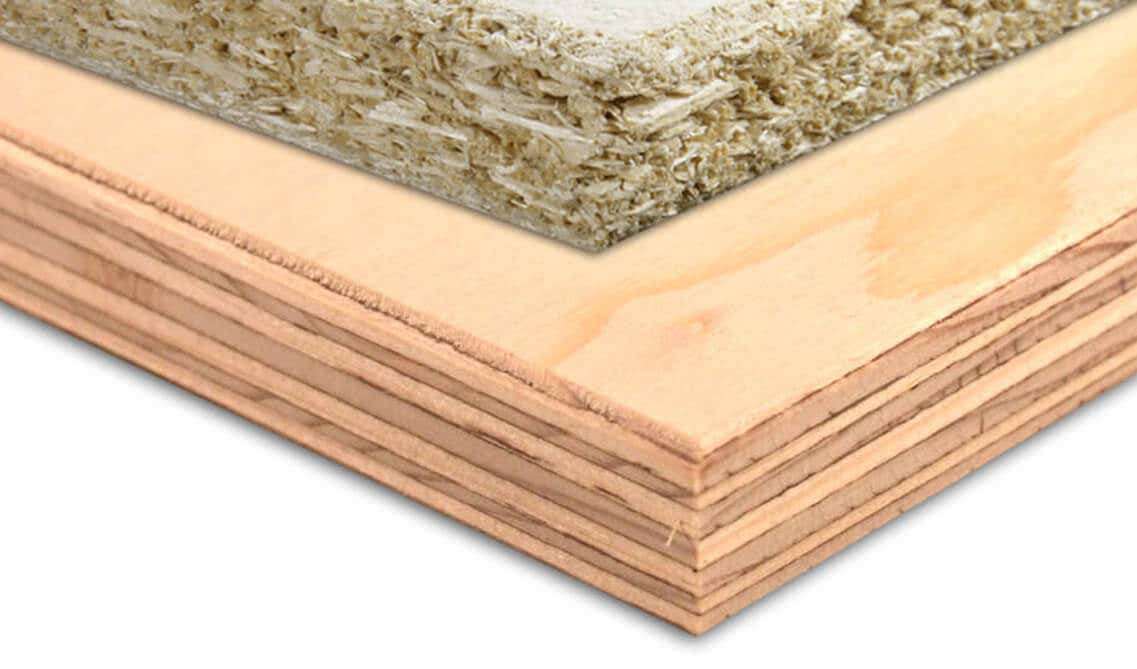 When comparing the prices between particle board and plywood, it's hard to decide which one is the better option. You can save 12% off your budget with particle board, but plywood would be the better investment. Although plywood is slightly more money, it's well spent considering you get the bang for your buck. The quality and beauty of the plywood is top-tier. Additionally, the plywood will last you longer as well. The good thing here at Lily Ann cabinets we offer the best prices and offer cheaper prices than particle board. This allows you to fit the highest quality cabinets into your budget. 
Why choose Lily Ann Cabinets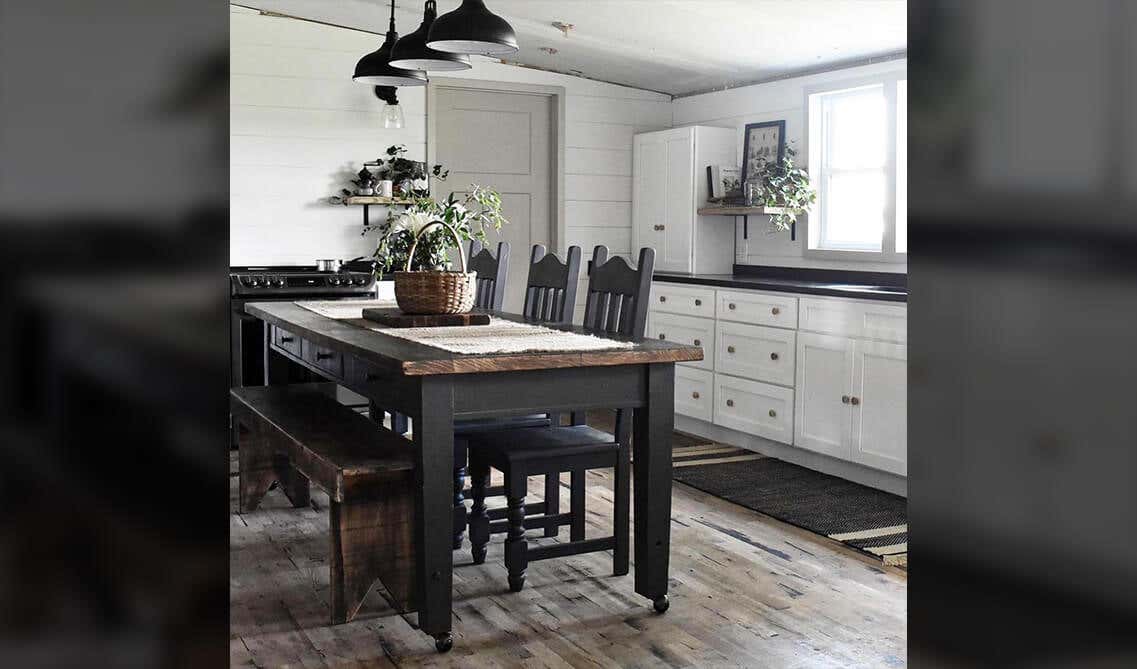 If you end up deciding to create your dream kitchen with plywood, you may wonder, why not just get plywood from somewhere else? We will tell you why; All products you see on the Lily Ann cabinet website are always in stock. We put the best prices on the table and have the highest quality products. If that's not enough reasons, we offer free shipping on orders to save you even more money. We are 50% off big box stores and have quality care from start to finish. This process can be stressful, but instead, we want to make it a fun and exciting experience for you. You only design a kitchen so often, let us help you make it the best kitchen you have ever seen. 
Frequently Asked Questions(FAQ)
How to paint plywood cabinets?
Make sure to prep your cabinets to paint. You then want to sand your cabinets. Begin painting using latex paint which is the best paint to paint the plywood with.
Are plywood cabinets good?
Plywood is one of the better products to use when building cabinets. It holds screws and other materials more efficiently.
What size plywood for cabinets?
Recommended ¾-inch plywood sheet for kitchen cabinets. Plywood is available in ¼ inch, ⅝ inch, ¾ inch, ½ inch and ⅜ inch. Try and find the thickest plywood that is available.
How to clean plywood cabinets?
At-home cleaning for cabinets is super easy! Mix a cup of white vinegar with a cup of water. It's the perfect solution for cleaning plywood cabinets.
Is plywood good for kitchen cabinets?
Plywood cabinets are more durable, can hold screws and materials better than particle board cabinets, and are sturdier.
Is plywood good for kitchen cabinets?
When painting particle boards, make sure your cabinets are able to be painted. If your particle board cabinets get wet, it can warp and crack. Using an oil-based paint and primer is best when painting particle boards. You want to remove your cabinet doors, prepare the cabinet bases and doors, and begin painting with oil-based paint!
Can you reface particle board cabinets?
Cabinets made from low-quality materials such as particle board can be refaced.
Are particle board cabinets any good?
Using particle board cabinets in your kitchen could be a mistake as the air fluctuates in heat coming from the oven or fridge, your particle board cabinets may crack and wrap. They are easily scratched and not super durable.