The debate on whether to choose stained or painted kitchen cabinets has weighed on homeowners and kitchen remodelers for a long time. In truth, there are many benefits to both options. Let's delve into the strengths and special qualities of each.
Benefits Of Painted Wood Cabinets
painted cabinets provide a crisp, uniform look that can help your kitchen feel brand new for years to come. If you prefer a sleeker finish, paint is the option for you. Since it's thicker than stain, it fills in all the knots and divots present in wood's natural graining to give you a flawlessly smooth surface.
Painted cabinets also give you more room to play with color in your kitchen. While stains are limited to a more neutral spectrum of whites, grays, browns and blacks, paint allows you to harness the whole rainbow. If you want to try out a trendy jewel-tone yellow or a soothing navy, it's entirely within your grasp to do so. These pops of color, and even traditional white, gray and black cabinets, are well-suited to contemporary, modern and even farmhouse kitchen styles.
Overall, painted kitchen cabinets are perfect for people who want a clean aesthetic or eye-catching colors — or both!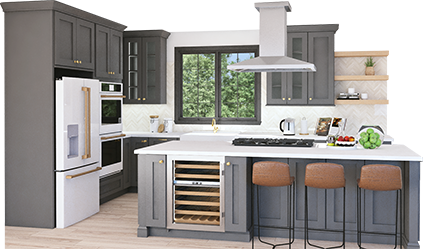 Get your FREE 3D kitchen design today!
Start Now
Benefits Of Stained Wood Cabinets
For those who prefer to have the natural character of wood on full display, stained wood cabinets are ideal. Since stain is a thinner finish, it seeps into the wood to enhance its color and grain. The process still gives you beautiful, shiny cabinets, but allows the wood's natural details to stand out.
A few benefits that stained wood kitchen cabinets have over their painted counterparts is that they're sometimes priced lower and are generally easier to touch up. If you and your family often experience bumps and spills in the kitchen, you should probably go for stained cabinets. You can find stains that are a close match to that of your cabinets and easily blend them in seamlessly to cover any accidental scrapes. Better yet, manufacturers sometimes offer a touch up kit that makes it easy to match your specific cabinets' wood stain. For example, Lily Ann Cabinets offers touch up kits that contain a crayon and stain pen, to make touch-ups convenient.
If you love the character features of wood, are going for a rustic style, or know that your kitchen has a lot of traffic, make stained wood cabinets your go-to.
Why Not Both?
If you're still conflicted about which style of cabinets would look best in your kitchen, you can always do both! For example, a tuxedo-style kitchen features light cabinets on top and dark on the bottom — you could have light-colored, painted kitchen cabinets on top and luxuriously dark, stained wood cabinets on the bottom. This serves a two-fold purpose: first, it draws the eye naturally from the high to low points of your kitchen; and second, the painted cabinets are elevated, where they are less likely to get bumps, scrapes and stains that could be tricky to touch up.
If you have the space, you could also install a kitchen island with painted cabinets while the rest of your kitchen cabinets are stained, or vice versa. This gives your island a special pop that makes it even more welcoming as a cooking space or breakfast bar.
Find Stained And Painted Kitchen Cabinets In Lily Ann's Collections
Whether you choose knotty hickory or smooth white cabinets, or something in between, Lily Ann Cabinets are sure to satisfy. Our ready-to-assemble (RTA) cabinets pass through a meticulous coating and finishing process so they look their very best upon arrival at your home. View all our collections of RTA kitchen cabinets today to get one step closer to achieving your dream kitchen.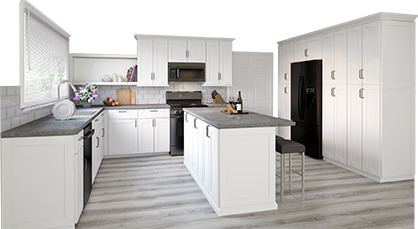 3D Kitchen Visualizer Tool
Bring your dream kitchen to life with our free kitchen visualizer!
Design Now