You may be thinking… So what exactly is an outdoor kitchen? An outdoor kitchen is a space outside the house where you may cook, entertain, and prepare meals while taking in the fresh air. 
Your outdoor kitchen serves as the centerpiece of an outdoor party area, enabling you to host get-togethers with family, friends, and visitors all year. Thanks to our experienced design professionals, concepts for outdoor kitchens can become a reality.
We will provide suggestions on considerations to keep in mind while constructing your outdoor kitchen and all the details you require to design your ideal outdoor kitchen for spring and summer.
How Much Should I Budget?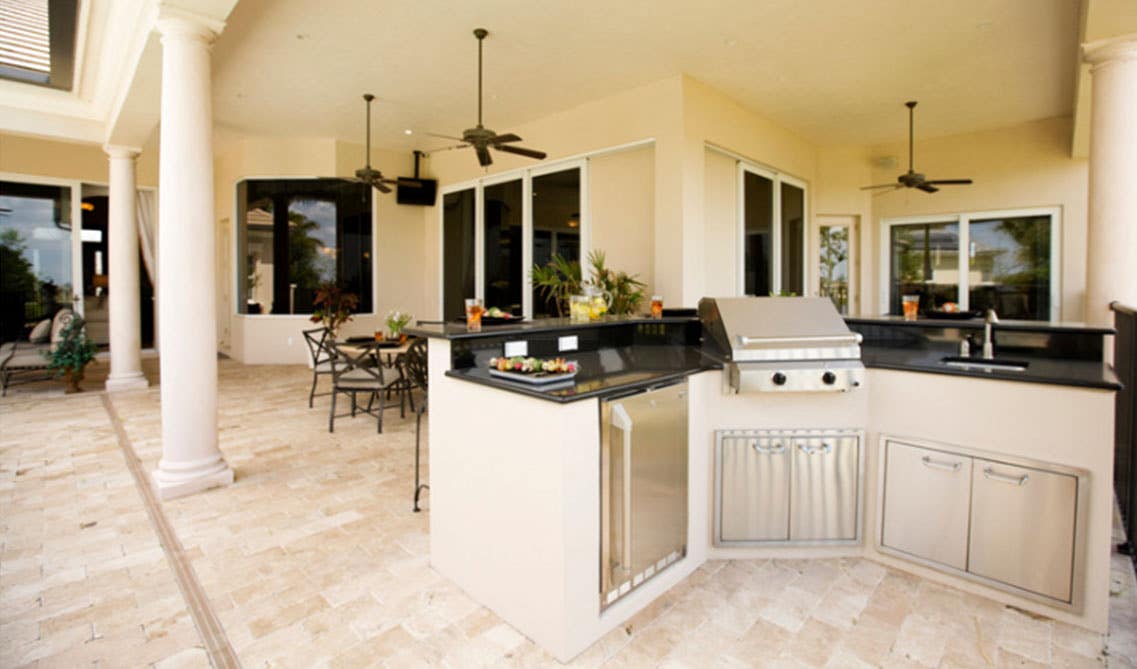 It's crucial to set and adhere to a realistic budget. Otherwise, spending tends to spiral out of control. Ensure an item is included for every kitchen component, including the cabinets, countertops, furniture, etc.
You should start by researching material quality. Although more expensive, higher-quality finishes and materials usually have a longer lifespan. Since your kitchen is essentially outside and subject to weather changes, it is necessary to take this into account.
Utilities and technology outside are also important assets to consider. The area where your kitchen is placed outside will need to be equipped with amenities like power, wifi, gas, and running water. Because it will require additional trades, supplies, and maybe local permits and inspections, it is crucial to budget for these added expenses.
Location is SO IMPORTANT!!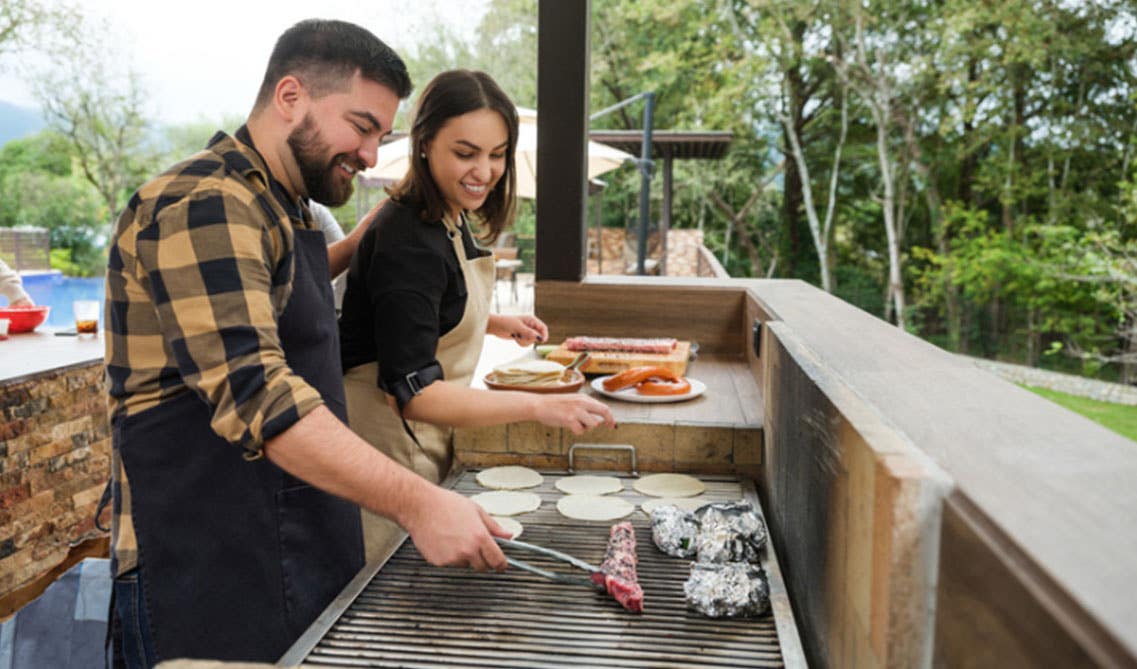 First things first, take into account the environment and climate of the area in which your home lives. Both will significantly affect the layout, components, and duration of the outdoor kitchen's open season. Every climate has particular problems and solutions, such as variations in the weather and living along the coast. 
Also, understand that some materials like tile, natural stone countertops, and construction materials should be avoided in areas with fluctuating weather since they run into the danger of cracking. Depending on the materials chosen, weather extremes may cause damage to your outdoor kitchen cabinets.
Consider the size of the available area by integrating extras like outdoor heaters, fans, or roofing while creating your design. You may extend the time that the outdoor space can be used.
Despite the beautiful views, salt water and sea air might damage some kitchen cabinet materials. Marine-grade stainless steel works best for cabinet buildings in coastal areas. Regardless of the stainless steel quality, outdoor kitchen cabinets can be protected with powder coat treatments (colors or natural wood textures).
How Should I Create My Layout?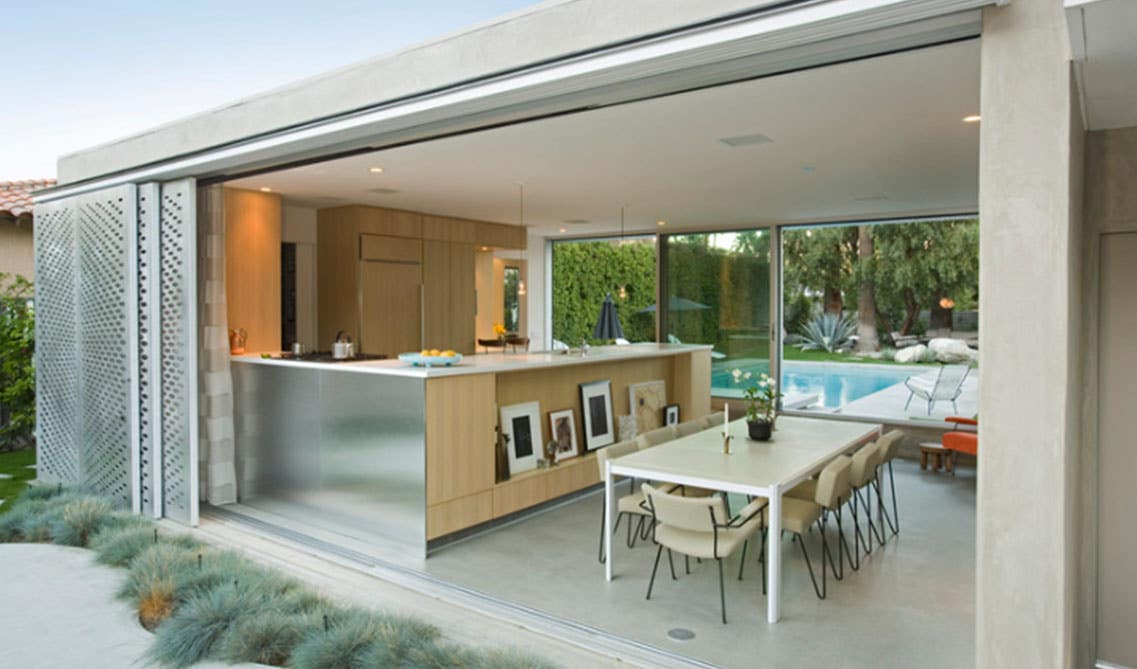 Think about how well your outdoor kitchen works. An outdoor kitchen arrangement should include the same four operating zones as a professional kitchen. Each of the four zones—cold, hot, wet, and dry—should be easily reachable from the others.
Refrigerators and ice producers have their dedicated cold section, while cooking equipment has its hot area. A sink and/or a bartender stand are located in the wet area. 
The dry room is used for meal preparation and additional counter space. Keep utilities in mind when deciding where to install zones. Ensure that there is availability of water, electricity, and gas.
Now the Fun Part- Let's Get Designing!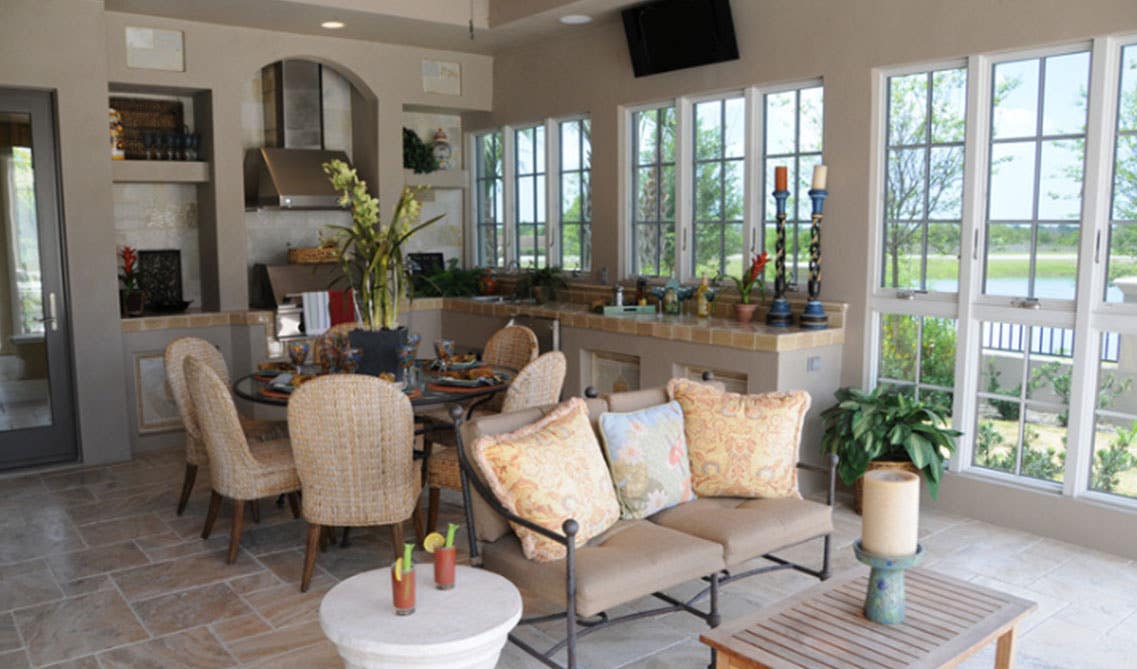 Are you prepared to go on to the next stage of outdoor kitchen design? Your primary step in creating the aesthetic for your kitchen will be to choose the base units. It's best to design an outdoor kitchen to blend with the scenery surrounding your backyard. 
Brickwork or a brick overlay can be utilized to match your home, while base elements made of wood or stone can be used as a natural complement. 
If you're wondering how to build an outdoor kitchen and elevate it to a higher level, other pleasures to consider are integrating outdoor bar ideas with chairs for sitting guests and a specialized beverage fridge. After a meal, how about an ice cream or coffee bar? Have fun with it!
What are the Essential Appliances to Consider?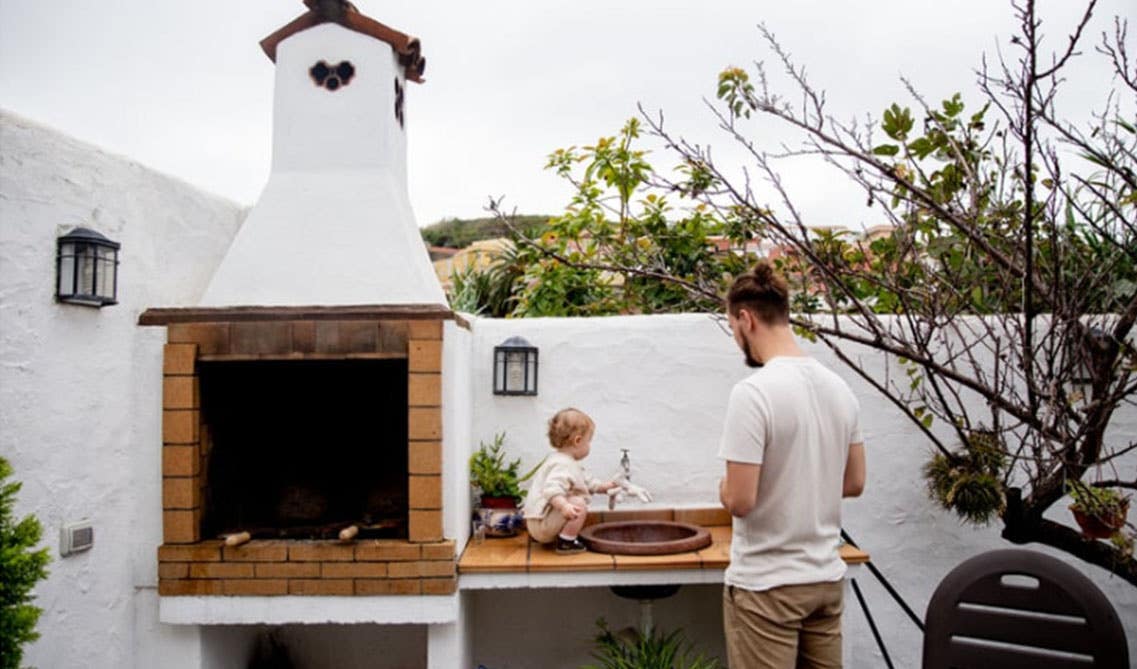 Outdoor kitchens are more valuable when they have appliances. The choice of multifunctional appliances should be made based on personal preferences for cooking methods and levels of entertainment to showcase the chef's talents! Cooks of all skill levels can express their creativity using burners, smokers, pizza ovens, grills, etc.
Refrigerators and ice makers should be given the same consideration as hot appliances. The efficiency of refrigerators is influenced majorly by the climate. Consequently, selecting models with excellent performance for the location offers the highest possible return on investment.
Don't Forget to Leave Room for Storage!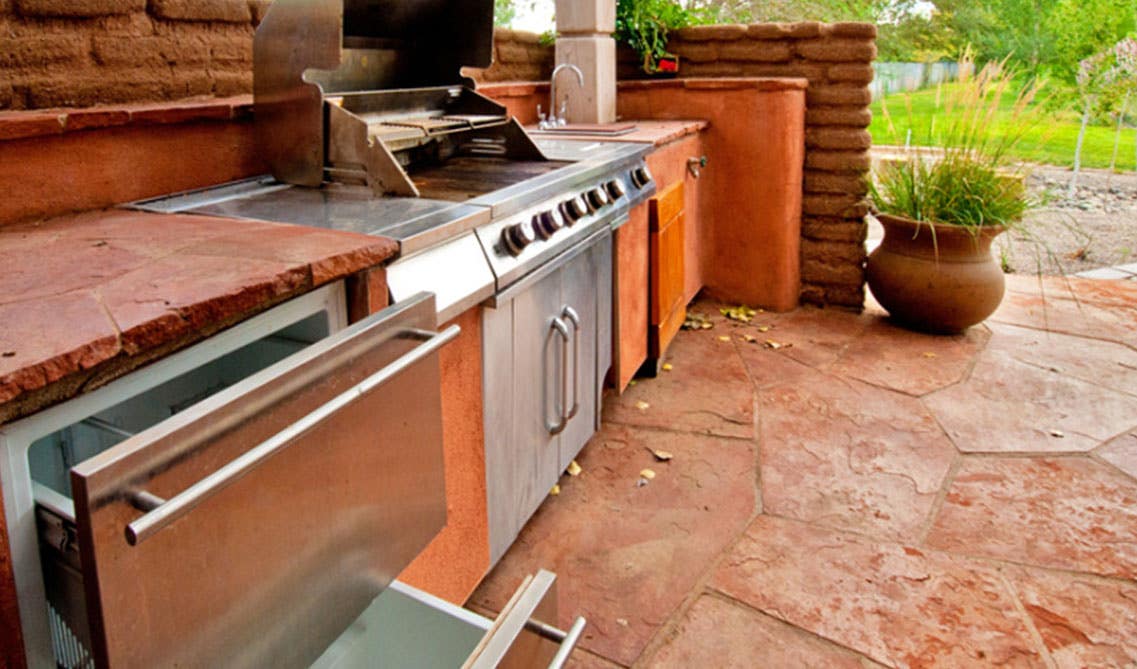 Think about the items that the outdoor kitchen setup will need to store. Most outdoor kitchens are not entirely animal/insect-proof and are susceptible to dirt, dust, temperature, humidity, and rainfall changes. As a result, it is recommended to store cutlery, cups, dishes, and other non-food things in plastic tubs inside the cabinets.
A strategy for an outdoor refrigerator and impermeable storage containers is necessary for practicality and food safety. There are several different sizes of airtight containers that help keep critters out while providing accessibility. 
Also, it is advantageous to have a dedicated area for cleaning supplies so that cleanup can be done as quickly as possible. The lifespan of stainless steel kitchens can be extended with proper maintenance; therefore, cleaning food and other waste surfaces is highly recommended after use. 
What Are My Next Steps?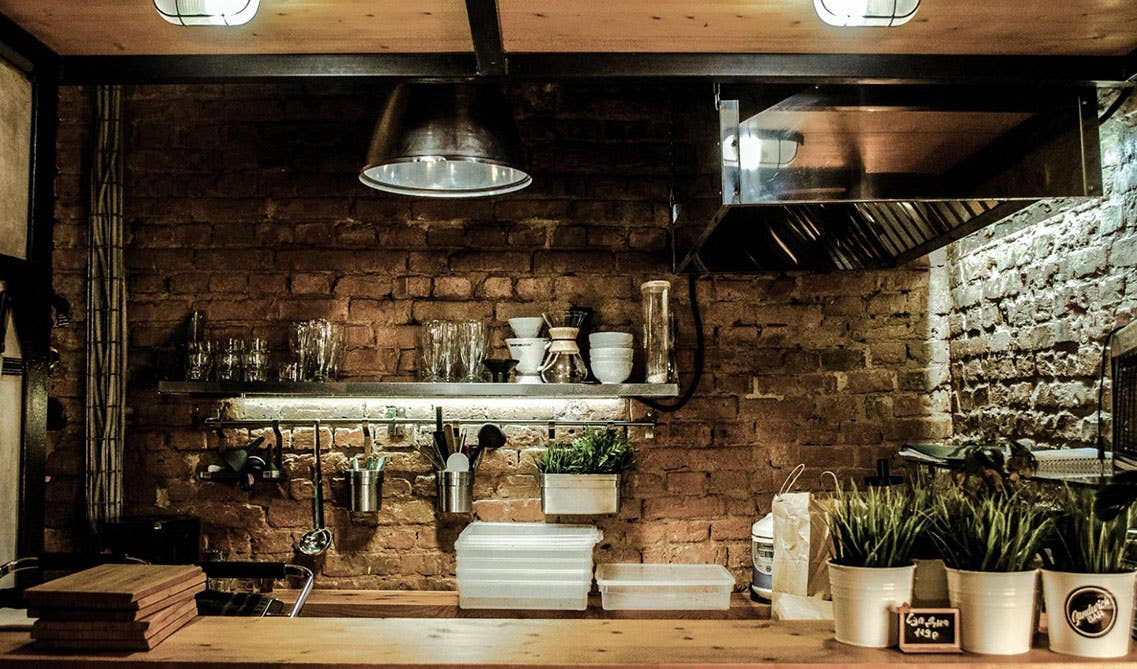 Creating an outdoor kitchen as an outdoor living area component is a creative, exciting, and challenging endeavor that offers limitless opportunities. Kitchens outside can be just as elaborate as those inside. 
Want assistance achieving your vision for an outdoor kitchen design? Lily Ann Cabinets is available to assist you with creating your outdoor kitchen today. We are a one-stop shop for all wood and cabinet materials needed to make any outdoor area stand out for your future BBQ and summer parties this year!
If you want assistance building your new outdoor kitchen before the summer season begins, contact us right away! We provide a wide selection of durable cabinets that can be used to create your ideal outdoor kitchen. Visit our website for a detailed description of everything we have to offer.
FAQ:
1. Are outdoor kitchens worth it?
Yes! If you are looking to create an entertainment area and expand your liveable space, an outdoor kitchen is worth it.
2. What are the disadvantages of outdoor kitchens?
According to Custom Home Group, here are 4 cons of outdoor kitchens:
Outdoor Kitchens Require Space

You Will Need Some Weather Protection

Outdoor Kitchens Need Security

They Need to be Maintained
3. Is it OK to build an outdoor kitchen with wood?
Yes, however, if allowed to brave the elements the wood cabinets can be susceptible to rot, and weather, and will need to be replaced in the future.