The grey and white kitchen: timeless, chic, yet simple. This color scheme is highly agreeable—whether your style is modern, traditional, transitional, or even farmhouse, the grey and white color scheme is sure to please.
Many of our customers bring us design ideas for their own grey and white kitchen remodel from Pinterest or Houzz, so we figured it would be helpful to compile some of our favorite ideas in one place. From the best countertop colors to creative kitchen cabinet combinations, we're covering all the best design options to help you create your dream grey and white kitchen!
1. Modern Masterpiece
Authentic Custom Homes
This grey and white kitchen features a unique mix of modern and traditional design elements. The white marble waterfall countertop functions as the centerpiece of the space, with grey veining that matches the surrounding cabinetry. With grey shaker base cabinets and white shaker upper cabinets, this kitchen has a symmetry that is appealing to the eye. Chunky contemporary cabinet pulls complete the look, adding an artistic finish that matches the stainless steel appliances.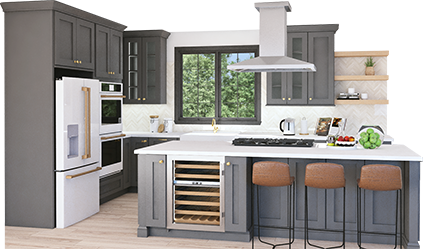 Get your FREE 3D kitchen design today!
Start Now
2. Coastal Charm
Blackband Design
With plenty of natural light flooding in and a bright color palette, this coastal inspired farmhouse feels calming and serene—the perfect place to unwind after a long day.
White cabinets cover the rear wall, while a light grey island adds extra work space and a seating area in the center of the room. In keeping with the open feel of the space, the upper cabinets flanking the stove feature glass doors and LED cabinet lighting. The home decor is kept light and simple as not to distract from the delicate design. Our favorite element in this coastal design is the grey subway tile backsplash, adding a hint of traditional character without overwhelming the room.
Love the look of glass door cabinets? Ask us about our affordable glass door inserts!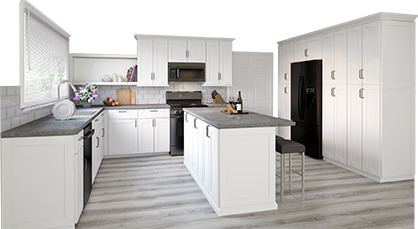 3D Kitchen Visualizer Tool
Bring your dream kitchen to life with our free kitchen visualizer!
Design Now
3. Staff Favorite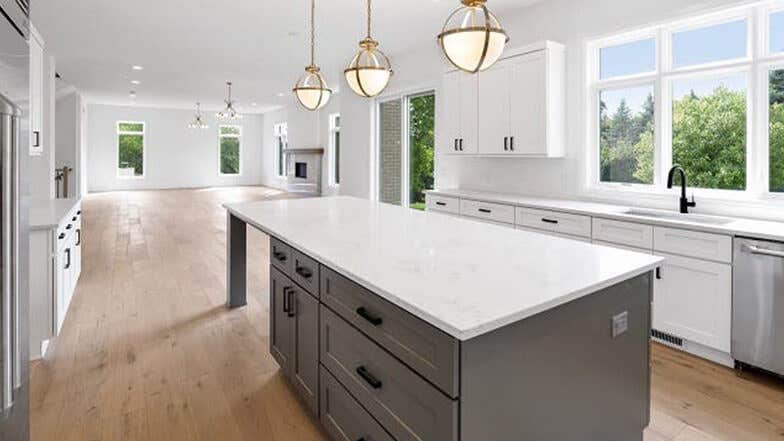 Create this look with our Shaker Elite cabinet line!
This customer kitchen is easily one of our top ten favorite picks! The open layout and simplified design make for the ultimate functional living space.
An oversized kitchen island fitted with our Grey Shaker Elite cabinets steals the show in this layout. Surrounding the island, our White Shaker Elite cabinets brighten up the space while providing plenty of storage. Matte black hardware completes the look, bringing a contemporary style to the design. Who wouldn't want to cook up a fabulous meal in this gorgeous space?
Also Read: 25+ Ways To Style Grey Kitchen Cabinets
4. Wood Tones
Ulrich Inc.
For a more traditional look, this interior designer opted to add a wall of natural wood cabinets to the predominantly grey and white design. This was a bold choice, but the payoff was undoubtedly worth the risk.
The grey and white cabinets feel fresh and modern while the rich maple keeps the space grounded in a traditional style. What do you think of this unique kitchen design? Would you feel bold enough to add natural wood cabinets to an otherwise modern design?
Get a free sample today to see how grey and white cabinets will look in your kitchen.
5. Chic Backsplash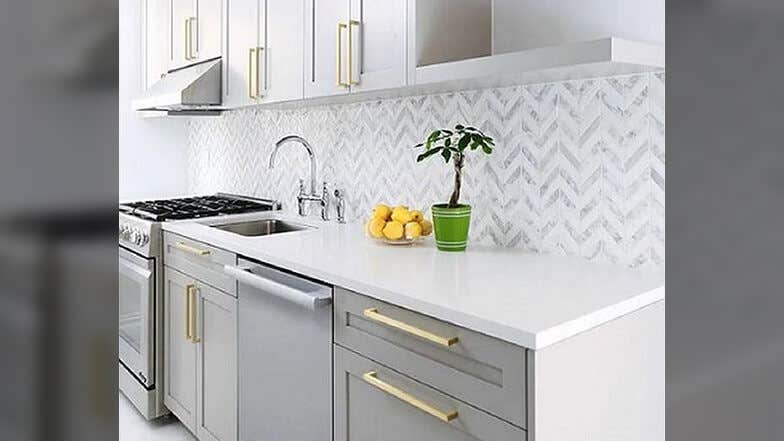 Grey shaker cabinets are extremely versatile, which is why we often recommend them to remodelers looking for a timeless cabinet that will stand the test of time. In this grey shaker galley kitchen, the goal was simple: contemporary style with an artistic spin.
The plain white countertops, subdued brass cabinet pulls, and white tile floors all contribute to the simple contemporary feel of the design. The artistic aspect comes into play in the unique grey and white geometric backsplash. Altogether, the design appears elegant and well-considered.
6. Simple Yet Stunning
Sanctuary Design, Inc.
This kitchen feels radiant and large thanks to its bright white and grey color scheme. The main focus of the design is the vivid white cabinetry with raised panel doors. A matching raised panel range hood contributes to the consistency of the design. To break up the white cabinetry, a grey island sits in the middle of the galley design.
For homeowners who love the look of a white kitchen but want to add a splash of grey for contrast, consider painting or refacing the island—it's sure to pop against the rest of the white finishes.
7. Marvelous Marble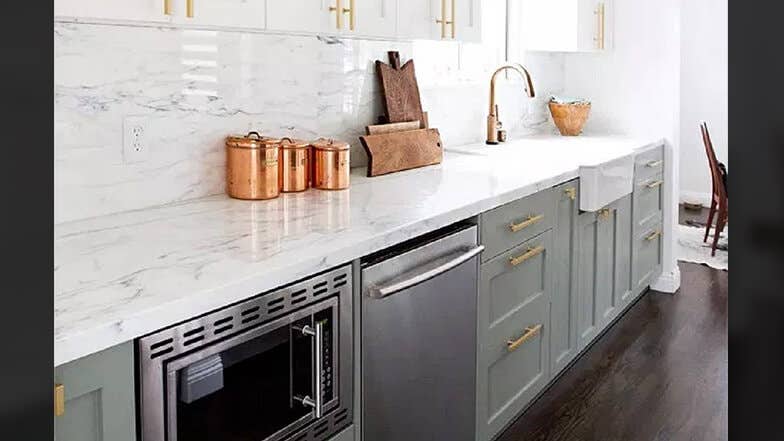 Sarah Sherman Samuel
We love this kitchen by LA designer Sarah Samuel. The carefully-selected mix of contrasting finishes feels just right in this contemporary space. The dark wood flooring is dramatic and elegant, providing a great contrast against the light grey and white cabinets. A white and grey marble countertop with matching backsplash gives the design a seamless and effortless feel. To finish it off, brass hardware adorns both upper and base cabinets to pull the look together.
8. Dreaming of Distressed
Create this look with our York Driftwood Grey cabinets!
If painted grey cabinets aren't the look you're going for, consider distressed grey cabinets. Distressed cabinets have more depth and add dimension to a white kitchen design. For example, this kitchen features distressed grey cabinets for the island, complete with a luxurious white slab countertop.
The dark grey tone of the cabinets ties in well with the dark wood floors, grounding the otherwise all-white room. Another unique element of this kitchen is the reflective tile backsplash—since grey and white are neutral colors, you can get away with having a more eccentric backsplash.
9. Beachy Hangout
If you're a fan of HGTV, you'll love this charming U-shaped kitchen design. This home was featured on House Hunters in Culver City, California. The goal for the renovation was a coastal vibe mixed with contemporary elements. Warm wood floors and a white paneled ceiling maintain the beachy feel while the mix of grey and white kitchen cabinets puts a contemporary spin on the all-white coastal kitchen. What a bright and charming home!
10. Shades Of Grey
Redstart Construction, Inc.
This kitchen design utilizes multiple shades of grey to provide the perfect amount of contrast against the white shaker cabinets and white countertops. The center island was painted a dark charcoal color, adding some drama to the design. Shades of light gray are found in the wood flooring and wall paint. The result is a nicely balanced color scheme that doesn't feel too dark.
11. Traditional Beauty
Design Storms LLC
How do you make the grey and white color scheme work for a traditional kitchen design? First, choose your favorite grey and white cabinets. Then add traditional cabinet hardware, like the chrome bar pulls used in this kitchen. Opt for crown moulding when possible to encourage the handcrafted, elegant feel common to traditional kitchen design. Choose warm-toned flooring and add a vintage rug to keep the space feeling homey and inviting. Lastly, add some chic pendant lighting to complete the look.
12. Wood Accents
Elms Interior Design
This beautiful contemporary grey and white kitchen by Elms Interior Design is the picture of elegance. The carefully placed wood finishes bring a warmness into the design—seen in the barstool seating, floors and teak cutting board. Subtle brass accents bring a hint of glamour without feeling overbearing. Our favorite addition is the delicate glass pendant lighting above the island: chic, yet simple!
13. Steel Appliances
Eve Mode Design
When planning a grey and white kitchen, it's also important to consider which appliance finish will look best. We usually recommend stainless steel appliances for modern and contemporary kitchens. Stainless steel also looks striking in combination with silver or chrome cabinet hardware. However, white or black appliances can also mesh well with this color scheme in more traditional designs.
Plan Your Dream Grey And White Kitchen Today!
Ready to get started on your dream grey and white kitchen? Browse our premium selection of RTA Cabinets for up to 50% off box store pricing. Once you've found your perfect fit, get a FREE 3D kitchen design to help you visualize your dream kitchen. Get started today to receive a quote, full kitchen mockup, and detailed specifications on your kitchen remodel. We're here to help every step of the way!
Related Blogs: