Design trends change so often and with such unpredictability that it can often feel like an exercise in futility to keep up with them. Nowhere is this more true than in the trends that dictate modern kitchen design - in fact, the terms "modern" and "contemporary" get thrown around so casually that their meaning is often lost or misconstrued. None of this is to say, however, that you should just give up and resign yourself to the kitchen you already have. If you're ready to lend a little more modernity to the heart of your home, all you have to know are the rock-solid contemporary design principles that have stood strong against the constant current of change.
Open and Uncluttered
Perhaps the most significant hallmark of modern kitchen design is that of its emphasis on clean lines and negative space. While more rustic kitchens embrace the display of knick-knacks and accessories, modern cooking and dining spaces instead encourage flat-faced cabinetry, unfussy aesthetics and counters free of clutter. While this may sound boring or dull on its face, this commitment to simplicity allows the base components of your kitchen - the flooring, the counters, the craftsmanship of your kitchen cabinets - to take center stage and really sing. With no tchotchkes or bric-a-brac to distract the eye, your guests can instead focus on the beauty of those essential elements and the way they complement one another. That principle leads us to our next point, which is…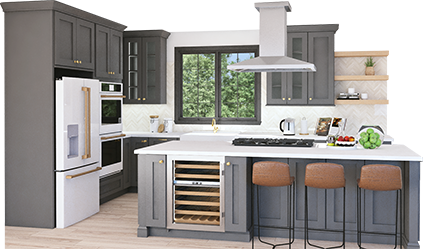 Get your FREE 3D kitchen design today!
Start Now
Quality Materials
Modern kitchens place a great deal of emphasis on showcasing the base components of the space, and as such it's of the utmost importance that those components are worth showcasing. The easiest way to ensure this is by selecting high-quality materials in the construction of those components, as there's no better way to guarantee a stunning final product than by starting with exceptional ingredients. Though this may sound beyond your budget, this need not be the case. Granite countertops, for example, are used in modern kitchens the world over and can be found for as little as $45 dollars a square foot (including installation). As far as flooring goes, you may not even have to pay for a special installation if your kitchen already features hardwood floors - hardwood has been embraced by modern designers in recent years and can serve as a beautiful base for a stylish and contemporary kitchen. Remember too that your cabinetry need not be expensive to be exceptional. At Lily Ann, we offer many reasonably priced models (including those recommended by this blog post) that fit perfectly within modern kitchens and are as gorgeous as they are affordable.
Neutral Colors
In a sense, this principle combines the elements of the previous two - by basing your kitchen in a neutral color, you're contributing to the simplicity of the space and allowing the components within to really sing. Again, this need not mean surrendering your kitchen to drab and boring tones. On the contrary - consider just how wonderfully your cabinets will pop when created in the bright, clean, Colorado Shaker style. Those looking for something a little more muted may instead prefer the subtle beauty of Steely Grey Shaker cabinets, an exceptional choice for homes set in colder climates. Designers that desire boldness from their cabinetry, meanwhile, will find much to like in the dark, handsome tones of the Shaker Espresso style. Remember that the most important factor in choosing colors for your kitchen's components is that of picking those that naturally complement one another. Those choices, however, can seem impossible to make if you don't have a way to compare different hues to see which combinations work best. The usage of a guide or simulation (such as the free 3D kitchen design tool offered by Lily Ann) can be of great help in visualizing your kitchen as a whole and in determining the perfect colors on which to base your design.
Socialization Space
Kitchens aren't just for cooking anymore - they're the heart of your home, a warm, welcoming space wherein friends and loved ones can share meals and conversation in equal measure. That being the case, it's essential that you dedicate some room in your kitchen to socialization, an area in which guests can comfortably gather over dinner or drinks. One way to achieve this is through the inclusion of a large island by which you can position stools or high-backed bar chairs. If space or budget won't allow for that element, you might instead consider the inclusion of a small, tasteful dinette set positioned away from your appliances and sink. Just remember that whatever set you choose should be easily integratable into the overall design of your kitchen - nothing says "last minute decision" like a piece of furniture that sticks out like a sore thumb.
Conclusion
It's an exciting time for kitchen design. Though it may be hard to keep up with the newest trends and styles, the basics of modern kitchen design have more or less solidified and given designers a world of remodeling options that can be as striking as they are simple, as sophisticated as they are subtle. At the same time, you never want to let the tyranny of the cool dictate your choices for you. While everything in this piece (and in any other advice you receive) should be considered as you make your design decisions, they are, in the end, your decisions and your kitchen. We hope that you find this information useful as you perfect your dream design, and we encourage you to get in touch if you have any further questions about any aspect of kitchen or cabinet remodeling.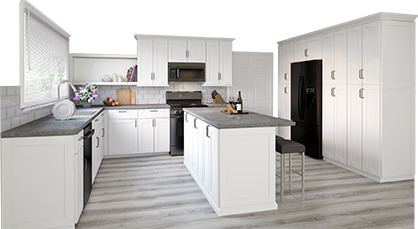 3D Kitchen Visualizer Tool
Bring your dream kitchen to life with our free kitchen visualizer!
Design Now