A kitchen remodel is a daunting task in and of itself, but all the little decisions you need to make leading up to it, like whether or not to buy wholesale cabinets, make it all the more stressful. Luckily, we can help make the process a lot less complicated. Let's explore some of the benefits of buying Lily Ann wholesale cabinets and how the competition holds up.
The Home Depot Vs. Lily Ann Cabinets
The Home Depot is one of the most popular large hardware stores around, making it a first stop for many kitchen remodelers. Like Lily Ann, they sell RTA cabinets and offer free design help online or in-store. However, The Home Depot's kitchen cabinets are made of particle board and use cam locks for their assembly. Many big box stores like The Home Depot use particle board, which is sometimes referred to as "furniture board" or "medium density fiberboard" (MDF). Unlike plywood or true hardwoods, particle board is not very durable and often cracks or splinters when the parts are screwed together. Cam locks also lack durability, providing only two or three points of security for your cabinets' joinery. They often separate, bend or break over time. Lily Ann Cabinets uses dovetail assembly for our kitchen cabinets and drawers. The interlocking, fan-shaped design allows each part to be securely fitted together without the need for screws or locks — you only need a rubber mallet and perhaps some wood glue to make sure everything is locked into place. Additionally, Lily Ann always uses hardwoods and plywood in our kitchen cabinets, never particle board. They are far sturdier than particle board cabinets and, being wholesale, they are also reasonably priced. Another consideration is design support. When you remodel your kitchen, you'll want an expert to make design suggestions, help you figure out the specs and placement of cabinetry, visualize your kitchen before it's done, etc. Lily Ann Cabinets offers these services free and makes them conveniently accessible online, no matter which cabinets you want to purchase. The Home Depot offers design support only if you're ordering custom cabinets, which are more expensive than RTA cabinets.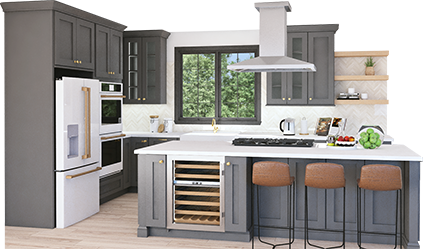 Get your FREE 3D kitchen design today!
Start Now
Lowe's Vs. Lily Ann Cabinets
Lowe's is another commonly visited store for people preparing for a kitchen renovation. They have a nice, wide variety of cabinets that are generally fully assembled. We all know what that means — they're going to cost more. Lowe's cabinets are also frequently made of furniture board and/or assembled using cams, which means the drawbacks we discussed earlier. Lily Ann Cabinets uses solid wood construction for nearly every piece of our cabinets, uses dovetail joinery, and boasts an impressive 12-step finishing process. When it comes to design help, Lowe's does offer free consultations, but only in person. Unlike Lily Ann Cabinets, Lowe's doesn't offer an online option.
IKEA Vs. Lily Ann Cabinets
IKEA has become increasingly popular in the United States over the years and is now a first stop for people seeking easy-to-assemble, inexpensive furniture. But IKEA's reduced prices often reflect a reduction in quality. Like Lowe's and The Home Depot, IKEA uses particle board for most of their kitchen cabinets. They also don't have a very wide selection, especially in comparison to larger home improvement stores or Lily Ann. The cabinets often come preassembled with snap-on hinges that are not likely to be durable. Also, while they have planning tools and inspiration pages, they don't have any sort of design help available. IKEA's inventory might be perfect for college students returning to school, but it probably shouldn't be your first choice for kitchen cabinets.
Wholesale Cabinets Are The Way To Go
When you consider the factors above, Lily Ann Cabinets is clearly your best option for wholesale kitchen cabinets made with quality materials, craftsmanship, and care. Plus, since we are a wholesale dealer, our prices can't be beat! We're so excited to get you started on your kitchen remodel. Try out our free design tool and visit our full catalog of RTA cabinets to start putting together the kitchen of your dreams!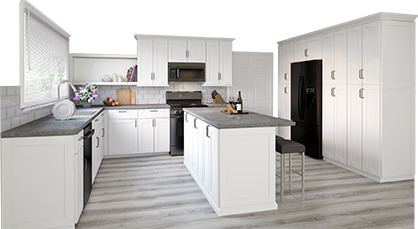 3D Kitchen Visualizer Tool
Bring your dream kitchen to life with our free kitchen visualizer!
Design Now