Are you looking to remodel your laundry room? Your laundry room might be your home's most important room when it comes to organization and added storage your home. Maybe your laundry room has simple wire shelving, bland walls, or space you can't use. There are so many ways to refresh this space and make it an efficient part of your home routine.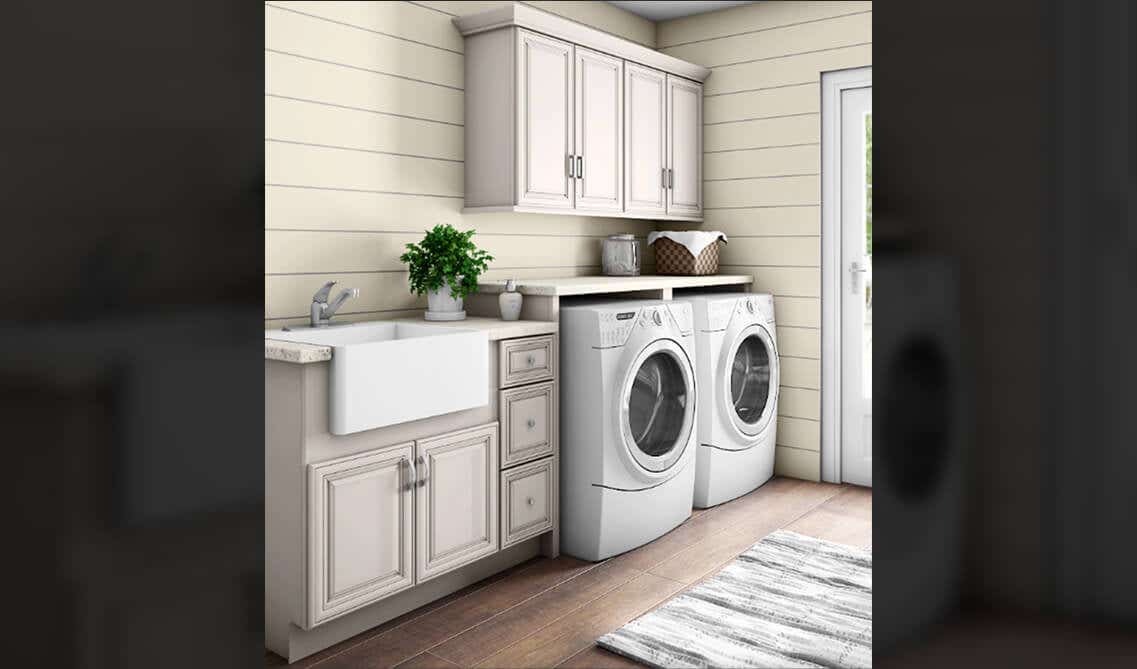 Lily Ann Laundry Room Cabinets
Organization & Storage
The foundation of your laundry room design comes down to the storage. Simple shelving may get the job done, but cabinets provide the area with a sleeker, more organized appearance. 
Cabinets and drawers provide your space with more room for your detergents, cleaning supplies, laundry appliances, and other household necessities that simple shelving cannot offer. 
Lily Ann Cabinets can help create the perfect laundry room design to include cabinetry that optimizes your space while creating a cohesive aesthetic that will fit your home's design. All you have to do is pick the cabinet style, send us your measurements, and we will create the laundry room of your dreams!
You should also consider cabinet inserts when designing your laundry room. Cabinet inserts provide another step toward an organized laundry room without having to add shelving to the walls or take up extra cabinet space with all of your household items. 
We offer a variety of insert options depending on your specific needs, whether it be cabinet inserts or drawer inserts to keep your laundry room clean and efficient. For example, rollout shelves allow for easier access to your supplies while you're busy with chores. Even more convenient, is a rollout caddy that is removable and can be used to both store and carry items.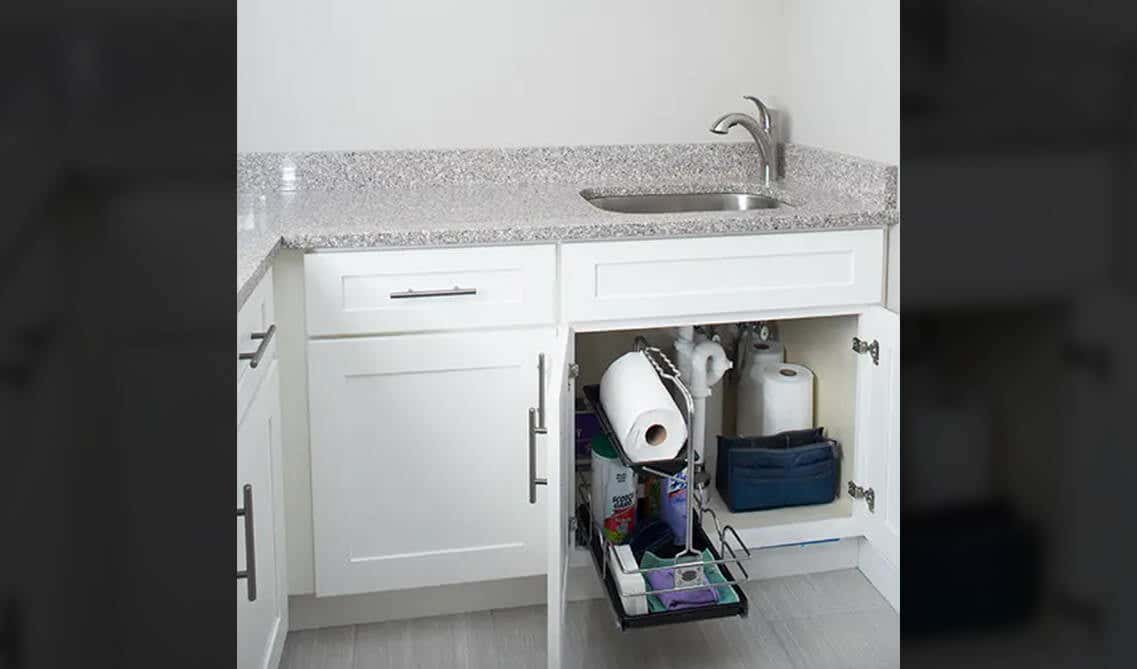 Lily Ann Cabinets Colorado White Shaker
Putting your waste bin out of sight is a little thing that makes a world of difference, especially if your space is limited. A sliding bin is a great way to accomplish this in a laundry room with a cabinet insert. Maximize your floor space by creating this space for your waste bin. 
Similarly, a sliding container for your hamper will make it so much easier to keep clutter out of sight in your laundry room. Having dirty clothes waiting in your laundry room is unavoidable, but this is a convenient way to keep it organized and ready to be washed. Have it ready to go in the wash in an instant, all while keeping your laundry room decluttered.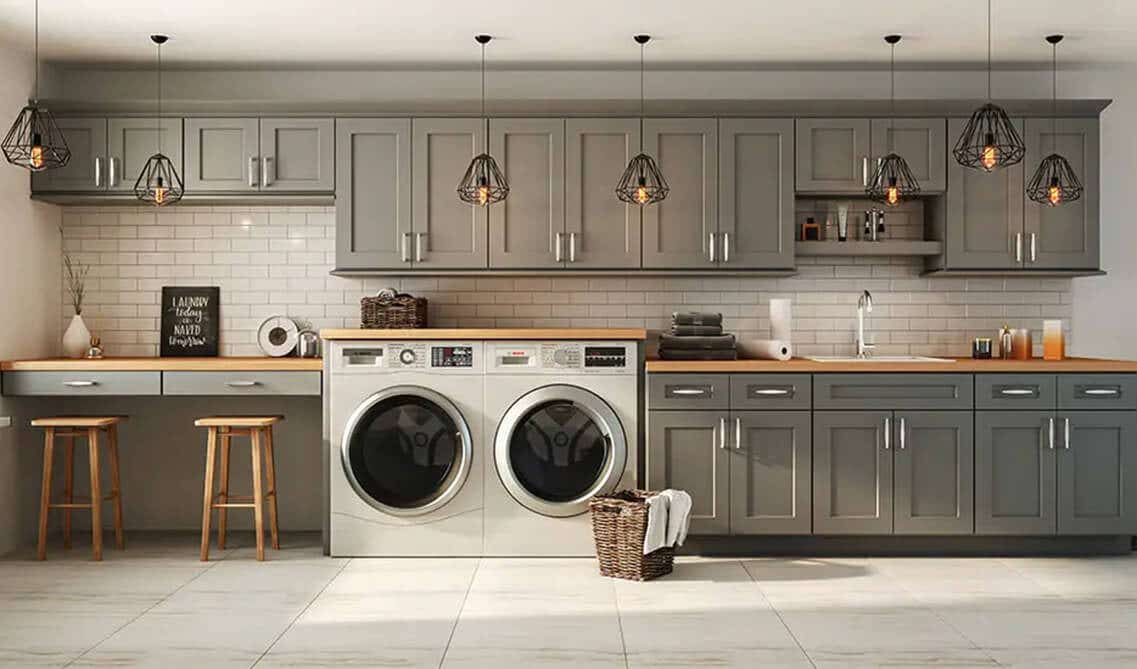 Lily Ann Cabinets Grey Shaker Elite
Save open shelves and countertops for your most used products or for cute laundry room decor. Perhaps your machines are front load: use the top for table space! This is a perfect way to use your space efficiently. Use it for folding, ironing, or any number of other tasks on your laundry list. It can become the perfect workspace for chores or an ideal spot for keeping supplies handy.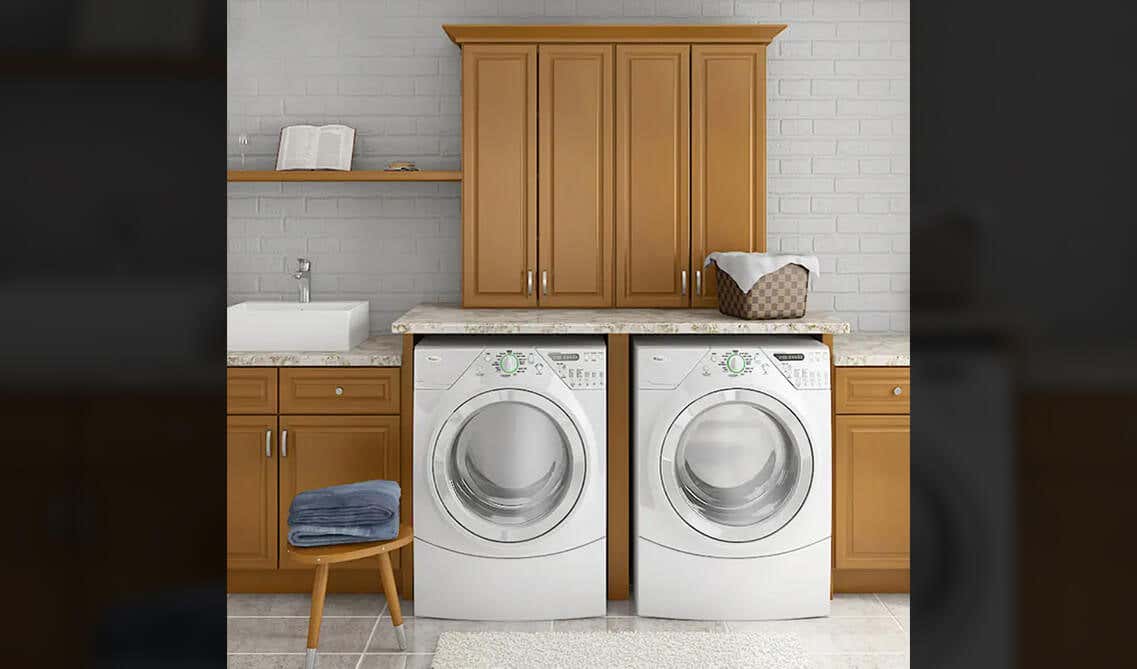 Lily Ann Cabinets Madison Toffee
Adding Hardware & Design Elements
Once your storage has improved, other aspects of the room become easier to pinpoint. It might be adding new hardware to your sink or cabinet doors - the finishing touches that make all the difference. Or, you may want a more drastic change like flooring and backsplash!
Adding a burst of color or pattern can liven up a room like nothing else. In contrast with the rest of your laundry space, a color or pattern will make your laundry room a place you won't mind visiting a few times per day. Backsplash and tile are great options for patterns on walls, and it allows for a very customizable look! Or, try peel-and-stick for a cheaper option with easier application and removal.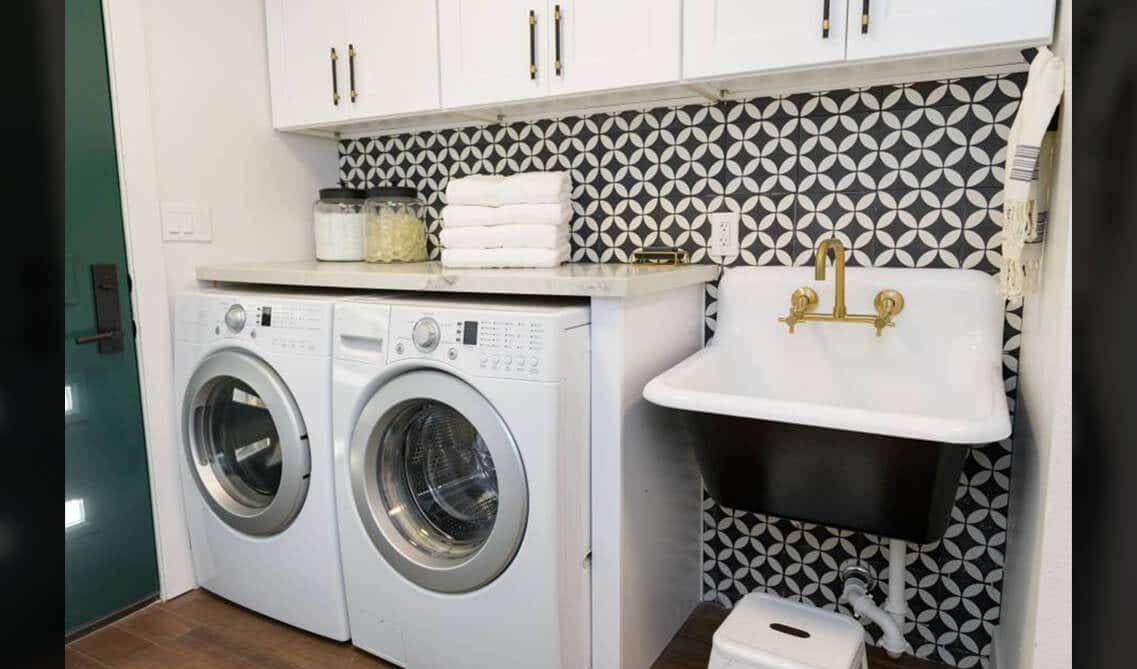 Paint
In a similar way, color can have an effect on your laundry room as well. Perhaps you have paint from other parts of your home; these options will tie your house together and create a brighter space in your laundry room. A pop of color can transform a room from a dungeon to an oasis.Think about adding an accent wall to your laundry room that will have everyone wanting to do their laundry!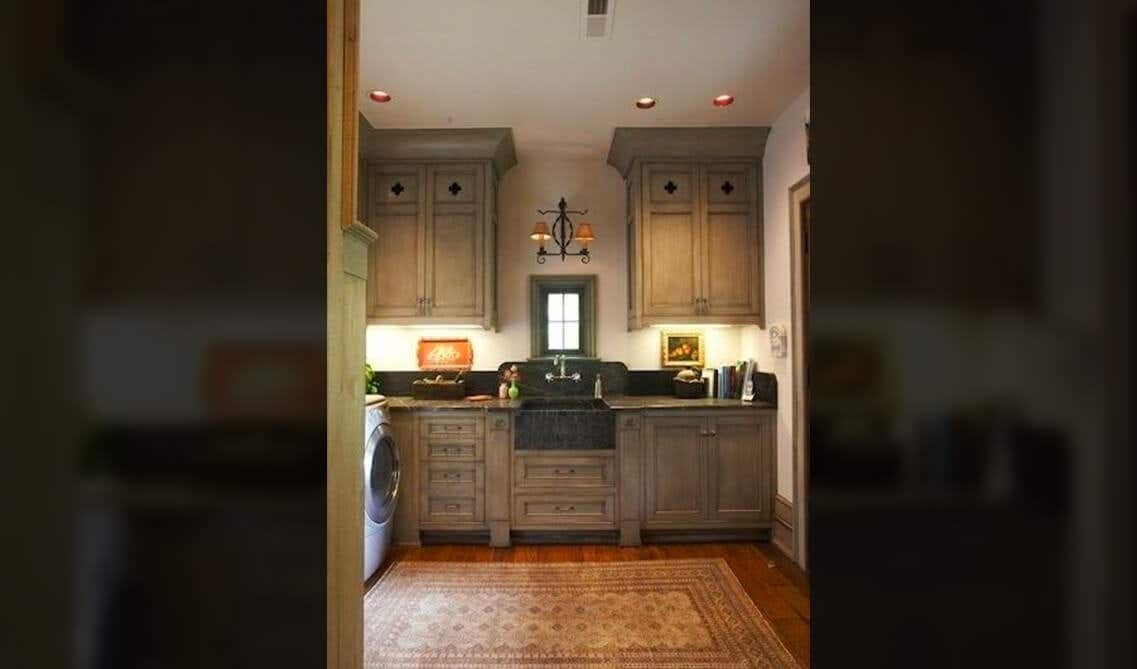 Flooring
Another option is to spruce up your flooring. Whether it be refinishing, replacing, or covering your floors, a change here can also make a difference. Tile, rugs, or a number of other pieces are great for this. Washable rugs create an affordable and easy-to-clean option for a room that takes a lot of dirt. Consider a fun pattern, color, or other accent to brighten your laundry room.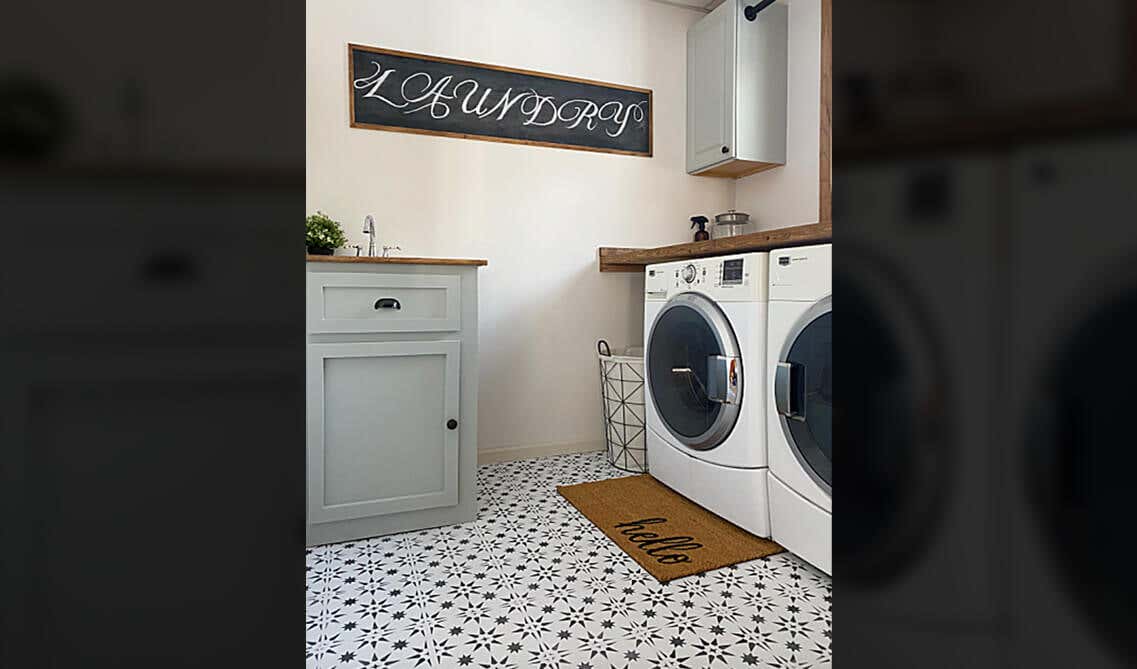 Decorative Additions
Smaller changes to your laundry room decor can be just as important to refresh the space. Consider organizing products into containers that can be displayed, such as jars or baskets. Simple changes like these take your laundry game to a new level. Add your decor and personal touches as you wish. There are a multitude of functional decor ideas to gather inspiration for your laundry room makeover or simply stylish pieces to add.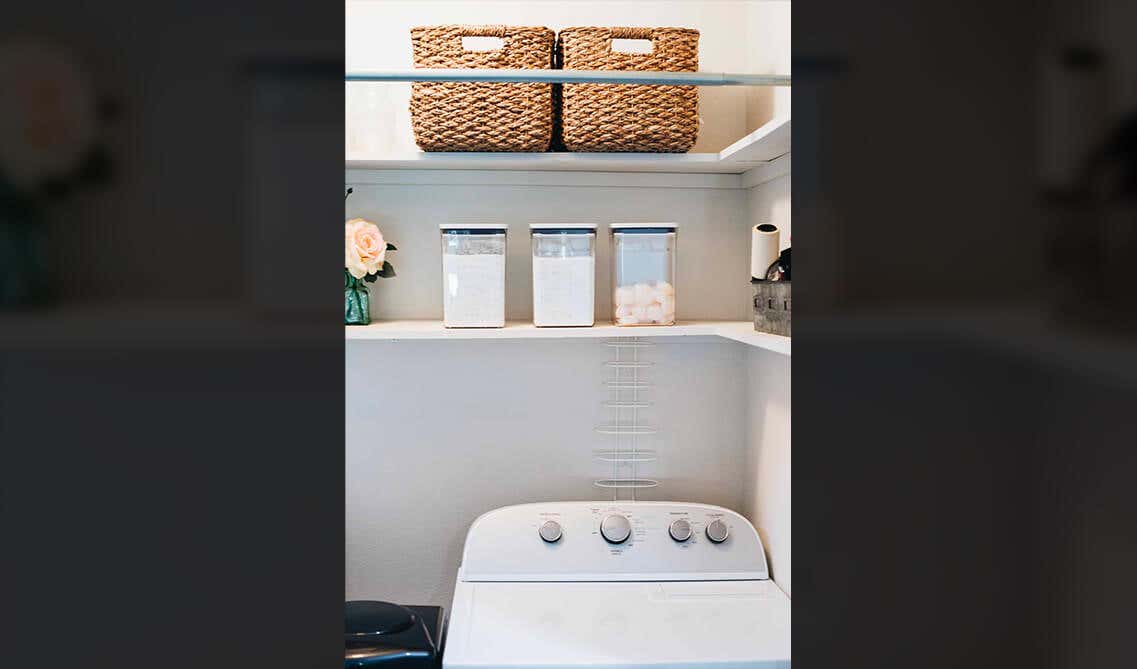 Making over your laundry room should be a fun, rejuvenating experience to help you feel better about your chores. Whether you want a bohemian or farmhouse look, your laundry room is a personal space in which to be creative. You have to do laundry, so you might as well make it look pretty and have fun with it. Find your starting point with Lily Ann Cabinets!
FAQ:
1. How can I make my laundry room look better?
Step one would be to add organizational elements like cabinetry, shelving and containers. This will help your laundry room stay clutter free. Once you have established the organization and layout of your laundry room, this is when you can begin to add the stylistic elements with  laundry room decor, signs, paint, rugs and hardware to give your space some personality. 
2. How do I upgrade a small laundry room?
Have a small laundry room? Try these tips that we listed out on our Lily Ann Cabinets Blog!
3. What should every laundry room have?
Bleach

Dryer sheets

Stain and odor removers

Extra home appliances/supplies

Cleaning Supplies

Trash Bin
4. What is the ideal laundry room size? 
The average laundry room size in the United States is 35 square feet. In dimensions, this would typically be a 5-foot by 7-foot room.
5. Why doesn't every home have a laundry room?
Some homes are too small that a laundry room is not taken into consideration when building. Some homes have enough room for closets to be converted into laundry rooms or kitchen space to be used for the washer and dryer.