Everybody has that drawer … or a few of them. It's the go-to place for tossing odds and ends, although sometimes you might never see them again. But with the right kitchen drawer organizers, you can put an end to the madness and head into the New Year with a kitchen that's tidy inside and out.
Cut-To-Size Cutlery Tray
It can feel impossible to find an organizational cutlery tray that fits well inside of your drawer. Usually, they're too small and wind up sliding around with other utensils shoved in the empty spaces surrounding it. The cut-to-size wood cutlery tray insert from Lily Ann Cabinets is the perfect solution to this problem — it's a kitchen drawer organizer that's a perfect fit! Simply give us your drawer's dimensions, and we'll cut down the organizer to size so it's ready for installation. No more utensils relegated to the back corners of your drawers!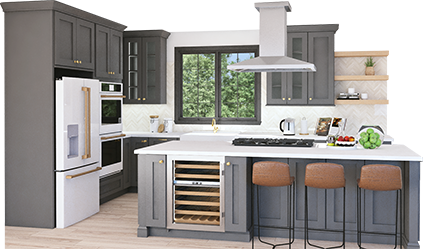 Get your FREE 3D kitchen design today!
Start Now
Peg Systems
If your kitchen cabinets have large, deep drawers, a drawer peg system offers the perfect opportunity for organization. The peg system can be arranged any way you like to help hold everything from large dinner plates to small coasters in place. These cabinet organizers are perfect for those who have run out of storage room in their hanging wall cabinets.
Rolling Tray System
This unique kitchen drawer storage solution makes the most of your drawer space. The rolling tray drawer system has a spacious bottom section for larger utensils like spatulas and ladles and a smaller section on top that snugly holds cutlery like forks, knives and spoons. The top section can slide forward and backward over the bottom section for easy access and maximum storage.
Knife Block Inserts
Sometimes a knife block takes up too much counter space, but you also don't want your biggest, sharpest knives sliding around in a drawer. The solution: wood double knife block inserts. These kitchen drawer organizers have slots just like a standard knife block, only they allow your knives to lay vertically in your drawer. They stay sharp, stay in place and free up some much needed work space on your counter or kitchen island.
Find More Kitchen Cabinet Organizers At Lily Ann Cabinets
Whether you're looking for a pull-out trash bin or a Lazy Susan, Lily Ann Cabinets has the organizational solution for you. Find the perfect kitchen drawer organizers for any size of drawer or cabinet when you browse our selection today.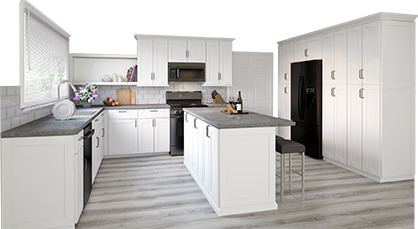 3D Kitchen Visualizer Tool
Bring your dream kitchen to life with our free kitchen visualizer!
Design Now