Undergoing a kitchen remodel can be a fun and exciting time. But it can also be extremely hectic and stressful. With all of these emotions running high, important kitchen details can often be forgotten. But with careful planning, you can create a kitchen that is both aesthetically pleasing and highly functional. The following are five kitchen remodeling tips to keep in mind when planning your dream kitchen.
1. Consider Kitchen Workflow
While there are various ways to arrange the elements of a kitchen, one of the most classic and timeless kitchen remodeling tips is to create a kitchen "work triangle." In other words, the kitchen can be viewed as a triangle with three focal points: the cooking space (stove and oven), sink and refrigerator. These are the three major work areas of the kitchen, and by planning the kitchen out in this format you'll create a natural and efficient workflow. Keep in mind that the paths between these three points should remain unimpeded and the points should not be too far apart.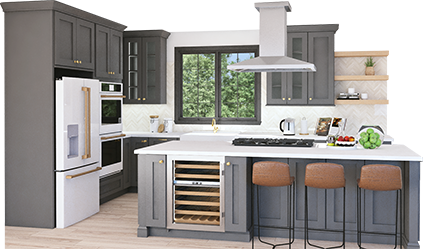 Get your FREE 3D kitchen design today!
Start Now
2. Ensure Cabinet And Appliance Door Clearance
One of the most important kitchen design tips is to make sure you have adequate cabinet clearance. When designing the layout of your kitchen, imagine your appliances and cabinets with their doors wide open. This will help you avoid potential interference and ensure cabinet and appliance door clearance. Nobody wants to be emptying the dishwasher only to get trapped by a cabinet door collision.
3. Create Landing Areas
There should be ample "landing areas" near your major appliances. This counter space gives your kitchen breathing room and provides much-needed space to rest food items and/or cookware. In your kitchen design, aim for 15 inches of countertop on each side of a cooktop and refrigerator. Landing areas are also important to have near the sink. There should be at least 24 inches of space on one side of the sink and at least 18 inches on the other.
4. Install Plenty Of Outlets
Outlets are one of those kitchen details that are easy to forget about when you're planning, but a shortage of outlets can be a real problem in a kitchen. There are so many small appliances that require electricity in a kitchen that you can quickly run out of outlets before you know it. Avoid this disaster by making sure you install multiple outlets along the backsplash and on the island, so you'll have access to electricity whenever (and wherever) you need it.
5. Opt For A Tucked-Away Trash Spot
Kitchen trash has a tendency to get quite smelly, not to mention that no one likes looking at an ugly trash can in the middle of their beautifully designed kitchen. Avoid this stinky eyesore by opting for a tucked-away trash and recycling spot. You can even customize cabinet inserts with separate containers for glass, plastic and metal recyclables.
Let Lily Ann Cabinets Help Create Your Dream Kitchen Design
All these kitchen cabinet details can be a lot to keep track of and implement into your kitchen design. Let Lily Ann Cabinets help. We can guide you through the process with our free kitchen design service. We'll help organize your wish list and transform it into a free, 3D kitchen design infused with all of your personal must-haves. From cabinet design to cabinet delivery, Lily Ann has you covered. Have a question or need more information? Contact us today.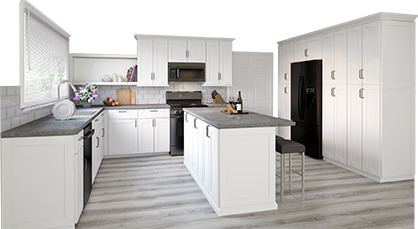 3D Kitchen Visualizer Tool
Bring your dream kitchen to life with our free kitchen visualizer!
Design Now