This article will address what many wonder as they think through their kitchen decor choices: Does your kitchen furniture have to match your kitchen cabinetry? In short, no. It's about complementing, not necessarily matching. Consider these three important factors when planning out your kitchen finishes and decor.
Also Read: How to Design a Rustic Kitchen
1. Kitchen Decor Style
As with any home decor project, style is key. You don't have to perfectly match your kitchen furniture to your cabinet style, but keep it in consideration when adding any new kitchen decor. For example, you wouldn't want to put an ultra-modern dining table set in a traditional kitchen. Before purchasing furniture or choosing new kitchen finishes, visualize the overall style you want to achieve. Are you going for a coastal look? Contemporary? French country? Once you've decided on an overall kitchen decor style, it will be easier to find a kitchen table, chairs and other kitchen furniture that match your style.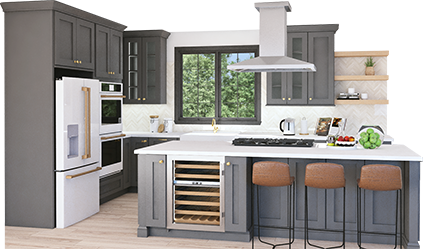 Get your FREE 3D kitchen design today!
Start Now
2. Kitchen Colors
This one may seem like a no-brainer, but it's important to think about your overall kitchen colors when choosing kitchen furniture. There are two ways to make color work for you when decorating your kitchen: matching and contrasting.
Matching is a great option for those who already have kitchen cabinets that they love. If you find that the paint or finish of your cabinets is an asset to your kitchen, it's a great idea to use that same color and style of kitchen furniture. Matching your cabinets and kitchen furniture enhances the flow of the space and eliminates the distracting issue of having too many colors in one room.
If matching your kitchen cabinets and furniture seems like a bit too much, then contrasting is another way to ensure your kitchen furniture and cabinets complement each other well. To achieve this look, choose a color of furniture that completely contrasts your cabinetry. For example, if you already have dark cabinets, a light-stained table and chair set would make for a nice contrast. If you are unsure of which color or stain will contrast your cabinets best, it's a good idea to bring in a sample or photo of your cabinets to compare against different kitchen furniture colors.
3. Kitchen Table
One more way to ensure your kitchen furniture complements your cabinets is to customize your kitchen table. To do this, you can paint part of a table (the top or bottom) to match your cabinets and leave the other part unpainted for a nice contrast. Not only is this an easy way to tie your table into your kitchen decor, but it's also an inexpensive and crafty way to freshen up a single-toned dining table set.
Also Read: Dark Kitchen Cabinet Ideas
Let Lily Ann Help Create Your Dream Kitchen
Still feeling unsure about your kitchen decor plans? Head to Lily Ann Cabinets to browse our extensive selection of RTA kitchen cabinetry. Our wholesale prices are some of the best you'll find online, and our cabinets are made with real, high-quality wood rather than particle board fillers. Request free cabinet door samples to see and feel your favorite styles in person and choose a look you'll love for years to come.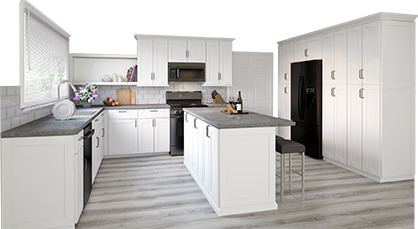 3D Kitchen Visualizer Tool
Bring your dream kitchen to life with our free kitchen visualizer!
Design Now