Keeping kitchen cabinets organized can be a challenge, especially when trying to store bulky items like pots and pans or cleaning supplies. It's easy to wind up with a jumbled mess that sounds like a bad drum solo when you try to grab something from it. However, there are many unique kitchen cabinet organization solutions to help keep even the noisiest items neatly stored and easy to retrieve.
Turntables/Lazy Susans
Usually, Lazy Susans are used to help keep snacks organized, but while this is a great idea, they can be used for much more. Use one for your cleaning supplies to easily find the spray bottle or sponge you need. If your turntable is on the smaller side, it would be great for keeping your spices tidy.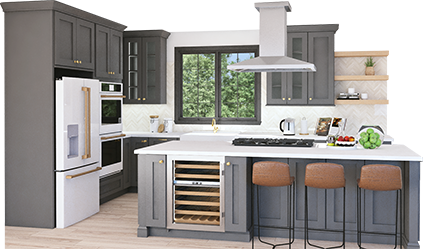 Get your FREE 3D kitchen design today!
Start Now
File Boxes/Magazine Racks
Turn a file box or rack on its side and presto! You have a slimmed down method for storing canned goods. If the rack or box is long enough, you could even use it to store those water bottles and thermoses that keep getting knocked over.
Towel Bars
A towel bar on the inside of your cabinet can hold a lot more than towels. For example, you can hook your spray bottles over the bar to keep them elevated and easily within reach. You get more room on the floor of your cabinets for items that are more difficult to knock over, too.
Cork Board
Unfortunately for stainless steel appliance owners, magnets on the fridge are not an option. Another simple way to hang notes, coupons and cute photos within reach is by affixing a small cork board to the inside of one of your cabinet doors. You can pin up all the notes and coupons you need to make your next grocery trip a breeze.
Over-The-Door Racks
Along with a towel bar, another cabinet organization idea is to hang a simple cutting board rack over your cabinet door. On top of cutting boards, you can store baking sheets, muffin tins or any other sheet or board of that size. This solution is definitely one that could help cut down on the clanking!
Drawer Pegs
A pegboard system is great for corralling your plastic containers and lids — no more digging around searching for a matching set! You can even use a pegboard to store plates and bowls securely in a drawer. Rearrange the pegs at any time to accommodate kitchenware of different shapes and sizes.
Pull-Out Drawers
One of the ultimate cabinet organization ideas is to add a pull-out insert to your base cabinets. Pull-out drawers can be used to stow away trash cans, organize pots and pans or even just bring some order to your spice cupboard.
Find Even More Kitchen Cabinet Organization Solutions At Lily Ann Cabinets
On top of RTA cabinets, Lily Ann offers a wide selection of kitchen cabinet inserts to help make organizing your new space easy. Check out all of our options today to create a new kitchen that looks straight out of a magazine!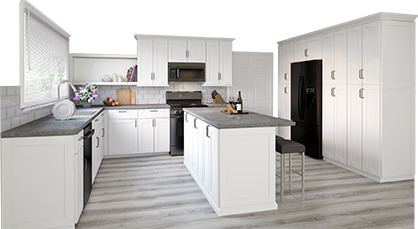 3D Kitchen Visualizer Tool
Bring your dream kitchen to life with our free kitchen visualizer!
Design Now