As an entertainer, you know that the kitchen often becomes the heart of the party. Whether it's for coffee or hors-d'oeuvres, guests like to hang around the space to chat and munch away. That's why we're here to help you find the best kitchen layout for entertaining, no matter the size of your space.
Choose Durable Cabinets
Picking durable kitchen cabinets is important for any renovator, but it's a necessity for people with high-traffic kitchens. Guests are sometimes not as careful as they should be, which can result in accidental bumps, scratches and spills. All of Lily Ann Cabinets' RTA kitchen cabinet styles have real hardwood faces and solid interiors to ensure that your cabinets are easy to clean and ready for anything.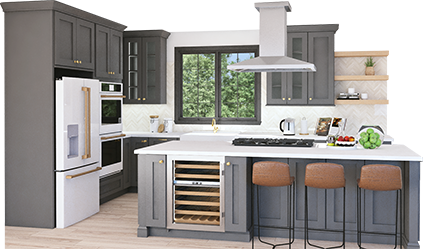 Get your FREE 3D kitchen design today!
Start Now
On top of being made of sturdy materials, Lily Ann Cabinets applies finishes using our proprietary 12-step finishing process. Our stains and paints are applied after three rounds of sanding to ensure that the cabinet's surface has no imperfections. Each layer of stain or paint creates a beautiful uniform finish that won't sustain scratches or cracks easily.
Add Glass Inserts
Glass inserts can serve a twofold purpose for your cabinets: They show off your favorite dishes and cookware while also making it easy for guests to grab what they need or help out. Seeing directly inside helps them quickly locate the glass or dish they need without rifling through all your other cabinets first.
At Lily Ann Cabinets, you can choose from a variety of kitchen cabinet modifications, including adding glass inserts. You can even choose an interior paint color for your cabinets to give them a stylish, uniform look. There are plenty of other kitchen cabinet features for you to choose from as well, making it easy to create the perfect space.
Add A Kitchen Island
If you have the room, a kitchen island can do wonders for transforming your kitchen into the ultimate entertainment space. With a kitchen island, you're afforded more prep space and the ability to face your guests while you work — and they get a place to lean, snack on appetizers and set their drinks down while they socialize. It also makes a great place for a buffet line while creating a set path for foot traffic to follow, which will help avoid crowding and chaos. To top it all off, the base of your island acts as more storage space to help you contain all your cookware once the party's over. Make the most of it by choosing kitchen cabinet features and accessories that make organizing your cabinets easy, like our handy cabinet inserts.
Create The Perfect Kitchen For Entertaining With Lily Ann Cabinets
At Lily Ann Cabinets, you'll find not only a variety of RTA kitchen cabinet styles but also a plethora of ways to make them your own. Check out all of the kitchen cabinet features we offer to bring your ultimate entertainment space to life.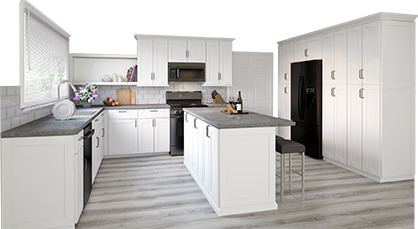 3D Kitchen Visualizer Tool
Bring your dream kitchen to life with our free kitchen visualizer!
Design Now