Lily Ann Cabinets - White Shaker Elite Cabinet
Have you ever seen a celebrity's kitchen in a TV show or movie and thought; how did they get their kitchen to look so flawless? Well, the simple answer is that they paid a professional designer to create the perfect space for their lifestyle. This makes celebrity kitchens a great source of design inspiration! Today we're looking at 7 celebrity kitchens to point out useful takeaways that you can use within your own kitchen space.
Why Get Kitchen Design Inspiration From Celebrities?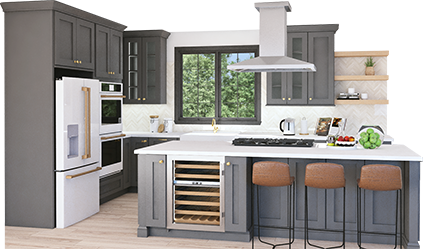 Get your FREE 3D kitchen design today!
Start Now
It's smart to get home inspiration from celebrities because oftentimes, the world's best professional interior designers created their spaces. Many don't have a celebrity-status income to invest in a top tier designer... but what we can do is look at their kitchens to find inspiration! Whether it be countertops, color schemes, appliances, flooring, or decor, a lot can be learned just by looking at a celebrity kitchen. It's a great way to get thousands of dollars of design advice for free! Let's jump in!
Kendall Jenner's Kitchen
Kendall Jenner's kitchen has been all the rage for the past couple of years, and for good reason. There are numerous takeaways from this design that you can use within your own kitchen space. To start, copper pans are always a beautiful statement. Choosing to hang them from the ceiling or on the wall serves as an interesting focal point. The stunning shade of green on the cabinets mixes perfectly with the quartz and wood materials.
Key takeaway: to recreate Kendall Jenner's kitchen, mix bright colored cabinets with dark materials like her island countertop, wood stools and copper accents. And don't forget a statement backsplash!
Recommended for you: high-quality RTA kitchen cabinets from traditional styles to shaker cabinets (with up to 50% off box store pricing!)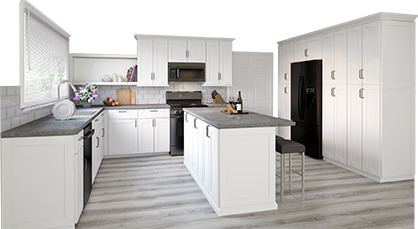 3D Kitchen Visualizer Tool
Bring your dream kitchen to life with our free kitchen visualizer!
Design Now
Chrissy Teigen's Kitchen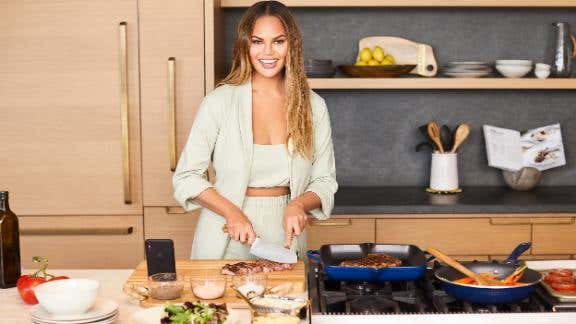 Chrissy Teigen's kitchen is exquisitely designed, which is expected when you film your own cooking show in it. The mixture of minimalist cabinetry, warm-toned hardware and a dark concrete backsplash give this space a unique edgy vibe. The open shelving presents an opportunity to display decor and the ability to bring more textures and materials to the space.
Key takeaway: mixing warm tones such as gold hardware and wood cabinets with a dark backsplash and countertop presents a stunning combination. Open shelving is also a great option to open up the space and add more visual interest.
Studio McGee Kitchen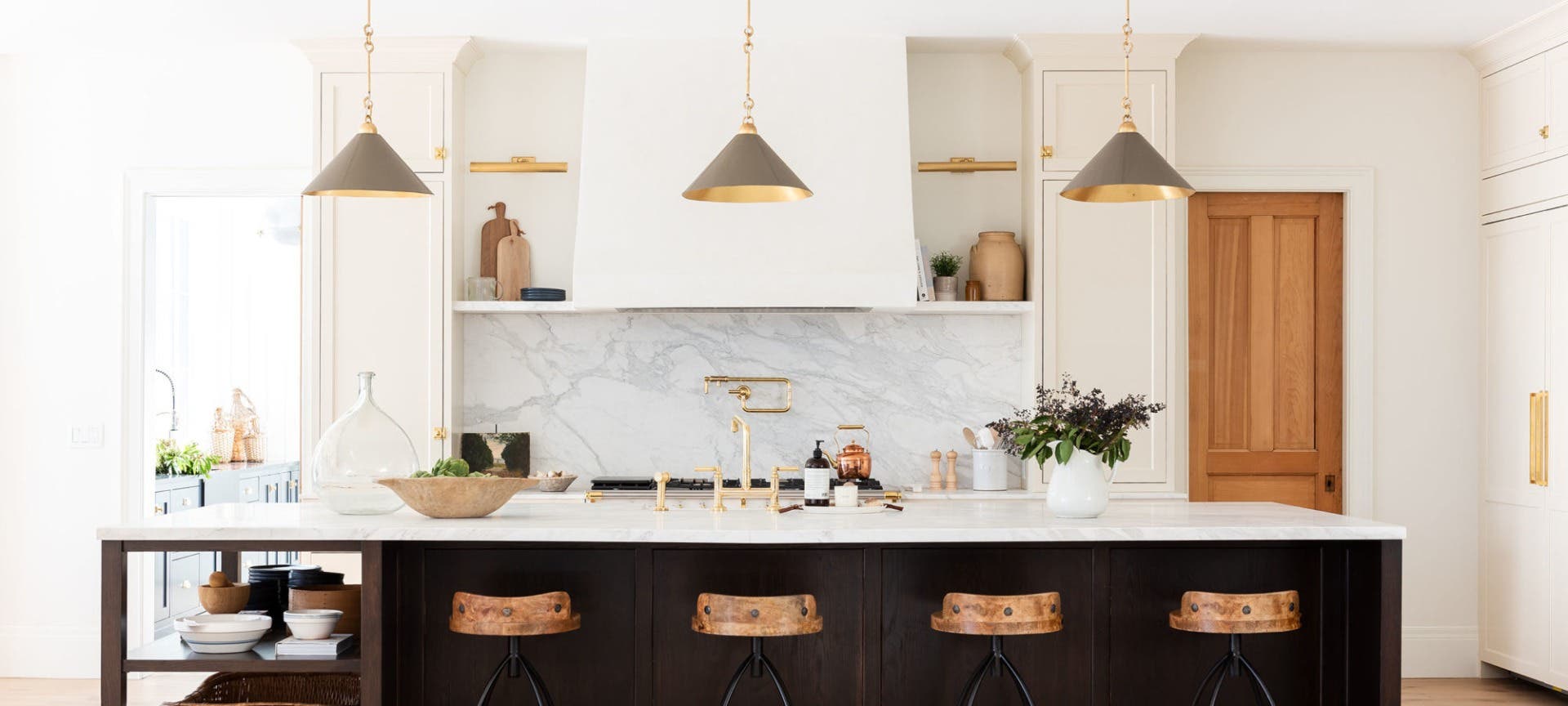 Studio McGee's kitchen designs have taken the world by storm as of late. In this kitchen, they mixed numerous different materials like wood, marble and quartz. With the cream colored cabinets, quartz countertops and stunning gold accents, this kitchen is the perfect mix of modern design and timeless style.
Key takeaway: if you are scared of mixing different materials in your kitchen, don't be! With the right mixture of colors and textures, you can create a kitchen that feels fresh and intentional.
Recommended: white shaker cabinets at up to 50% off box store pricing!
Cameron Diaz's Kitchen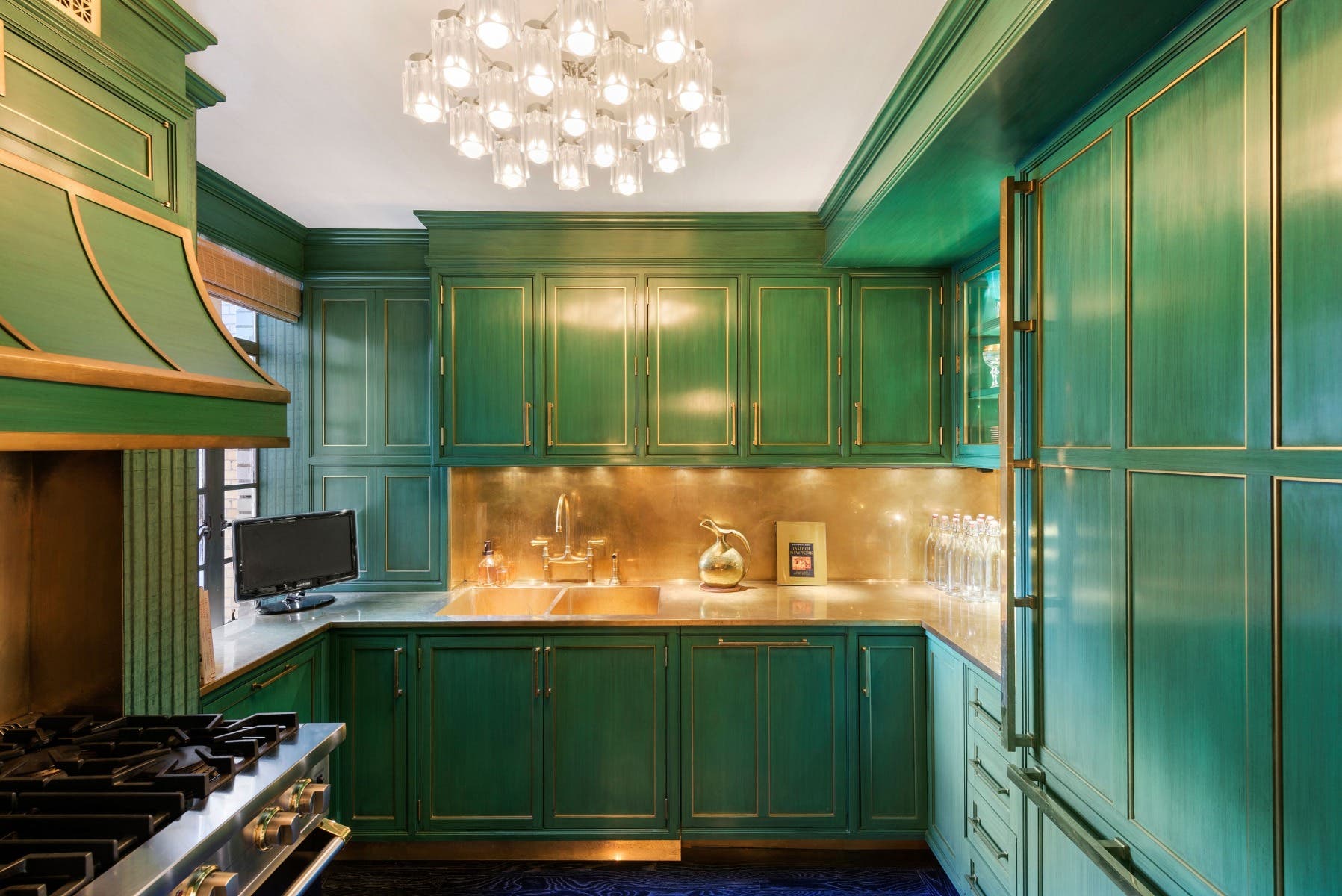 Cameron Diaz's kitchen space looks straight out of a fairytale. Emerald green kitchen cabinets seem to be a common theme amongst kitchens this past year, and for good reason. Tones of green go well with all types of kitchen materials whether it's concrete, wood, brass, quartz, etc. Cameron Diaz's eccentric kitchen style is not for everyone, but there are some unique design elements that we can all gain inspiration from.
Key takeaway: green cabinets are a great accent color for any kitchen space. Pair with minimal gold accents to create a space that feels fresh, colorful, but also modern. Viking appliances are another great addition to a kitchen not only because they are high-quality, but they also bring a dramatic focal point to the space.
Looking for kitchen cabinets that make a statement? Blue shaker cabinets are a great option, and if you want to try them out you can get a free sample here.
Marisa Tomei's Kitchen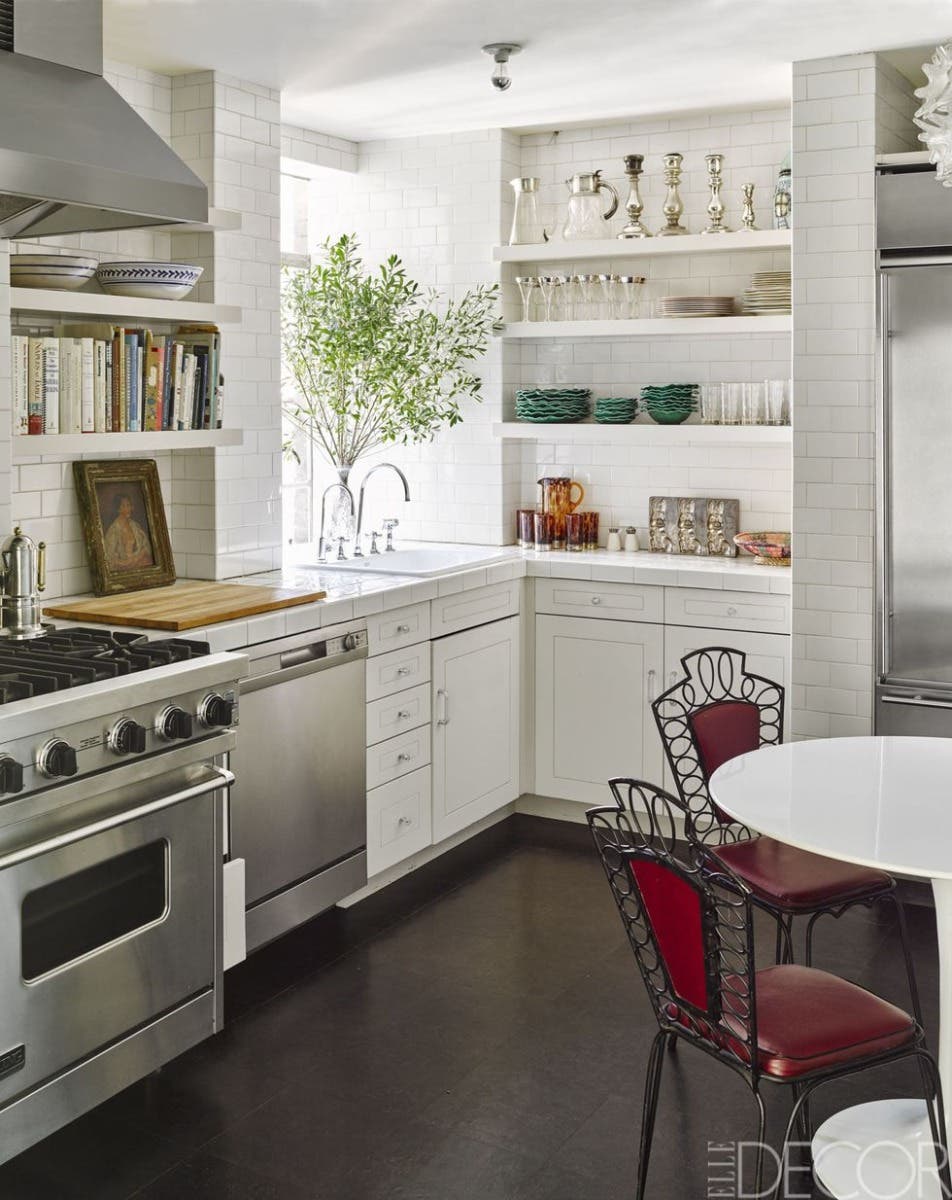 Marisa Tomei's kitchen is a perfect example of simple yet eclectic design. The walls are covered from top to bottom in white subway tile, with white shaker cabinets and open shelving. It's a small space, and the light colored materials give it a more open feel. The open shelving is another great way to give the illusion of more space.
Key takeaway: for a small kitchen, you can give the illusion of more space by using as many light-colored materials as possible. Also, make use of natural light! Lastly, open shelving presents the illusion of an open concept space, and gives you additional storage space for dishware.
Ellen Pompao's Kitchen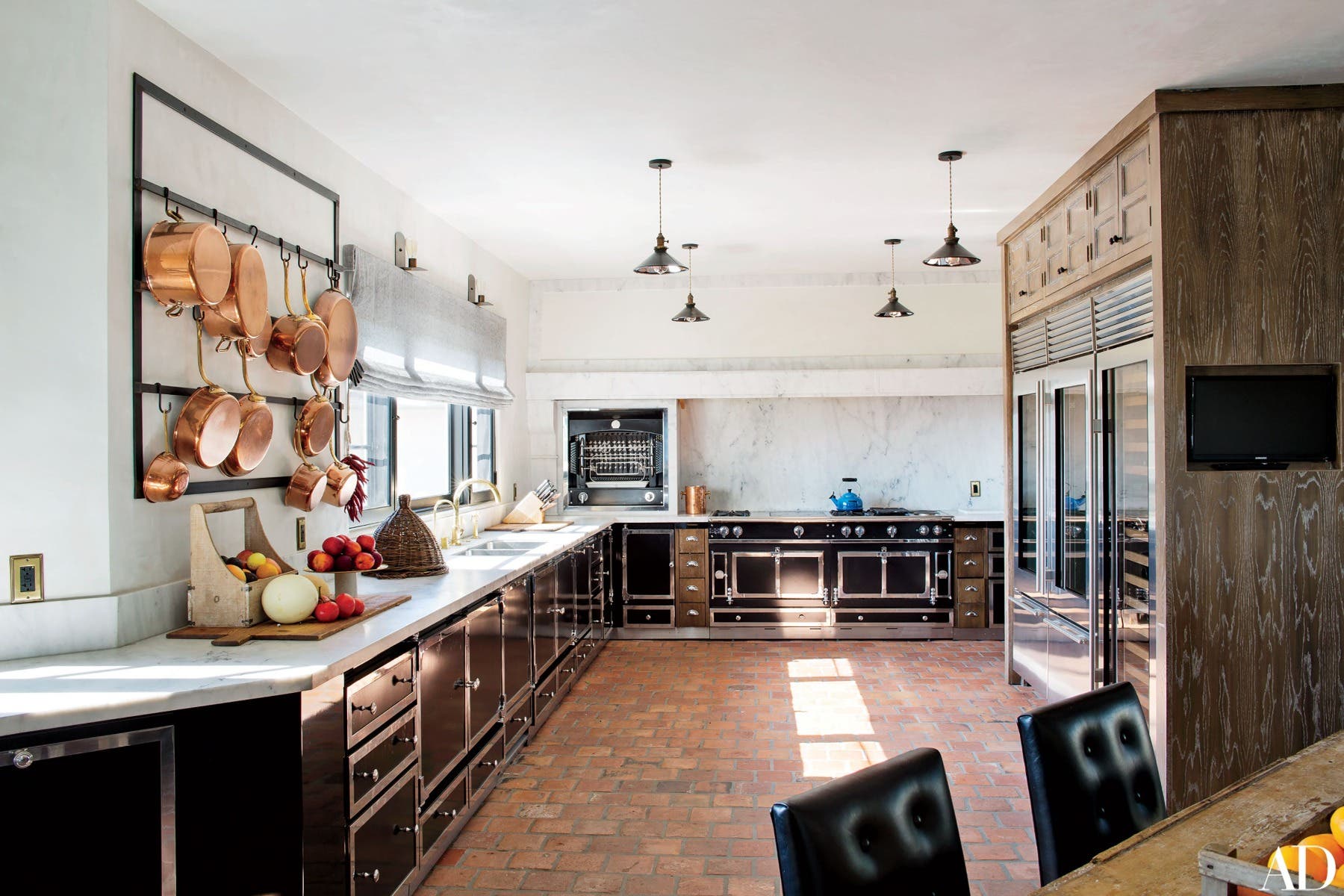 Ellen Pompao's kitchen is a rustic dream. With distressed wood, vintage-style appliances and rustic brick flooring, this space has timeless old-world style. The designer opted not to include upper cabinets, instead leaving room for decor on the walls and a dramatic backsplash.
Key takeaway: for a large kitchen space, leaving out upper cabinets presents the opportunity for more decor and/or a stunning accent wall. An accent wall can be anything from a different colored wall to an entire wall of tile or stone. Hanging pots and pans is another functional way to cover wall space.
Keri Russell's Kitchen
Keri Russell's kitchen is simple, but it makes a huge statement. This space features dark chocolate brown shaker cabinets, glass front upper cabinets, white countertops and backsplash, and open shelving. Russell's kitchen space is the perfect balance between light and dark materials, with the open shelving serving as a convenient storage nook for recipe books.
Key takeaway: A good balance between dark and light materials within a kitchen space creates a beautiful edgy look. Open shelving gives the opportunity to add more of your own touch to a space, whether you want to use shelves for functional storage or decor. Glass paneled cabinets are a great way to break up the look of the cabinetry, and adding frosted glass (like above) means that you won't be able to see the items inside.
Create Your Dream Kitchen With Lily Ann Cabinets
We offer a wide selection of premium cabinetry, hardware, shelving and more to help you create a room that stands the test of time. Pick from our large array of kitchen and bathroom cabinetry, including white shaker cabinets that come with soft-close hinges. Our professional designers are on standby to work with you — we offer FREE samples and FREE design and quote. Visit our FREE 3D design tool to get started today!
FAQs:
Is it possible to make my kitchen look like a celebrity's?
It is possible to make your kitchen look like a celebrity's, even without the expensive interior designer! By looking at celebrity kitchens, you can take their design aspects apart piece by piece to see what you can take away for your own kitchen design. Whether it be a color scheme, type of cabinets, kitchen layout, appliances, decor or more, piece by piece you can get your inspiration from celebrity kitchens to create your own!
What is the most popular style of cabinets in celebrity kitchens?
The most popular style of cabinets in celebrity kitchens is shaker cabinets and slab style cabinets, which both present a modern design for the kitchen space.
Does my kitchen have to be modern?
No, your kitchen does not have to be modern. It's all personal preference, so whatever style of kitchen makes you the happiest and works the best in your home is the best option. Whether it be modern, rustic, traditional, contemporary, etc., the option is all yours.
How do I make my kitchen unique?
To make a kitchen unique, just simply put your own touches within the space. Whether that be your favorite colors, patterns that you are drawn to, or decor you enjoy. A unique kitchen is a space where you can say that you put your own touch on everything!