Everyone knows that kitchen renovations are costly, time-consuming and stressful. But what if we told you that you can avoid them altogether with a few simple cabinet upgrades? Sometimes, all it takes to make a space feel new is some creative thinking. These 5 tips to spruce up kitchen cabinets will help you re-imagine your kitchen space on a budget.
1. Glass Door Inserts
Refacing your cabinets with glass will save you over half the money it would take to replace them. Plus, it's a project you can do yourself on your own time (without having to tear your entire kitchen apart!) There are limitless styles of glass cabinet inserts ranging from only $7 - $9 per square foot. As long as your cabinets have a removable center panel, glass doors are an affordable option you can opt for. If the center panel of your cabinets isn't removable, check out Lily Ann's kitchen cabinet modifications for glass door inserts.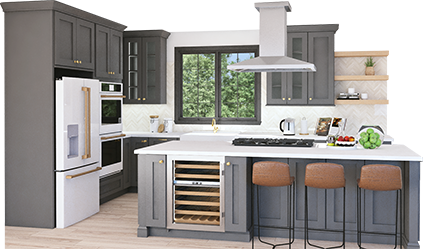 Get your FREE 3D kitchen design today!
Start Now
2. Roll-Out Shelving
Bottom cabinets can be difficult to keep organized, so it's easy for them to become a noisy mess (clanking pots and pans, anyone?). Roll-out shelving is the perfect cost-effective solution to keep those cluttered cupboards clean! Roll-outs hide away garbage cans and make it easier to access pots and pans. Say goodbye to unnecessary clutter and hello to affordable rolling kitchen cabinet inserts.
3. Over-the-Door Storage Racks
Need to make your cabinet space stretch further? Maximize their storage potential with over-the-door storage racks. Storage racks are an easy and cheap way to organize pot and pan lids, cookie sheets and more. This easy cabinet solution will take away clutter from your countertops and keep your kitchen looking brand new.
4. Updated Hardware
There are thousands of cabinet knobs and pulls on the marketplace, so don't be afraid to dress up your cabinetry with some new hardware. Swapping out your old knobs for a different style or color makes a surprisingly large difference in the overall look of your kitchen. However, make sure you don't get jipped on pricing! Lots of home stores will charge upwards of $30 for a single knob. Instead, opt for affordable cabinet and drawer pulls in contemporary or transitional styles.
5. Soft Close Hinges
Soft close hinges help your cabinets close softly and quietly, eliminating the obnoxious slamming you get with standard hinges. Soft-close hinges are one of those cabinet updates that you can't go wrong with—they keep things quiet in the kitchen and ensure your cabinets' finish doesn't chip from banging shut repeatedly.
Spruce Up Kitchen Cabinets with Lily Ann
Lily Ann Cabinets offers a premium selection of RTA cabinets, cabinet inserts, kitchen hardware, and more. Visit our website today to receive a FREE 3D kitchen design or order FREE cabinet door damples. We can't wait to help you create your dream kitchen!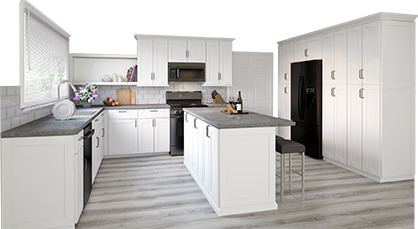 3D Kitchen Visualizer Tool
Bring your dream kitchen to life with our free kitchen visualizer!
Design Now