Industrial kitchens have risen in popularity in the past decade for their spacious layouts and unique blend of modern and rustic style. Some people assume that you have to live in a reclaimed warehouse to truly achieve the industrial style, but that's not true! Anyone can attain this trendy design with the right decor, appliances and finishes. These 6 design must-haves will help you create a tasteful, modern industrial style kitchen in your home with high functionality and timeless style.
1. Stainless Appliances
Stainless steel appliances are a must for any industrial style kitchen. If you want to go for a modern look, use as much stainless steel as you can in your kitchen. Or, if you want to add a touch of vintage, you can opt for colorful appliances like a SMEG refrigerator.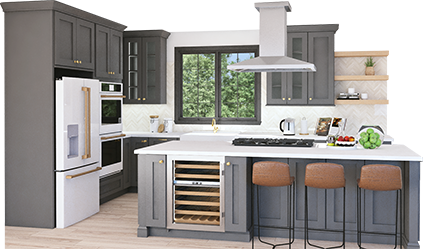 Get your FREE 3D kitchen design today!
Start Now
2. Industrial Light Fixtures
In most industrial kitchens, light fixtures are an important design element. Hanging industrial pendant lights are a great way to foster an intimate atmosphere and prevent your kitchen from feeling too factory-like. Exposed edison lights are also commonly used in industrial kitchens to bring a warm, aged feel to the space.
3. Concrete Accents
Whether it's floors, walls or counters, concrete is a great design element to incorporate into an industrial style kitchen. If your kitchen doesn't have any concrete finishes and you want to save on renovation costs, try adding some large concrete planters on the table, floor or windowsill. Even small pops of concrete go a long way in industrial kitchen design.
4. Wood Tones
Wooden beams, counters, cabinets and tables are the best way to warm up the modern look of industrial kitchens. You can play around by contrasting different shades of wood or keep it simple and use the same tone throughout. Keep in mind you can save big on wooden accents by browsing your local thrift stores for any antique wood pieces like step stools, tables or benches!
5. Piping
Perhaps the most common design element of industrial kitchens is exposed piping. Uncovered pipes are what give industrial kitchens their raw character and sets them apart from other kitchen styles. Exposed pipes can be used solely for decoration, or as support for shelves and light fixtures.
6. Cabinets
Many home designers offset the warehouse-y feel of the industrial style kitchen by opting for a rustic cabinet style. A popular cabinet color for industrial designs is grey—they can be distressed (like our York Driftwood style), or more minimalist (like Grey Shaker Elite).
Design the Perfect Industrial Style Kitchen with Lily Ann
Lily Ann Cabinets has everything you need to create a modern industrial kitchen that wows. At Lily Ann, you will find a premium selection of all-wood RTA kitchen cabinets to suit your home's needs. If you're ready to get started on the industrial kitchen of your dreams, visit our FREE 3D kitchen design tool to get in touch with our professional design team and receive a quote.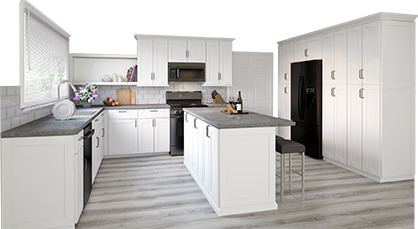 3D Kitchen Visualizer Tool
Bring your dream kitchen to life with our free kitchen visualizer!
Design Now