When you're remodeling a kitchen, you want to get the most storage space possible out of your new cabinets. Here, we'll share five tips to help you maximize your kitchen storage and ensure you put every inch of your cabinets to good use.
1. Cabinet Door-Mount Storage
One of our favorite kitchen space savers is using the inside of cabinet doors for door-mounted spice racks, towel racks, cutting board racks and more. Your cabinet doors serve as the perfect blank slate for extra storage, allowing you to keep the clutter off your countertops. Not to mention, cabinet door-mount storage is much more affordable than installing additional cabinets. When it comes to kitchen storage, it pays to be creative!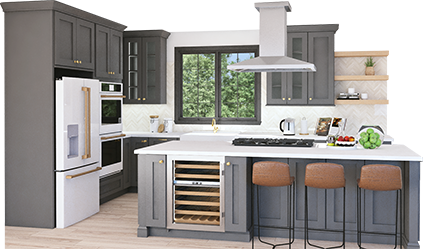 Get your FREE 3D kitchen design today!
Start Now
2. Ceiling Height Cabinets
One way to maximize kitchen cabinet storage is to plan to take your cabinets all the way to the ceiling. Ceiling height cabinets, also called "uppers," enhance your kitchen by giving it a more clean and spacious feel. Not only do ceiling height cabinets provide optimal storage space, but they also don't have an open surface to collect dust. Ceiling height cabinets are a great way to keep your dishware tucked away and out of eyesight so you can easily keep your kitchen looking clean and beautiful.
3. Move Doors And Windows
Sometimes, in order to achieve your ideal cabinet configuration, doors and windows must be moved. Although this may seem like a pain at times, it allows you to achieve the kitchen layout you are looking for. For example, moving an oddly-placed door may be a small sacrifice to make in order to achieve the L-shaped kitchen you want.
4. Corner Cabinet Storage
Another way to maximize kitchen cabinet storage is to make the most of corner cabinets.
Corner cabinets can be tricky to use depending on their size, so it's always a good idea to fit them with pull-out storage or lazy susans. Lazy susans are perfect for easy access to spices, condiments and other small kitchen items. Or, if you're looking to store larger kitchenware like pots and pans, pull-out storage is a good option for your corner cabinets
5. Deep Drawers
It may be a good idea to consider deep drawers in place of base cabinets for your kitchen. You can only stack things so high behind cabinet doors, so vertical space gets wasted. Kitchen drawer storage saves you from having to stack up your kitchenware, instead allowing you to keep it nicely organized and easily accessible.
Maximize Your Kitchen Storage Space With Lily Ann Cabinets
Whether you're looking for cabinet door-mount storage or pull-out drawers, Lily Ann Cabinets has all the kitchen space savers you need to create the kitchen of your dreams. Need help envisioning your space when everything's pulled together? Use our free 3D kitchen design tool to try out styles before you commit. Get started today.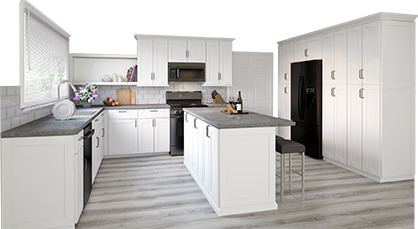 3D Kitchen Visualizer Tool
Bring your dream kitchen to life with our free kitchen visualizer!
Design Now