Yes, the all-white kitchen is timeless. It's bright, uncomplicated, and beautiful. But have you considered adding gold? Bronze, gold, or brass hardware finishes can add exceptional luxury and charm to a bright white kitchen.  If you're ready to take your white kitchen to the next level, keep reading to explore 15 luxury white and gold kitchen design ideas.
Before you decide whether the white and gold kitchen is right for you, you should first consider what kind of gold you'd like to add. Although most people see a bronze-yellow color and call it "gold", there are actually many variations of gold-colored metals. There is the traditional yellow gold, with warmer undertones.
Alternatively, there are also copper-based alloys, like brass and bronze. These copper-based materials can be purchased at a lower cost and come in a variety of colors and undertones. There's a multitude of creative ways to add this popular metallic finish to your kitchen design, from cabinet hardware to pendant lighting.
You can find gold kitchen accents for low cost in a variety of different styles. We recommend ordering a sample first to see what the finish will look like in your white kitchen. Whether you're doing a full kitchen remodel or just want to add a few updated finishes, adding gold to your design can make it feel fresh and chic. 
1. Rose Gold
The gold hardware accents in this kitchen design are intentionally placed to perfectly complement the bright white finishes. Instead of the typically yellow-gold, the hardware is coppery rose gold. The subdued color tone is a bit more relaxed and doesn't appear as brassy as traditional gold hardware. White and rose gold pendant lighting dazzles above a matching faucet. Golden bar pulls are used for the white shaker cabinets, creating clean lines and gorgeous contrast.
Checkout: Top 5 Kitchen Color Ideas for Your Next Remodel in 2023
2. Traditional Gold
As opposed to the previous kitchen, this design features yellow-gold brass hardware. The result is a more traditional look. The faucet, overhead ring light, and cabinet pulls are all the same shade of gold. Interestingly, the knobs on the stainless steel stove and the edges of the range hood also match. These cookware finishes are a unique addition that gives the space a customized feel.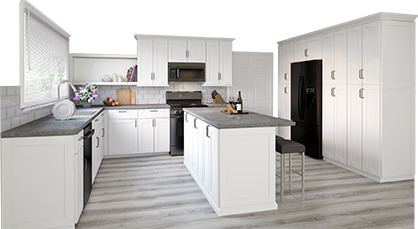 3D Kitchen Visualizer Tool
Bring your dream kitchen to life with our free kitchen visualizer!
Design Now
3. Antique Brass
Pinterest
Antique brass kitchen hardware is perfect for homeowners who want to add a vintage touch to their homes. The aged brass here is beautiful in combination with white cabinets and marble finishes. This kitchen also has an antique brass and gold open shelving unit to store sleek white porcelain dishware. The dark brown island and butcher block countertop add style and functionality.
Need some help visualizing your dream white and gold kitchen? Get a FREE 3D kitchen design today!
4. Subdued Color Palette
This relaxed white and gold kitchen features rustic reclaimed wood accents and a vintage black stove front. A simple runner rug and large clay vase contribute to the calm, composed yet the artistic style of this space. Small brass knobs and pulls add a hint of gold without distracting from the overall design. If you aren't ready to commit to an all-white kitchen with gold accents, try this kitchen's approach by adding in some natural wood and black finishes.
Read More: Kitchen Remodel Ideas: 8 Amazing Design Trends in 2023
5. Gold Kitchen Sink
Pinterest
You've likely seen gold sink faucets, but have you ever seen a gold sink basin? This luxe undermount sink in matte gold looks divine against white marble countertops and backsplash. Without question, it's a sink fit for royalty. Gold sinks are typically made of stainless steel and then treated with a gold finish. This design is certainly a far cry from the typical stainless steel sink design. Would you install a golden sink in your home?
Read More: How to Choose A Kitchen Sink To Fit Your Layout
6. Cool Brass Hardware
Driven By Decor
For those who are searching for a more muted white and gold kitchen, stick with brass cabinet hardware in a cooler color. These brass cabinet bar pulls have blue undertones, giving them a softened look. This way the contrast between the hardware and white cabinets is less stark and more mellow. Open shelving contributes to the bright airy feel of this kitchen design.
7. Charming Champagne
Pinterest
The hardware in this kitchen is champagne copper, a pinker version of classic gold. Perfect for traditional or contemporary kitchens, champagne copper cabinet hardware provides a golden look with less brassiness. Extra long bar pulls combined with smaller knobs give the white shaker cabinets a sleek and functional style. The single-handle copper sink makes the design feel vintage and homey.
8. Geometric Pendant Lighting
Pinterest
This expansive white kitchen was given a unique artistic flair with three golden geometric pendant lights. If you already have a white kitchen but don't want to swap out all of your hardware in order to add some gold, pendant lighting is an easy and affordable way to do it. There are hundreds of options on the market, allowing you to choose the perfect gold pendant lighting for your individual design style.
9. Gold Backsplash
Pinterest
Consider a polished copper backsplash if you want to go bold with your kitchen design. Polished copper looks similar to gold but will be more affordable than other gold-colored metals. The bright sheen of a reflective backsplash can revive an outdated kitchen and function as the room's visual centerpiece. This designer paired a copper backsplash and white shaker kitchen cabinets with a large dark wood island to create a striking contrast.
10. Gold Bar Stools
Pinterest
Another clever way to incorporate gold in your white kitchen is with gold bar stool seating. These modern white and gold barstools add just enough gold to the white kitchen to give it some beautiful contrast. The light wood floors, white cabinets, and, white waterfall countertop keep the space feeling airy and bright.
11. Brass Cabinet Details
Decor Pad
The raised panel cabinets in this luxurious cooking nook are adorned with brass detailing, matching the custom gold finish on the range hood. The brass straps reflect the natural light in the space and add a gorgeous shine to the room. In the bottom right, you can also see the gold base molding along the floor. This kitchen offers several out-of-the-box ways to incorporate gold into a white kitchen.
12. Gold Accents with Neutral Island
When choosing an island color for a white and gold kitchen, it's usually best to stick with a neutral tone (if not white). This light beige island looks beautiful with white countertops and gold accents. Hanging pendant lights with faux candles bring a vintage look to the space.
Related: 15 Incredible Kitchen Islands That Defy Design Standards
13. A Pop Of Color
Pinterest
If you don't love the neutral look, add some color to your white and gold kitchen with a pop of blue. This lovely light blue wainscot kitchen island brings some vibrancy to the design. Three gold pendant lights hang above, complemented by a glossy white subway tile accent wall. An arrangement of flowers also adds some color to this contemporary kitchen.
14. Unique Appliances
Pinterest
Which kitchen appliances look best with a gold and white color scheme? Typically, this color palette will mesh well with black or stainless steel appliances. However, other (albeit more rare) options are available too. For instance, this inset fridge with herringbone wood doors complements the white shaker cabinets and brass hardware flawlessly. The same pulls used for the fridge doors are also used on the lower cabinets for a beautiful consistency in the design.
15. Contrasting Dining Area
Pinterest
For open plan kitchens, one must also consider the color scheme of the dining room since it's right beside the cooking area. Here, you can play it simply continuing the white and gold color scheme. Or, you can add some contrast with a darker color of dining chairs or tables. For example, this chic kitchen dining space features four black velour chairs with gold frames to offset the bright white cabinets and white backsplash. For a more modern look, you can also choose a black dining table to contrast the white and gold finishes.
Your Dream White And Gold Kitchen, For Less
Lily Ann Cabinets offers a wide variety of premium white kitchen cabinets and gold hardware for up to 50% up box store pricing. How do we achieve such low prices? It's simple—we ship direct so we can pass the savings onto you. Shop with Lily Ann and save thousands on your kitchen remodel.
If you need assistance visualizing your white and gold kitchen, we offer FREE 3D kitchen designs for your convenience. Just send us your kitchen measurements and we'll take care of the rest! Get started on your dream white and gold kitchen today.