Cabinets are an essential part of the aesthetic of any kitchen. They add a new contrast to other elements and decor in the kitchen. They also have the ability to complement the style choices of the floor and wallpaper of the kitchen.
Mixing different cabinet styles in kitchens does not have to be a hard decision, especially with our wide selection of shaker-style kitchen cabinets to choose from. We will show you how to mix up the cabinet door styles in your kitchen and give your kitchen a whole new look. 
Choosing Cabinets to Mix
Choosing a kitchen cabinet style can be difficult. Especially when you don't know precisely what you are looking for yet. Luckily, we have a wide selection to choose from. This allows you to be able to select from a wide range of different colors, shapes, and textures to find the cabinet that fits you just right. Read on for 6 out of the vast selection of cabinets you can choose from.
Shaker Cabinets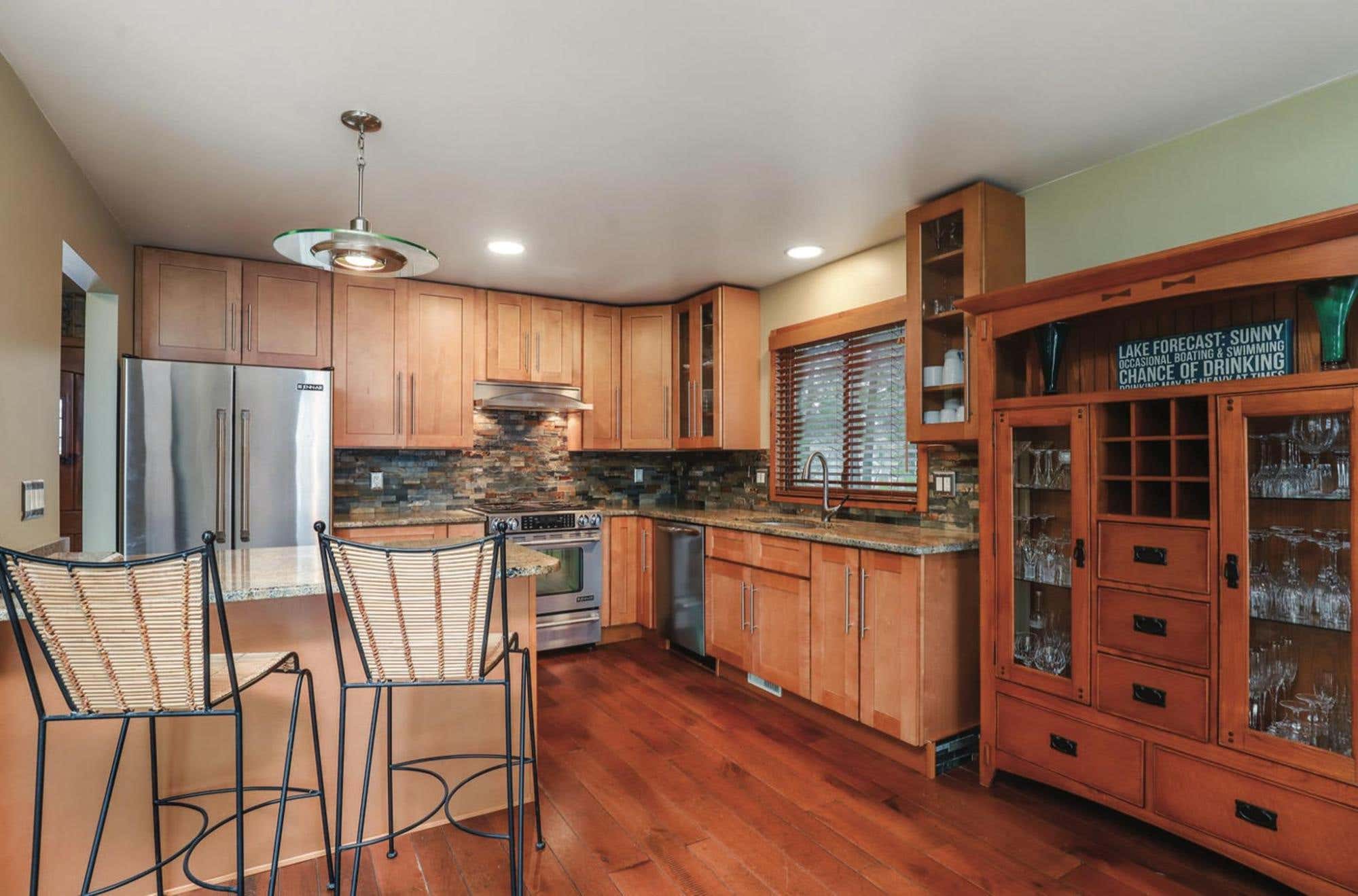 Shaker-style kitchen cabinets are one of the most popular cabinets to shop for when looking to redesign your kitchen. They come in a variety of colors and textures. These cabinets give you a lot of creative freedom for your kitchen to work with due to their simplicity. This can also make it an easier option to mix other cabinets with and allow you to pick a more complex second cabinet choice. These cabinets also come ready to assemble for a simple and easy DIY kitchen project.
York Saddle Cabinets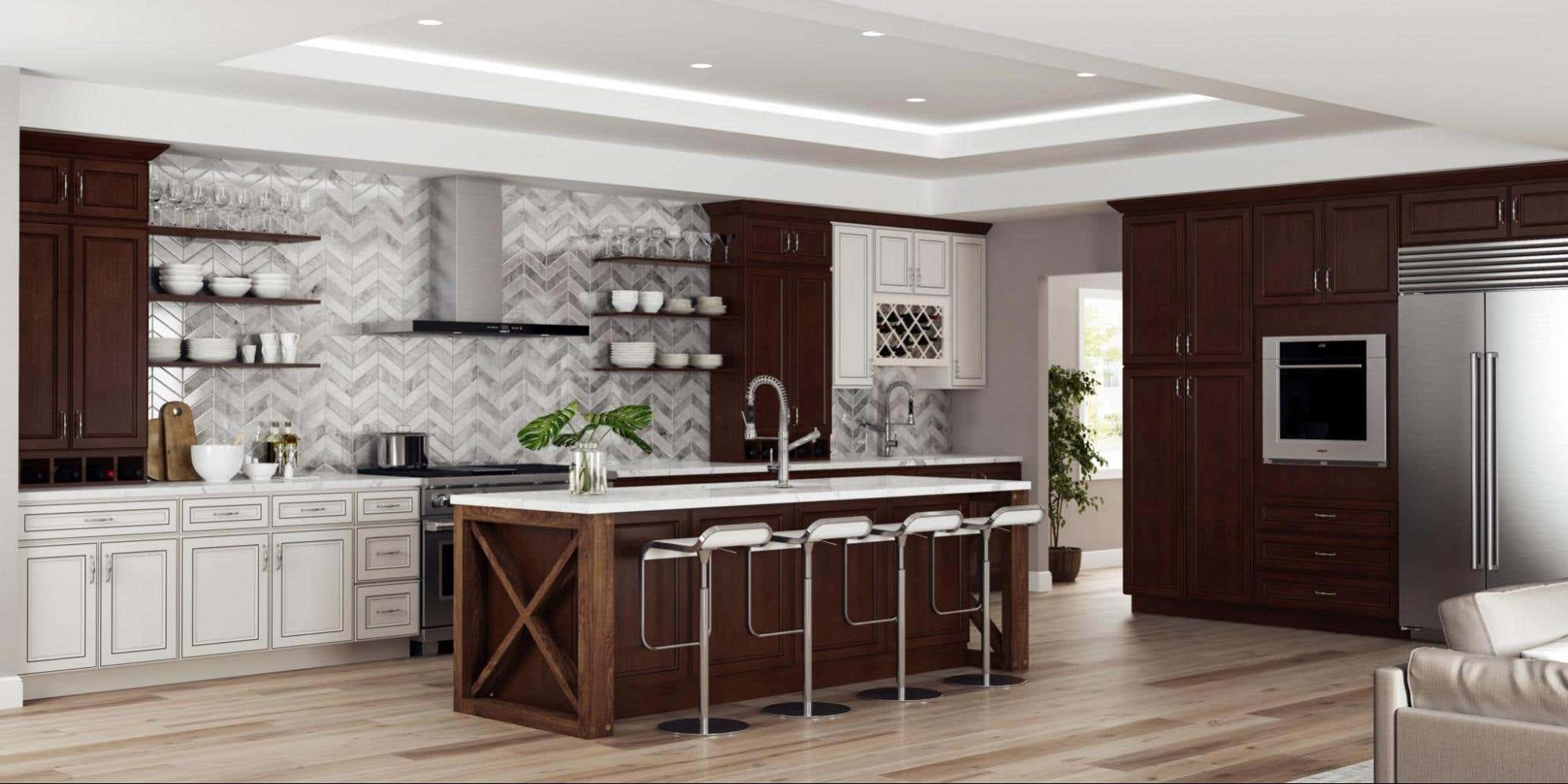 York Saddle Shaker Cabinets are made of American Maple Wood and are a more distinguished choice when switching up your kitchen's aesthetic. The wood makes this cabinet a lovely choice for any color scheme and adds depth and contrast to your kitchen. 
York Linen Cabinets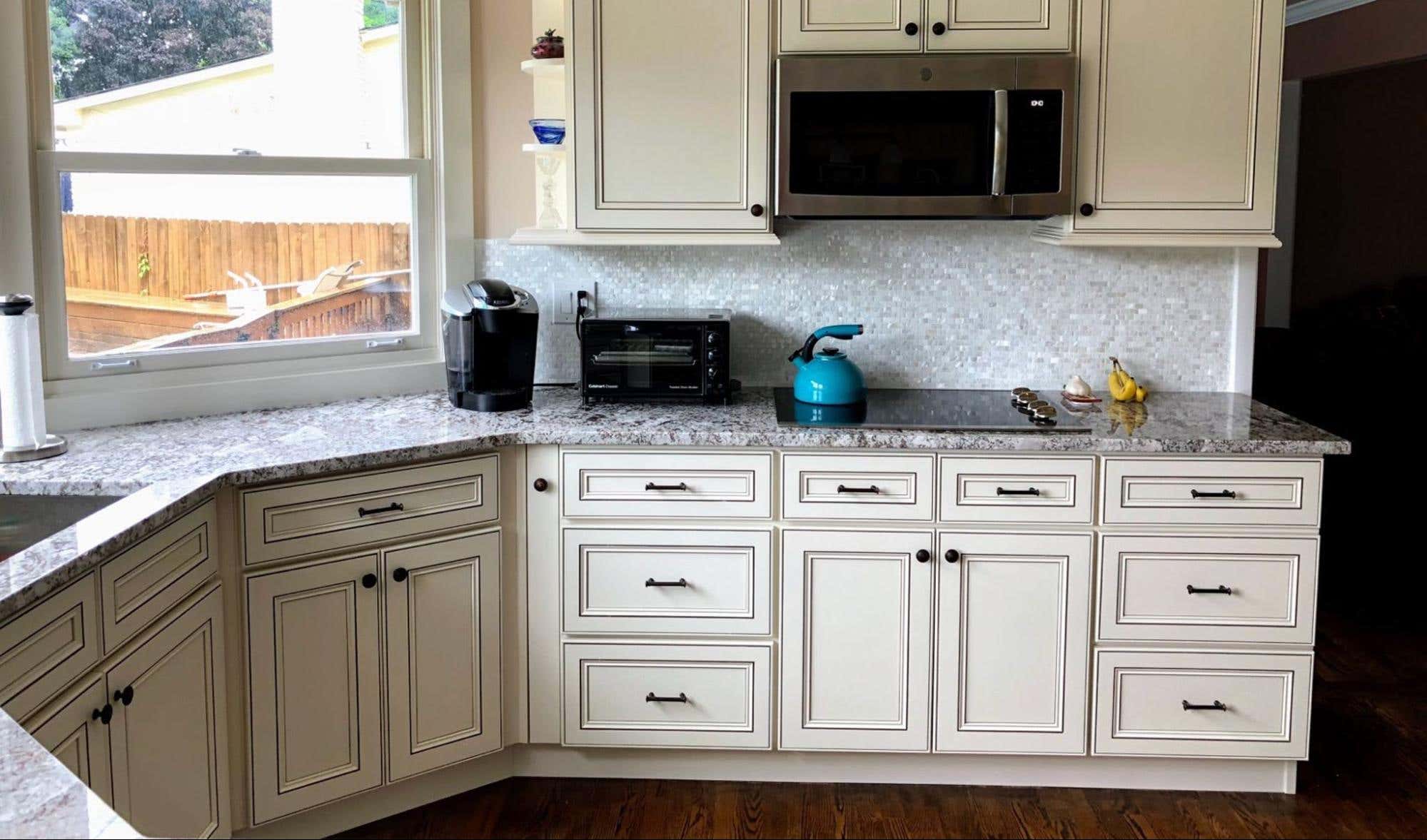 York Linen Off  White Kitchen Cabinets bring a calmer aesthetic to your kitchen. It can give your kitchen a lighter and brighter feel. This can even be used for a beach aesthetic in your kitchen. This cabinet would be a good idea if you are looking for a lighter look and tone for your kitchen. The off-white color is very ideal to mix with. It is a great choice when going for a two-tone look in your kitchen. 
Grey Shaker Elite Kitchen Cabinets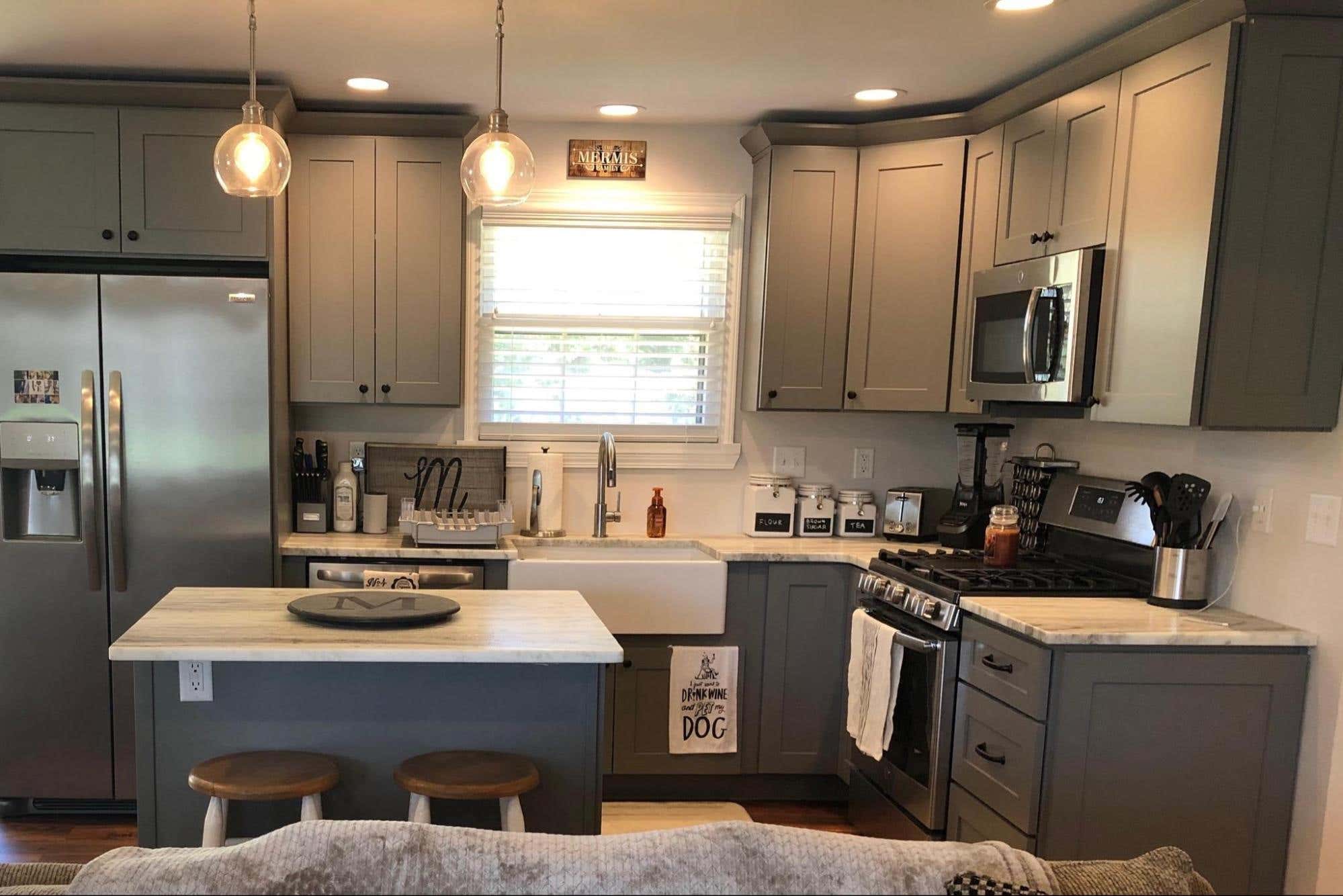 Grey Shaker Elite Cabinets are a light grey shaker cabinet choice to lighten up your kitchen. This cabinet is a neutral color which leaves a lot of room for creativity and choices around it. This allows you to be able to have a lot of options when it comes to floor and wallpaper colors. This could be an easier choice for someone with an already busy kitchen. This is also a great choice for someone looking to mix a simpler design that is also very clean for a more modern kitchen cabinet style.
Key Largo White Kitchen Cabinets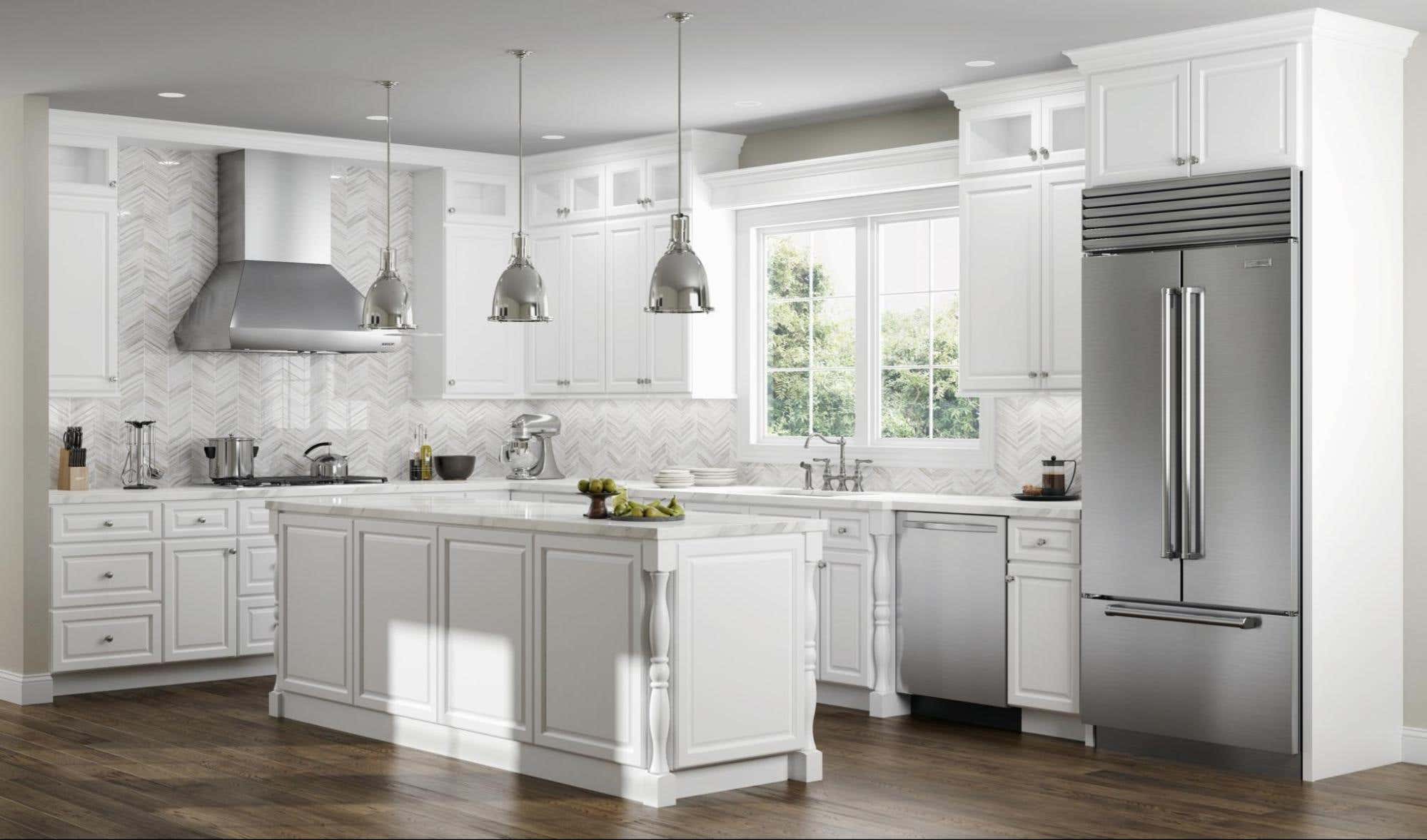 Key Largo White Kitchen Cabinets are an option for your kitchen to add a cleaner look. This cabinet can be paired with anything and can brighten up the aesthetic as a whole. Luckily this cabinet is a nice contrast so it can be used for choosing new cabinets for an already established kitchen easily. This is a perfect choice to pair with for mixing cabinet styles and can be used to complement any other cabinet.
Madison Toffee Cabinets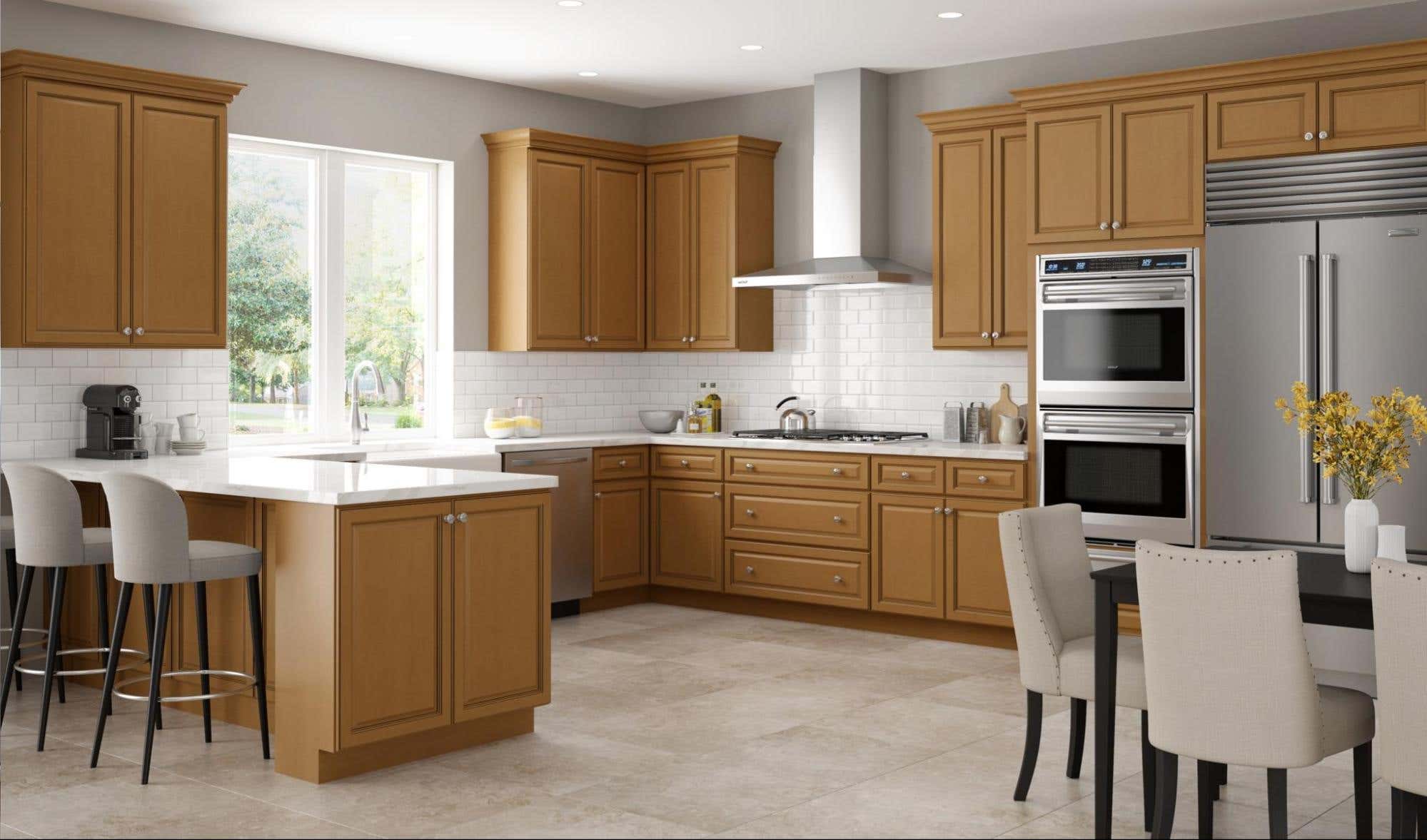 Madison Toffee Cabinets are a unique choice to spice up your kitchen. This shaker cabinet can be used for many different ideas. It is a unique color to choose if you are looking to lighten up your kitchen. It is also a bolder choice instead of choosing a plain wood design, giving it a more glossy feel. This is a strong choice to mix with another cabinet and make your kitchen unique to your style and what you want to create. 
Looking at Prices
It is important to budget when you are planning on mixing cabinet styles in your kitchen. Lily Ann Cabinets provides different price ranges to choose from to allow anybody to be able to spice up their kitchen. This is also important to keep in mind when you are mixing Lily Ann Kitchen Cabinet Styles.
If you have a budget in mind and a style you can focus on the majority of your budget to go towards the style you are looking for and find a more neutral color to mix it with. Also, to save more when it comes to installation, Lily Ann Cabinets offers ready-to-assemble cabinets.
Figuring Out Which Cabinets Pair Best
Changing cabinet styles is a great way to change the color and look of your kitchen. Different styles and colors to make an island your kitchen's accent piece.
Use three different styles instead of two to change up your kitchen as well or use a single different cabinet style or color and make it prominent in the whole kitchen. Focusing on changing the colors of the lower and upper cabinets can also be a good idea to mix it up.
You can choose whatever options work for you, and have fun with them. This is a great way to make your kitchen unique and yours, and Lily Ann Cabinets provides you with everything to succeed.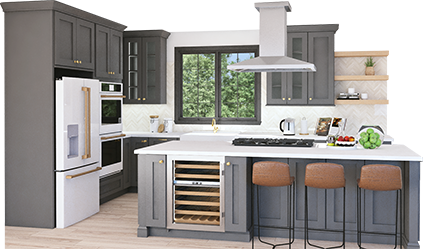 Get your FREE 3D kitchen design today!
Start Now
Related Blogs:
FAQs:
1. Where do you begin when changing your cabinet styles?
It is important to make sure you budget out what can be used to spend on new cabinet styles. This gives you an idea of what cabinets you can choose from. This is a great place to start because you know exactly what you can choose from. Then you can start looking at different colors and textures and brainstorm ideas and visions for your specific kitchen. Even if you don't have a specific idea set, Lily Ann Cabinets has free samples you can choose from to figure out what is going to be the best fit for you.
2. What cabinet colors go best together?
Anything can be paired together based on what you want for your kitchen and your vision. However, some colors do work better together. The white and navy cabinets are a great choice. They are on opposite ends of the color spectrum and complement one another very nicely. Grey and white also go very nicely with one another. It makes the kitchen cabinets look cleaner and creates a brighter aesthetic. Blue and Grey are also a great choice. Both colors provide their own feel to the kitchen and provide light and dark aspects to the kitchen as a whole. These are just some of the many combinations that work well together. 
3. Is it more expensive to mix cabinet styles?
The expenses all depend on what kitchen cabinet style you are choosing, just like if you were choosing a single style. If the cabinets are different, they most likely have different prices, which is something you should be aware of when looking.