To many, the kitchen is the heart of the home. It is the space that is utilized from morning to night for an array of purposes like hosting meals, being a family meeting space, and a late-night snack rendezvous spot. For this reason, kitchen lighting should be multi-functional and accommodate the space no matter the time of day. 
Good lighting is essential when it comes to prepping food and cleaning up safely. It also helps create an ambiance you and your guests will enjoy. With all this in mind, it can be difficult to know where to start. That is why we are here: to help you choose the best lighting for your dream kitchen!
When to Think About Lighting
While lighting fixtures tie together the overall design of space; there is more to planning your kitchen lighting than picking out a beautiful focal piece. Oftentimes, the importance of proper lighting gets overlooked and tends to be the first thing to get cut from a budget. 
In reality, lighting should be taken into consideration and planned during the early design phases in order to ensure your Pinterest board vision comes to fruition. 
4 Layers of Light Rule
To get a better understanding of where to start, let's first go over some design tactics. Designers follow what is known as the 4 Layers of Light rule needed to make any space pop.
Here are the definitions and functions of each layer of lighting you can use throughout your kitchen design: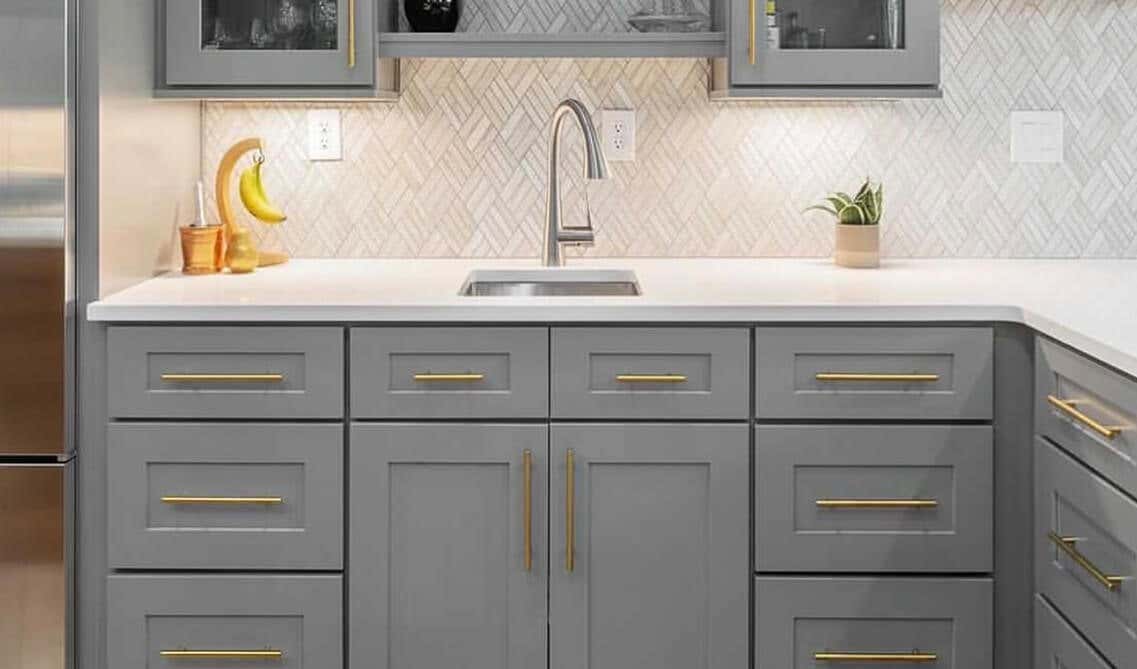 Task lighting is focused lighting in specific areas within your kitchen. This can include the lighting above the stove to help you see what you are cooking or under-cabinet lighting to help see while prepping meals on your countertop. This kitchen cabinet lighting is most used to illuminate a workspace.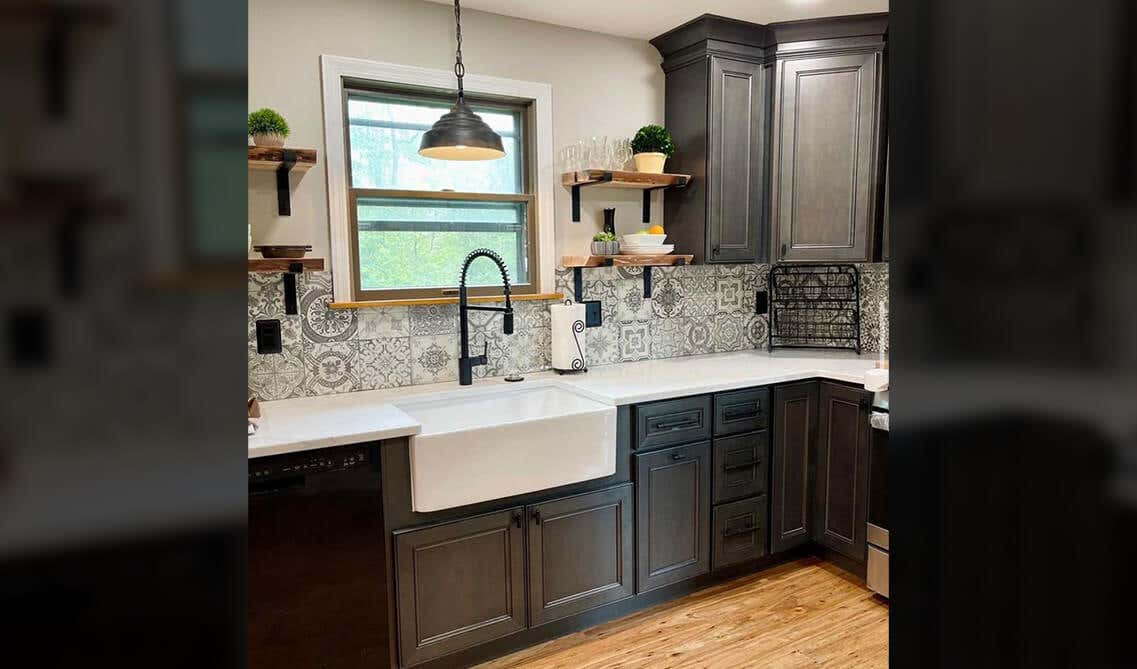 Accent lighting is the best lighting to go over kitchen islands to help highlight that area of the kitchen while being a staple itself within the kitchen. Pendant lights help add this dimension and depth to the space while being beautiful fixtures that attract the eye upwards while accenting the overall design of the kitchen.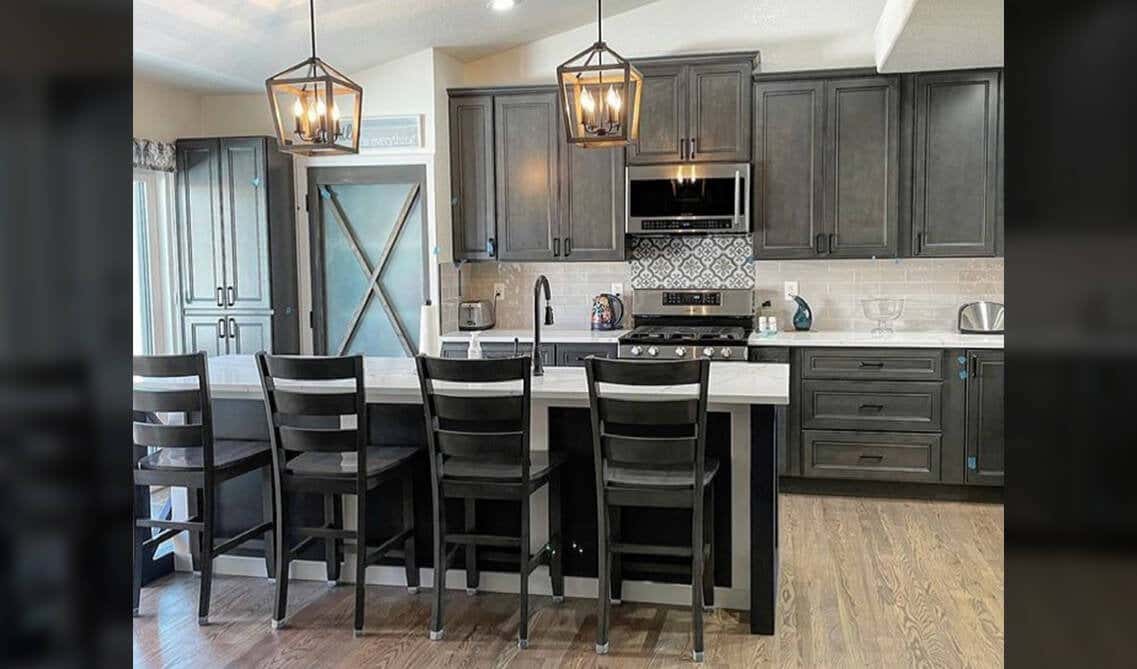 Decorative lighting adds interest to the space. Sconces, chandeliers, and pendant light fixtures are all forms of decorative lighting due to their immaculate designs and ability to fill a kitchen with their beautiful details and lighting.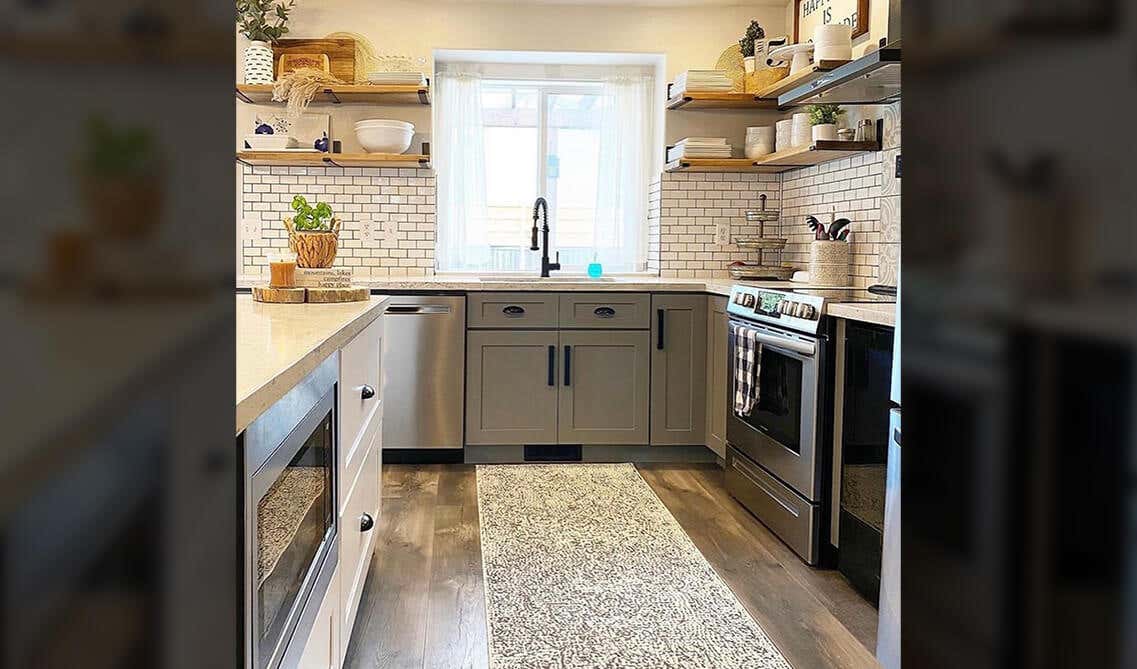 Ambient lighting is a gentle soft light that fills the room and bounces off the ceiling. This is the light used to see your guests clearly while creating an atmosphere of comfort within your kitchen. Achieve ambient lighting by placing recessed light fixtures throughout your kitchen design.
Choosing the Right Color of Light
Lights come in various colors or tones in regards to their Kelvin rating. A Kelvin rating is the temperature of the light bulb that is used. Depending on the Kelvin rating, the light color, and the feeling it gives off change. 
Homes & Gardens recommends opting for a cool white light with a Kelvin rating between 3,000 to 4,500 for task lighting when the kitchen is used as a workspace. It also notes that it is important to have softer, warmer lights that have more of a yellow hue for your ambient lighting. This allows you to take your kitchen from functional to cozy when the cooking is done and it is time to enjoy time with others. 
Light Placement
Another key component to consider when deciding where to place your kitchen lighting is shadows. You'll want to avoid as many shadows as you can. To do so, try installing task lighting in front of or above you, rather than behind you. This can be done with the kitchen cabinet lighting mentioned previously. 
With this lighting, the light strip is placed under your upper cabinets for practical task lighting and a sleek clean finish with no wires to ruin your kitchen's aesthetic. 
Another option for the reduction of shadows is overhead pendant lights. These pendants could double as decorative lighting as well when placed over an island.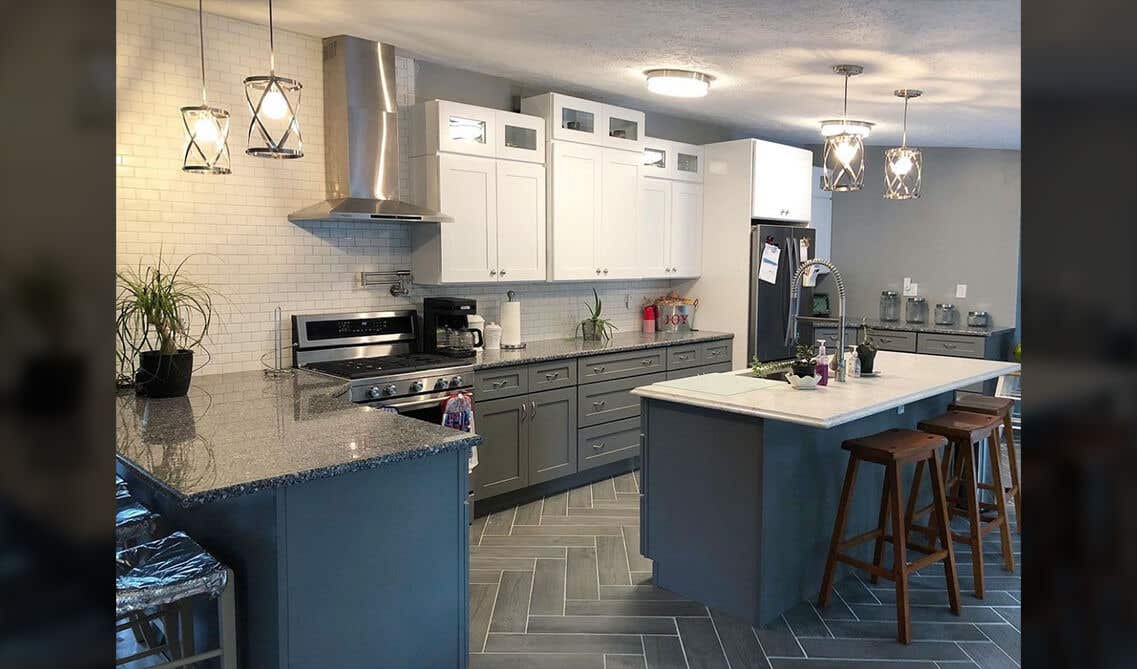 Deciding On A Design
Once you have figured out where you intend to place your lighting, it is time to talk about style. When deciding on the style, you should look at your home's existing architecture as well as the lighting in the rest of your home. Having a unifying theme or a similar style throughout a home creates a sense of flow and uniformity to the space. This is especially important for open floor plans as it provides a seamless transition from one part of the room to the other.
Some Key Takeaways:
Lighting is more than a focal piece and should be considered in the early design process.
Follow the 4 Layers of Light rule in an effort to bring your kitchen to life and make the space the most practical for you. (task, accent, decorative, ambient)
When choosing a lightbulb's temperature, think of what this light will be used for and how you want it to make you feel.
Try to avoid shadows. Hang lights above or in front of where you will be working.
Design involves your whole home, not just one room. Think of a unifying theme or design element to make the space cohesive.
Now that you have a little more understanding of how to choose the best lighting for your kitchen; break out the mood boards because it is time to start designing! Find the perfect light fixtures for your home at Lily Ann Cabinets.
Frequently Asked Questions(FAQ)
How many recessed lights should be in the kitchen?
According to Philips Hue, you should install one recessed light for every four to six square feet of ceiling space. This will provide you full light coverage throughout the room while using smaller light fixtures to achieve the best kitchen lighting.
What color light is best for the kitchen?
Cool White (4100K to 5000K)
This type of kitchen lighting will represent the real color of an object and will be more luminous than a warmer color light.
What size recessed lights should you use for the kitchen?
Recessed lights that are 4 inches or 5 inches in diameter will provide enough concentrated light for meal prep and cleanup in any kitchen space.
How to update fluorescent lighting in the kitchen?
STEP 1: Turn off the power to the light fixture to prevent hazards or injuries.
STEP 2: Remove the plastic shade covering the light fixture and remove the bulbs from their sockets.
STEP 3: Detach the metal panel to reveal all of the wiring behind the light fixture.
STEP 4: Disconnect all of the wiring that is attached to the fixture while the power is still turned off.
STEP 5: Detach the fixture box by unscrewing it and remove the fixture from the ceiling.
STEP 6: Replace the fixture with new LED lighting that fits your kitchens needs.
Should pendant lights be centered on the kitchen island?
The spacing of pendant lights is dependent on the diameter (the size) of the overall fixture. The space between each pendant fixture should be atleast the width or diameter of the fixture itself. Try to space your pendant fixtures at least 2 feet apart for optimal lighting.
If your fixture is one long pendant light, it should be hung centered with the island and take up no more than ⅔ of the island's width.
Where to place recessed lights in the kitchen ?
According to Lamps Plus, recessed lighting should be aimed at the countertop edges so that the lights will illuminate counter work areas or the sink, and will avoid creating shadows by people standing at the counters working.
The best placement for recessed lighting is 12″ apart from each other and 12″ to 18″ away from any cabinets to illuminate counter areas and work spaces.
How high should a light be above a kitchen table?
Pendant lights should be hung between 30 and 36 inches from a countertop or island.