One of the most challenging parts of kitchen design is getting all your kitchen finishes and other design elements to tie together. Even if you're going for a fairly neutral color palette, it can still be hard to figure out whether you want your kitchen countertops to be a lighter or darker hue than your cabinets, let alone the floors. Thankfully, there are a few easy tips that are sure to bring all your kitchen finishes and colors together for a gorgeous final product.
Start With A Color Scheme
Lay out a scheme for your kitchen colors before you start choosing cabinets and countertops. Having a plan will make your choices much easier and also ensure that your end product is the perfect balance of color, neutrals and shine. Limit yourself to two main colors and one accent color. It's a good idea to choose two neutrals as your main base, such as brown wood tones or white, gray or black. Your accent color could also be a neutral or it could be something more eye-catching. For this step, it's a good idea to seek out expert design help in order to create a truly beautiful kitchen.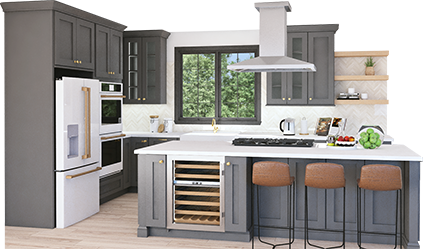 Get your FREE 3D kitchen design today!
Start Now
Choose Your Countertops
Since kitchen countertops are often the most expensive part of a kitchen remodel and sometimes contain multiple colors in themselves, it's a good idea to choose them next. Seeing the colors in your countertops and consulting your selection of main kitchen colors will make choosing the rest of your kitchen finishes easier. You can start browsing for floors and kitchen cabinets next.
Choose Your Floors
Floors are the next most logical choice after countertops because, if you stuck with your color scheme, you can then choose flooring with similar hues and textures. Floors can also be your accent color, though, so if you have black countertops, you could have a lighter, warmer tone for your floors to avoid darkening the space too much. Either way, the choice should be simple — either go complimentary or use your accent!
Choose Your Cabinets
Now that you have your kitchen countertops and floors chosen, it's time for cabinets. Your cabinets should be your second main color and also have elements that match the overall style you're trying to achieve. For example, if you want to create a classic farmhouse kitchen, you wouldn't choose sleek, minimalist black cabinets. Want to preview how your cabinet finish options look in person? You can always see if free samples are available. Your other kitchen finishes, like hardware and decor, should also align with your overall design plan. If you follow your color scheme and go with your gut, you'll wind up with a beautiful kitchen that is uniquely you!
Let Lily Ann Cabinets Help You Visualize Your New Space
Lily Ann Cabinets not only has a fantastic variety of RTA kitchen cabinets, but the expertise to help you choose the perfect style. You can request free cabinet door samples to view each style in person before you buy and also take advantage of our free design help to get a 3D rendition of how your space will look with your chosen color scheme. Get started today!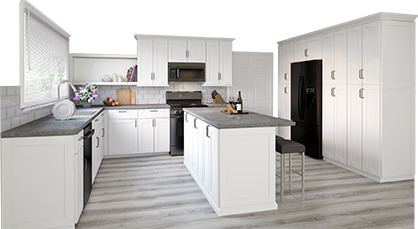 3D Kitchen Visualizer Tool
Bring your dream kitchen to life with our free kitchen visualizer!
Design Now