Within the scope of a full kitchen remodel, choosing decorative hardware for your cabinets might seem like a small matter — but sometimes the details can make all the difference. The hardware you choose can add a sense of completeness to your kitchen's new look, tie together your other finishings and even allow you to add an extra layer of interest. Consider these three important factors when choosing your kitchen cabinet hardware.
Overall Style
Before you get into more of the specifics of decorative cabinet hardware, you need to consider the overall style of your kitchen. For example, if you have a modern kitchen with sleek cabinets and appliances, it would be best to choose equally streamlined hardware rather than ornate knobs or pulls. On the other hand, if you have cabinets with fine, ornate details, you may want a little flourish in your hardware, too. If you want to avoid distracting from the cabinets themselves, a knob may be a more discreet choice because knobs are generally smaller.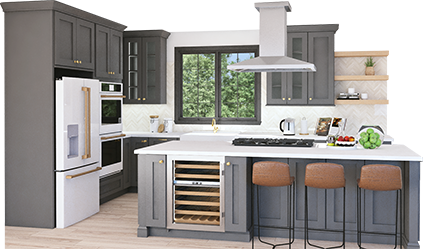 Get your FREE 3D kitchen design today!
Start Now
Just remember: At the end of the day, the most important part about kitchen cabinet hardware is that it is comfortable to use and built to last. Look for options that not only work stylistically, but functionally as well.
Knobs vs. Pulls (Or Both)
It's possible to use all knobs, all pulls or a combination of the two in your kitchen design. Many contemporary kitchens use all pulls for a streamlined, uniform look. Basic, round knob styles generally end themselves to a more rustic or traditional feel. However, knobs also come in a variety of styles, some of which can work in a contemporary room.
In terms of function, knobs work best for cabinet doors and pulls work better for drawers, since you'll be "pulling" them open. From a holding standpoint, pulls are slightly easier than knobs to get a grip on, which could be important if you live with anyone who has challenges like arthritis, or even if you just want to be able to open cabinets easily while your hands are still damp from doing dishes.
Finishes
The most important thing to remember when buying decorative hardware for your cabinets is to keep the finishes cohesive. If you use multiple finishes, the final product will most likely appear erratic and take attention away from your cabinets, backsplash and appliances.
You should also consider the color of your cabinets and the finish on your appliances and light fixtures. While white and gray cabinets can work with a wide variety of hardware finishes, certain shades of brown only accommodate a few colors. In most cases, sticking with classic brushed nickel and chrome hardware can give you a timeless look. For a bolder effect, you can also try silver, gold and even antique brass, which has recently made a comeback. Looking to get extra creative? Consider glass or even mirrored hardware to add unique flair to your kitchen.
Find The Perfect Kitchen Cabinet Hardware At Lily Ann Cabinets
Whether you're just starting to explore kitchen cabinet hardware ideas or are ready to buy, you'll find the perfect pulls, knobs and other accessories at Lily Ann Cabinets. Need help envisioning your space when everything's pulled together? Use our free 3D kitchen design tool to try out styles before you commit. Get started today.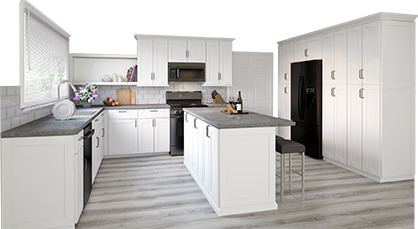 3D Kitchen Visualizer Tool
Bring your dream kitchen to life with our free kitchen visualizer!
Design Now