Lily Ann Cabinets - Colorado White Shaker Cabinet
The kitchen is the heart of the home. It's the place where we gather, have conversations, celebrate events, and enjoy meals together. With the kitchen being such a hotspot for traffic and gathering, it's important to keep it a clean and safe space - especially for kids. In this article, we'll touch on every important step to take to make your kitchen a safe space for your children, no matter the age!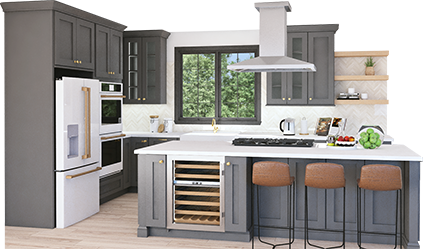 Get your FREE 3D kitchen design today!
Start Now
Tips & Tricks Before Beginning the Babyproofing
Before beginning the babyproofing process, try thinking like a toddler. Closed doors, spaces that are high up, and things they don't understand yet will all peak their curiosity. Here are a few general tips to consider in order to keep your kitchen safe for children.
Turn all appliances off as soon as they are done being used. This will prevent the odds of a child getting burned. When pans are done being used, keep them out of reach of the children until they are completely cooled off

Keep plastic bags and trash bags in the upper cabinets or somewhere where a child can't reach them

Place plastic covers over all power outlets

Handling sharp objects like knives should be done out of reach from children and be put away right after they are used

Do not allow children to be unsupervised in the kitchen space

Install pull-out trash cans into the cabinets to ensure a child can't get into them
Recommended: pull-out trash can insert for your kitchen cabinet
Oven & Stove Babyproofing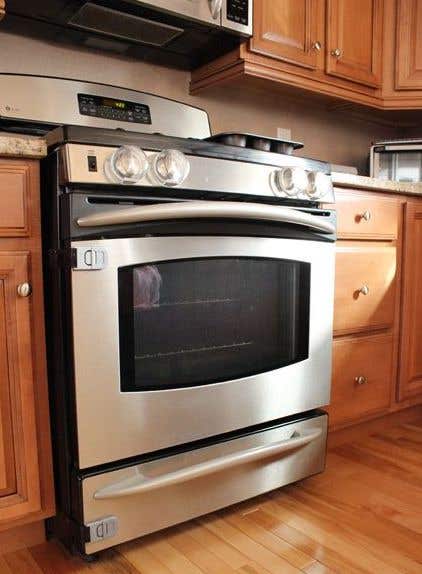 Besides easily reachable sharp objects, toxic substances, and power outlets, large appliances within the kitchen are one of the most dangerous items for a child. Stoves and ovens reach dangerously high temperatures and can be easily opened or reached into by a curious child.
Install knob locks as shown in the photo above

Turn pot handles towards the backsplash to ensure that they can't be reached

Never leave a hot appliance unattended

Install caps to the oven knobs, or take them off completely if you are not currently using the oven.

Install a stove guard so children can't reach the buttons, knobs, and stovetop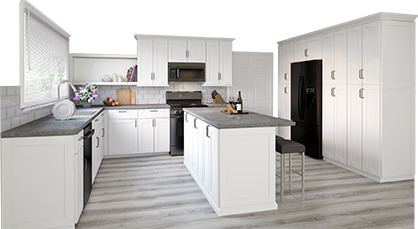 3D Kitchen Visualizer Tool
Bring your dream kitchen to life with our free kitchen visualizer!
Design Now
Refrigerator & Freezer Babyproofing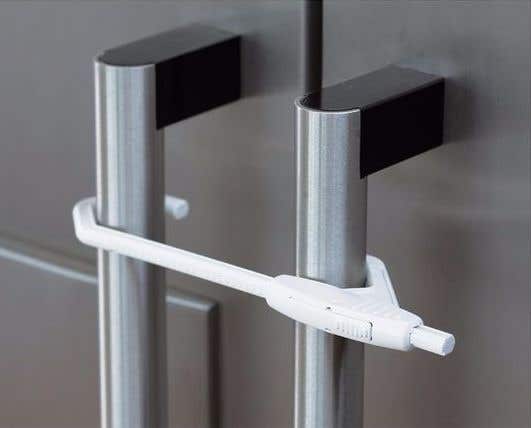 There have been numerous saddening reports of children opening freezers and refrigerators and latching themselves inside. Good news is that this is completely avoidable with just a few preventative measures.
Install a fridge lock high up on the handles so that children can't reach the lock

Temporarily disable the water and ice dispensers (if this function is not available on your refrigerator, cover the buttons with a shield or piece of paper)

Place messy or dangerous foods on high shelves that are out of reach

Anchor your fridge to the wall. You may think that there is no chance of it falling over, but with the right weight pulling down on it, it could potentially topple over
Dishwasher Babyproofing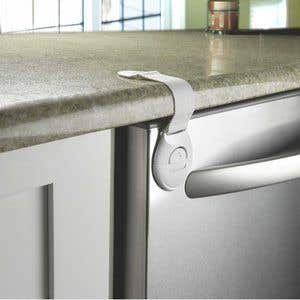 Dishwashers are the holy grail of easily-reachable, breakable, and sharp objects in a kitchen. After reading this far into the article, you will see a common theme: locks!
The best and least expensive way to babyproof an appliance is to install multi-purpose locks on them

Silverware trays are usually located on the bottom, lowest rack of the dishwasher. Avoid putting sharp objects in this rack, like knives, until you are ready to run the cycle, or choose to hand wash these utensils

Keep detergents out of reach when not in use, and only fill the dishwasher before you are about to run the cycle

Cover buttons with cardboard or some form of shield to prevent children from touching the buttons

Find the dishwasher manual and see if your dishwasher has the button-lock option (usually done by pressing a series of buttons)
Small Appliance Babyproofing
Garbage disposal:

cover with a lid when not in use

Microwave:

if possible, mount the microwave above another appliance like a stove, or somewhere along the upper cabinets. If this is not possible and you place your microwave on the counter, push it as far back as possible and conceal any cords

Toaster, blender, coffee maker etc.:

when not in use, place these items in a cabinet or closet on a shelf that is unreachable. When in use or if they are usually on the countertop, push them as far back as possible and conceal all cords. Unplug these items when they are done being used
Cabinet & Drawer Babyproofing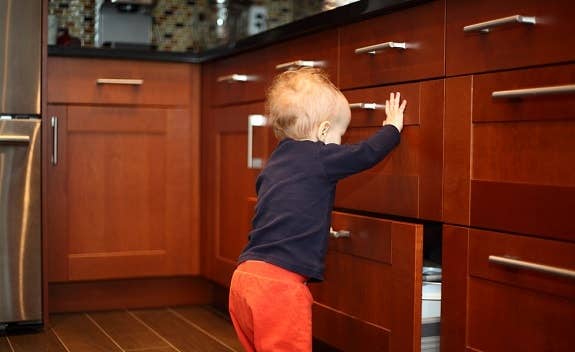 Something concealed behind doors? This is a child's specialty, getting into things they shouldn't be because of curiosity. Cabinets and drawers in the kitchen are a playground for curious toddlers, and can end up being very dangerous for them. There are a few different options to prevent your little ones from getting into kitchen cabinets.
Install

magnet locks

to all the cabinets. These locks are easy to install and handle once placed onto the cabinets, and they will perfectly childproof the kitchen cabinets

Install

latch locks

to all the cabinets. These locks work similarly to the magnet locks, except all you have to do is press down and the cabinet will open.

Pull cord locks

are for cabinets placed side by side to each other, using cord around the hardware

Velcro locks

are a great way to preserve the finish and quality of your kitchen cabinets, while also childproofing them. Using velcro strips, you can velcro the cabinet and drawer doors shut. The stronger the velcro strips, the harder it will be for a child to open them

Tension rods

work perfectly on vertically stacked drawers like in the picture shown above. Placing the rods around the open handle and attaching the other side to the edge of the countertop will keep children from opening the drawers
Preventative Babyproofing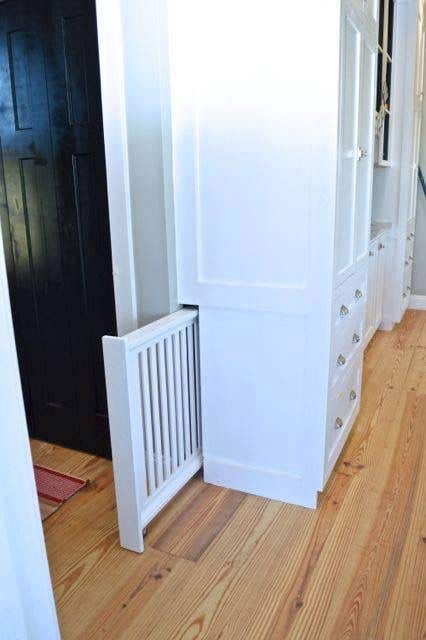 If placing locks, moving appliances and concealing cords is a hassle, there is another option on the table for baby and child proofing a kitchen space. This can easily be done with a gate at the entrances to the kitchen, blocking any small children from entering the space. Gates like the one shown above can be professionally integrated into a kitchen's design, or they can be purchased. If you have an open concept kitchen area, gates can still be strategically placed to conceal the kitchen space.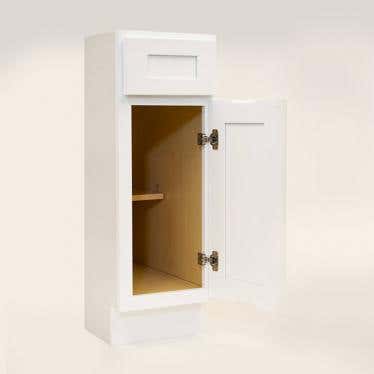 Lily Ann Cabinets - Summit Shaker Cabinet
Another preventative way to reduce the hazards of a kitchen space is to install soft-close hinges. This way, it reduces the chances of children getting hurt when a cabinet or drawer closes. These can be installed on pre-existing cabinets, or you can buy cabinetry with soft-close hinges.
Recommended: modern and traditional styles of high-quality, RTA cabinets with soft-close hinges (at up to 50% off box store pricing!)
Create Your Dream Kitchen With Lily Ann Cabinets
We offer a wide selection of premium cabinetry, hardware, shelving and more to help you create a room that stands the test of time. Pick from our large array of kitchen and bathroom cabinetry, including navy blue shaker cabinets and white shaker cabinets that come with soft-close hinges. Our professional designers are on standby to work with you — we offer FREE samples and FREE design and quote. Visit our FREE 3D design tool to get started today!
FAQs:
How do you babyproof a kitchen?
Babyproofing a kitchen involves lots of precautionary measures and the investment of locks. Concealing cords, pushing small appliances as far back as possible on the countertops, anchoring large appliances to the wall, and installing locks to the cabinets are all ways to babyproof a kitchen. Read through this article for further details on how to babyproof a kitchen.
Can you babyproof an oven?
Yes! You can babyproof an oven in a couple of easy steps. Purchase small caps for the oven knobs (or pull them off when they are not in use), use a lock for the oven door, or buy a shield for the entire oven.
What is the easiest, least expensive way to babyproof a kitchen?
The easiest and least expensive way to babyproof a kitchen is to install gates at all entrances. Another option is to install soft-close hinges to all of the cabinets, reducing the hazard of little ones getting caught in a closing door or drawer. High-quality, RTA cabinets can be bought with soft-close hinges here. Concealing cords and covering the buttons of appliances with cardboard or paper will also reduce the chances of a child getting hurt.
What can I do to my kitchen cabinets to make them babyproof?
Installing soft-close cabinet and drawer hinges will reduce the chances of children getting hurt. Or you can install cabinets that come with soft-close hinges, making your kitchen space a step closer to being fully childproof. Velcro strips will also prevent kitchen cabinets being opened by little ones.
How do I make my laundry room cabinets babyproof?
To make a laundry room babyproof, apply locks to the washer and dryer doors. Cover buttons with a piece of cardboard or paper to prevent children from pressing them. If you have cabinetry in your laundry room, keep detergents and hazardous products on a shelf that is out of reach. Install locks on cabinets to make them not openable by children, or install soft-close cabinets to prevent children from getting hurt