Lily Ann is known for our easy-to-install, ready-to-assemble (RTA) cabinetry. However, if you have never done it before, just like anything else, the thought of it can be a little overwhelming. Have no fear, we're here to help! We'll take you through each step of the assembly and installation process to help you get your new kitchen or bathroom cabinets looking as beautiful as possible, and it will be far easier than you can imagine! Let's get started!
Find your assembly instructions
Our website has free, downloadable, and printable instructions for every model of our RTA kitchen and bathroom cabinets which you can find here. Make sure you download the correct instructions for the specific model of cabinetry you have, as parts and materials vary between different cabinet styles.
Once downloaded, you will see that our instructions range from three to four pages and are very easy to navigate. The first page consists of a list of parts and their quantities – from the screws to the glide connectors to the actual cabinet doors and frame pieces themselves. Dimensions are included for each cabinet piece so you know exactly what you're looking at. Then, the next few pages feature numbered steps and detailed diagrams showing you how to attach each piece in the right order.
But don't get started with the glue just yet – there are some other key tips we have for you to make your RTA kitchen cabinets assembly go as smoothly, and as stress-free as possible!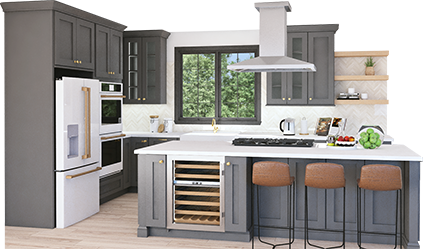 Get your FREE 3D kitchen design today!
Start Now
Clear some space
It's no secret that furniture assembly can lead to some serious conflict between partners, so to avoid this, prepare your space for assembly before you get started. Having enough space to lay out all the pieces and individual screws for your cabinets is essential to a quick and painless assembly.
By having enough space for everything, you can also adequately inspect for damage or marks on any of your cabinet pieces. If you're assembling RTA cabinets for the first time, we absolutely recommend making sure everything is in order before you begin assembling.
Make sure you have all parts and materials
Before you put your first piece together, you should check the instructions for your specific cabinet model and see if the number of small parts listed there match the number of small parts you have. It's better to be thorough beforehand and check if you have everything than to get halfway through assembly and realize you're missing an essential screw.
This also goes for tools and materials as well – most of our ready to assemble cabinets require glue, a screwdriver, or a drill to be constructed, so make sure you have these tools on hand before you begin assembly or before you even look through our catalog to decide on which RTA cabinets you want for your kitchen or bathroom.
Take things step by step
As mentioned previously, your cabinet assembly instructions feature numbered steps with diagrams to go along with them. It's important to follow each step in order because if you rush ahead, you might make a mistake. Although it's easy to become frustrated with bathroom or kitchen cabinet assembly, you can save yourself some headaches if you take things slow.
Assembly time varies based on your specific ready to assemble kitchen cabinet type and size, but most of our models can be assembled in under 30 minutes. Our RTA cabinets are not an all-day endeavor, especially if you prepare beforehand and know what to expect.
Check out our assembly videos
Did you know we feature a plethora of instructional videos on how to assemble our RTA kitchen cabinets on our website? We do! There are even various videos for the metal clips, cabinet organizer, and decorative hardware assembly.
If you're more of a visual learner and need to see things in action, these videos are a great resource for you.
Contact us for help
If you're really stuck and need to speak to an associate for help, you can call us at (800) 551-1438 or text us at (361) 524-1105. We'd be happy to help walk you through the assembly and installation process for your new Lily Ann cabinets.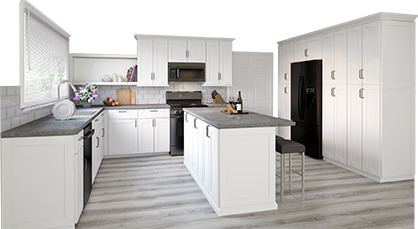 3D Kitchen Visualizer Tool
Bring your dream kitchen to life with our free kitchen visualizer!
Design Now
FAQ
Are ready to assemble cabinets good quality?
At Lily Ann Cabinets, we are in complete control of the engineering, design and the manufacturing processes of our ready to assemble cabinets. This affords us the ability to make high-quality RTA cabinets that are both easy to assemble and built to last.
Our cabinets are unlike other RTA cabinets online. Our cabinet materials vary slightly based on style, but all cabinets feature solid grade-A plywood boxes. The doors and drawers on our painted cabinet lines feature premium HDF engineered wood to prevent any cracking.
All stained cabinet lines feature either solid wood or wood frames with HDF and wood veneer depending on style. Our superior building materials play a huge role in the overall quality of the RTA kitchen cabinets we sell and separates us from the majority of our competition.