As you ring in the new year, you might consider setting resolutions to spruce up your home with a few DIY projects that incorporate design trends for 2023. To help you get started, we will share some driving home design trends for the new year.
It's important to understand that the main factor behind this new year's changing trends is that people are starting to live differently than they have in years past. According to the U.S. Census Bureau, 2021 marked the highest percentage of people working at home, driving the new and exciting changes that many in the home design world are falling in love with, and we think you will too.
Enhanced Workspaces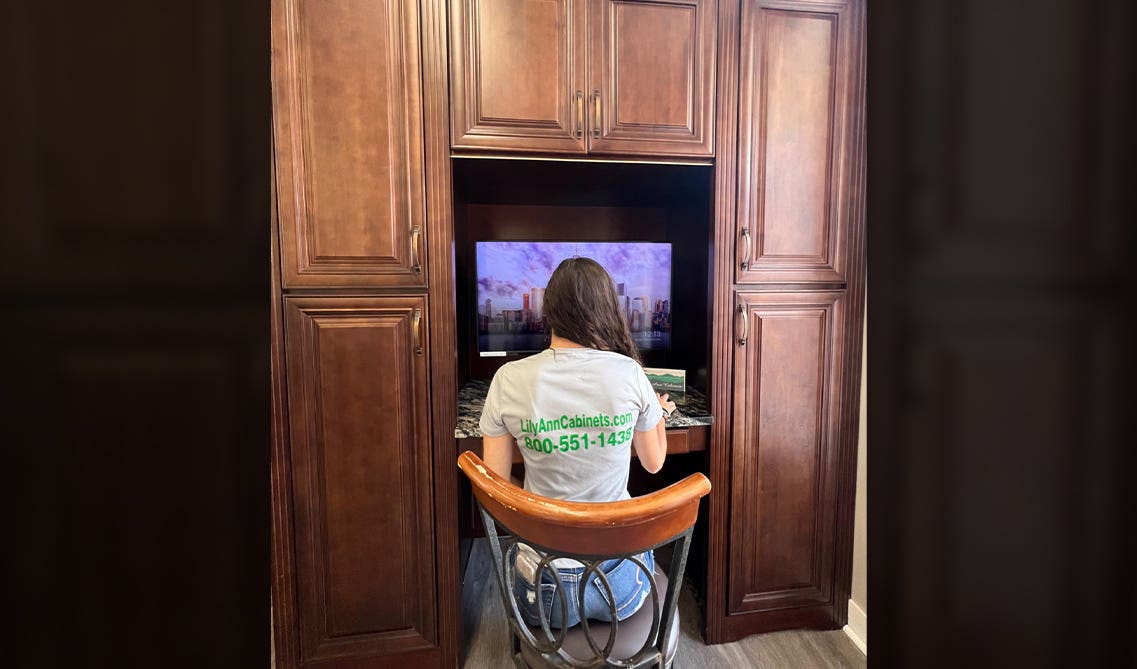 2023 is bound to become the year where the home office design is being redefined as more people want to create functional and comfortable workspaces in their homes. Home offices are being set up to meet precise working and aesthetic needs to help boost productivity and people's moods. Some of the trending colors for offices and homes in general right now are hues of blue, green, and grey.
Blue is said to have a calming effect on the onlooker, inspiring feelings of safety and being at peace. According to House Beautiful, hues of grey also inspire similar feelings that blue hues do for the onlooker. According to Instagram, green hues are also expected to trend for workspaces because green encourages mental wellness and inspires personal growth. Many relate the color green to the earth and how plants look when vibrant and healthy, which energizes people to be productive in their workspaces. These colors, however, are not only extending to workspace, but we are also seeing them grow in popularity in Cabinetry.
Also Read: Types of Home Interior Design Styles

Cabinet Colors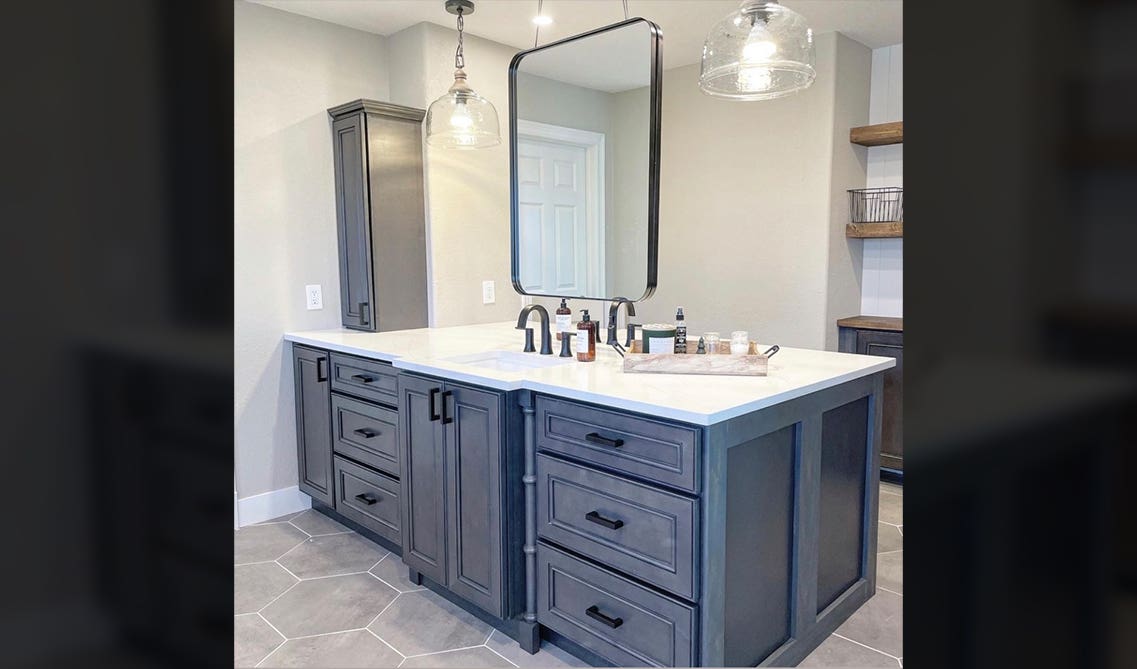 Home designers expect bright-colored cabinets in kitchens, bathrooms, and mudrooms to trend even more than we have recently seen. More and more homes are opting to replace white cabinets with Blue Cabinets or Grey Cabinets, or they are pairing white cabinets with an on-trend Backsplash and bright wall paint to give their home a more updated look. Kitchens are getting a lot of attention in the last few years and many people are changing their design to include larger kitchen islands that host more innovative cabinet storage.
Many kitchens are doubling as office spaces, influencing people to redesign their kitchens by adding or enlarging their kitchen islands to have an area that doubles the working size. This shift to bright cabinet colors is attributed to how people use a room in their homes for multiple functions. The kitchen islands also incorporate innovative cabinet trends that offer great storage and organization, like Wood Pull Out Shelves and Double Tiered Drawer Inserts.
Another trend in home design is remodeling mudrooms and laundry to better serve and meet the needs of families. Since many laundry rooms double as a pet area, a popular upgrade we see families making is adding a Pet Bowl Drawer to their cabinets in their laundry/mudrooms since that space also serves as a pet area. Laundry rooms are getting the designer treatment from head to toe by replacing cheap wire shelving for beautiful and innovative Cabinetry, Quartz Counters Tops, new flooring, and adding sinks; you can view some images for inspiration on Pinterest.
Not all upgrades need to be as drastic as redoing an entire room; you can stay on trend by adding wood elements to your home. Organic and rustic textures are another trend 2023 will usher in, as people want to bring the outdoors inside their homes by adding wood textures to their décor. An easy way to get that organic feel inside your home is by changing your pantry or bathroom doors (if space allows) to a Barn Yard Door. Many homes use barn yard doors on bonus rooms and replace their closet doors. Rustic wooded doors contrast beautifully with the green, blue, or grey hues, which, as mentioned earlier, are the colors expected to trend in 2023
Also Read: Best Kitchen Cabinet Color Ideas with Long-Lasting Appeal

Beautiful Design Matters for Mental Health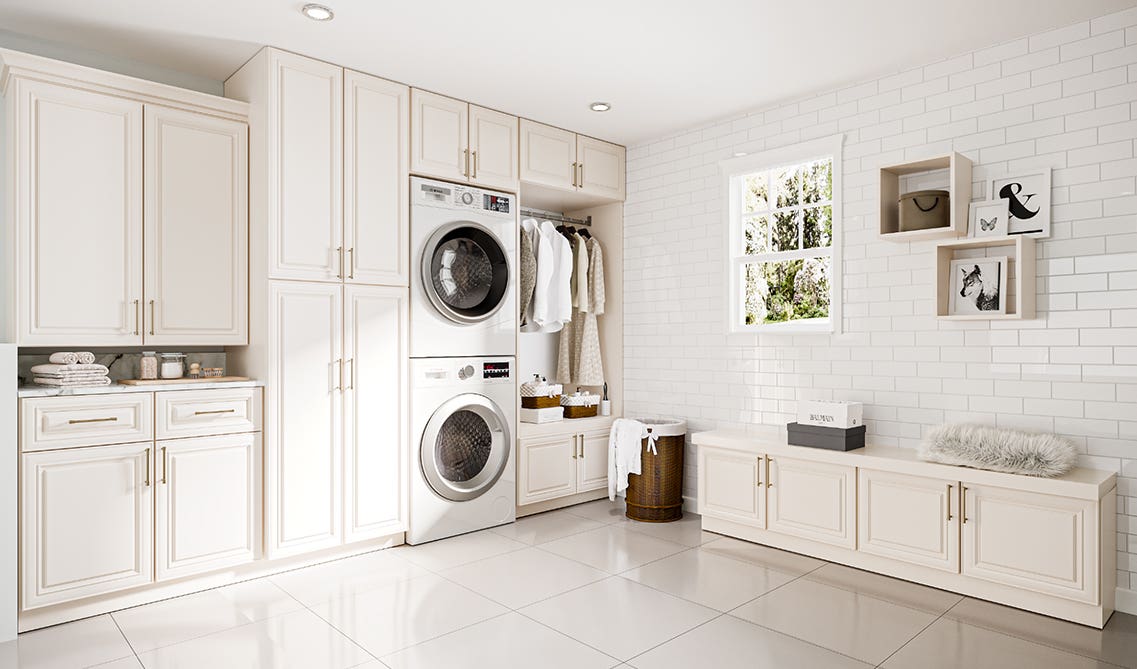 In years past, laundry/mudrooms were conventionally ignored, and any updates to a house usually included only the kitchen or bathrooms. In recent years, there has been a cultural shift to focus on mental wellness and self-care. According to an article by Health Care Design, holistic designs, colors, and functionality significantly contribute to people's overall wellness, especially mental health. So those pictures of beautiful kitchens, bathrooms, and laundry rooms, can make you feel better. Mental health professionals agree that creating beautiful spaces in your house encourages you to slow down and practice mindfulness, which contributes to decreased stress and overall health.
Homes that host spaces that are functional, organized, and beautiful give the people who live in them a sense of peace and calmness, which is why 2023 home designs will focus on creating beautiful entrances like mudrooms and laundry rooms that include lovely, upgraded flooring, cabinets, and quartz counters. Kitchens are being used for more than just cooking now, families gather in them, and some people even work in them, so renovations trends are shifting to meet the demands of how we do life and what people want to prioritize, and by the looks of it healthy living is at the center of it.
Also Read: Decorating and Upgrading Your Laundry Room on a Budget

Lily Ann Cabinets make it easy to renovate any space. If know what changes you want to make to a specific room, try our Kitchen Visualizer or get a Free Design and Quote from one of our professionals, and we will walk you through the process so that you can get started on making your home, the home of your dreams.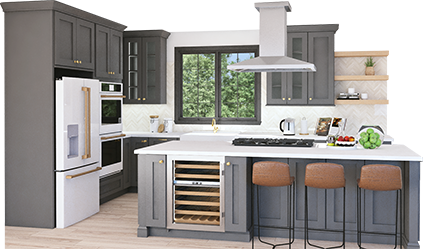 Get your FREE 3D kitchen design today!
Start Now
FAQ
1. What is the new home style for 2023?
According to Better Homes and Garden, 2023 homes will be featuring more natural elements while being upscale and chic in design!
2. What are the kitchen colors for 2023?
Blue & green kitchen cabinetry will be on trend for 2023 homes! Be on the lookout for green cabinetry being featured as one of Lily Ann Cabinets newest options come 2023 also.
3. Where can I buy trendy kitchen cabinets?
Lily Ann Cabinets has over 19 options of cabinetry for you to choose from and are planning on adding more styles in the new year. Check out the styles we offer now and begin designing your new kitchen today!
4. Are wood cabinets coming back 2023?
Yes! Natural wood finishes will be making a comeback in 2023 to give an earthy, and warm feel to your home.