Are you considering a kitchen remodel but don't know where to start? Hiring the right local kitchen remodel company can make all the difference in the success of your project. A good local kitchen remodel company can provide you with high quality materials, expert craftsmanship and a stress-free experience. The following tips will help you hire the best local kitchen remodel company for your project.
1. Assemble a List Of Contractors People You Know Have Used
Before you decide on a kitchen remodeling contractor, it is important to assemble a list of the best kitchen builders in your local area. Word-of-mouth referrals are often the best way to find someone with a good reputation. Ask your family, friends, neighbors and coworkers who they have used in the past. You may even want to reach out to any local home improvement or design centers for their recommendations. Once you have narrowed down your list of potential contractors, prioritize them and reach out to your top candidate first. Provide an overview of the project, including any additional services you'll need such as architecture or design. Make sure to also ask for their license and insurance credentials so that you can verify them prior to scheduling an in-home appointment. This will help ensure that the job is done correctly and safely.
Also Read: Budget a Kitchen Remodel in 6 Easy Steps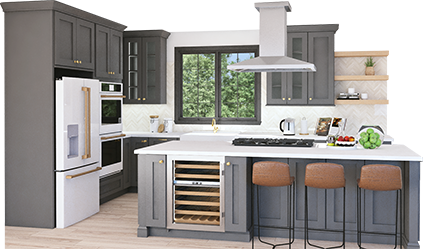 Get your FREE 3D kitchen design today!
Start Now
2. Check Online Reviews
Once you've narrowed down your list of possible kitchen remodeling contractors, the next step is to do some research into their services. One of the best ways to find out more about them is to check online reviews from other customers. Google, Facebook, and Yelp are all great places to start when it comes to researching a contractor's reputation. This will give you an idea of their level of expertise, customer service, and overall quality of work. You can also search for how to find local contractors in order to locate contractors in your area who specialize in kitchen remodeling. By doing this, you can easily compare different contractors' services and prices to help you make an informed decision.
3. Ask About Their Process
When looking to hire a kitchen remodeling contractor, the most important thing you can do is to ask questions about their process. A reputable contractor should have a set procedure that they follow and be willing to explain the process to you. One of the first questions you should ask is how to find local contractors who are qualified to handle your job. The best way to do this is by researching kitchen remodeling contractors online. Look for reviews and check their social media pages to see what others are saying about them. Once you've narrowed down your list of potential candidates, you should schedule interviews with each of them so that you can get a better feel for their processes and experience. Also, be sure to ask about their estimating process. An experienced contractor should have a thorough estimating process that includes all materials, labor, permits and inspections required for the job. This will ensure that you have a clear understanding of the entire project and can make an informed decision about which contractor is best for your needs.
Also Read: How Long Does It Take to Remodel a Kitchen?
4. Ask About Payment Expectations
When it comes to finding local kitchen remodelers for your project, it's important to ask about their payment expectations. You want to make sure you understand what you'll need to pay upfront, how much each stage of the project will cost, and when you'll be expected to make payments. Some remodelers may require a deposit before they start work, while others may bill you on a periodic basis throughout the project. Additionally, some local kitchen remodelers may offer financing options so you can spread out the cost of the project over several months. Make sure to ask any questions you have about the contractor's payment policy before committing to the job.
5. Make Sure They're Insured
When you're ready to hire a local kitchen contractor for your remodel, it's important to make sure they are properly licensed and insured. Many states require contractors to obtain a license in order to practice their trade. To acquire this license, they must prove their expertise in their field and knowledge of business practices and laws. Be sure to ask the contractor for their license number and a certificate of insurance. Then, contact your state's licensing board to confirm that the contractor's license is still valid and in good standing. Additionally, get in touch with the insurance policy carrier to verify that the coverage is up-to-date. By doing this due diligence, you can rest assured that the local kitchen contractors you hire have been properly vetted and are qualified to carry out the work safely and professionally.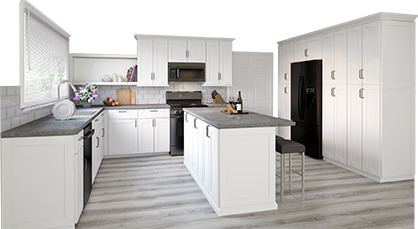 3D Kitchen Visualizer Tool
Bring your dream kitchen to life with our free kitchen visualizer!
Design Now
FAQ
1. Do I need an architect for a kitchen remodel?
You don't need an architect for a kitchen remodel, but if you'd like to have one, you can! Lily Ann Cabinets offers free 3D designs that are done by award winning designers!
2. How much should you spend to remodel a kitchen?
The average cost of a kitchen remodel is between $15,000 and $30,000.
3. What adds the most value to a kitchen remodel?
Kitchen cabinets and countertops add the most value to a kitchen remodel!
4. Where do I get quality remodeling work for my kitchen?
Ask around with individuals you trust and ask them if they've used any contractors!