It's easy for bathroom cabinets to get overlooked during a renovation – there are so many other elements to a bathroom remodel and sometimes you might just want to throw in the towel (no pun intended) and simply choose whatever is available or cheapest. But with some thorough pre-planning and expert knowledge, it doesn't have to be this painful! You can make your bathroom cabinets work for your budget, space, and overall aesthetic vision.
Let's go over some key points to keep in mind when choosing your bathroom cabinets.
How much space do you have?
The first thing you need to assess in your bathroom cabinet selection process is how much space you have for them. If you're tight on space, you should prioritize having enough room for at least one set of cabinets – either wall-mounted or floor-mounted - so you still have some storage space to utilize. Generally, an apartment or small home's bathroom size is anywhere between 36 to 40 square feet. If you're unsure of your bathroom's square footage off the top of your head, it might be time to bust out the measuring tape.
If you're looking for a vanity specifically, it's important to know that they come in a variety of different widths, ranging from 24 to 72 inches. At Lily Ann Cabinets, our vanities range from as slim as 15 inches all the way up to 36 inches in width.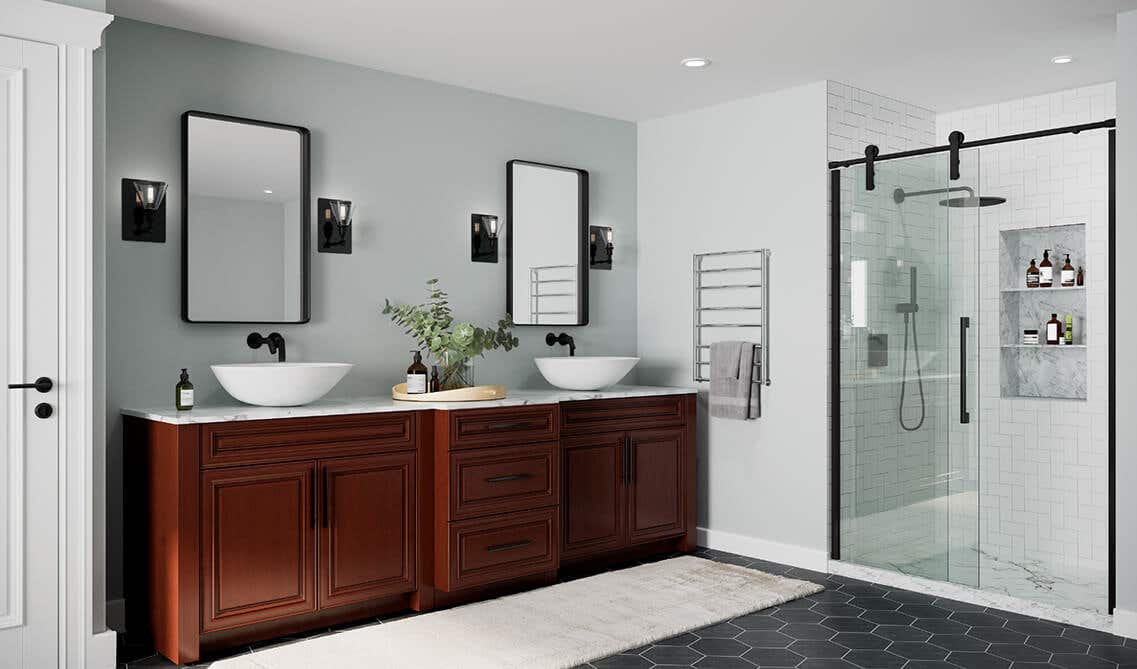 What do you want your bathroom to look like?
Choosing your bathroom cabinets should be fun and exciting, and you should allow your personality and flair for creativity to shine through in the cabinets you pick. In order to make the right choice for your bathroom, you must first think about what kind of space you want your bathroom to be. What's the theme or "vibe" of the space? How do you want your family or your guests to feel when entering a room you use multiple times a day?
There are so many different bathroom styles and themes you can go with these days. Good Housekeeping outlines 65 different ideas for you, among them design concepts such as " Old World Look " and " Navy Trim.
Our York Driftwood Grey, Charleston Toffee, or Bristol Linen bathroom cabinets would all be beautiful choices within the "Old World Look" theme. And naturally, our Navy Blue Shaker bathroom cabinets are a great choice for the "Navy Trim" suggestion.
If you're still stuck on a theme or design ideas for your bathroom, try searching on sites like Pinterest to see how others have worked their cabinets into their overall bathroom aesthetic. If nothing sticks out to you, remember: you can always DIY your cabinets with a little paint and perseverance! 
What kind of material should you use for bathroom cabinets?
There are many different kinds of cabinet materials, the most common among them being wood. Highly durable, wood comes in a variety of different species and colors and you're sure to find a type that matches your vision. Our RTA (ready to assemble) cabinets are made using the birch and Northern American Maple that come in a range of 19 beautiful styles.
If you'd like to explore your other options for bathroom cabinets, there are quite a few for you to look further into! Along with solid wood, particle board, MDF (medium-density fiberboard, plywood, and stainless steel are all valid choices each with its own pros and cons.
Each of these different materials has its own specific care instructions, so make sure you do your research before settling on a definite material for your cabinetry to keep your bathroom looking fresh and clean. 
Quick Start Guide to Choosing Bathroom Cabinets


If you're ready to get going and want to choose your bathroom cabinets right away, follow these steps!
Step 1: Measure your space. It's important to be aware of how much space you have for cabinets and where exactly you'd like them to be situated among your other bathroom furnishings.
Step 2: Think about the type of space you want to create. Just because this is your bathroom doesn't mean you can't get creative with theming, statement pieces (like a vanity or a large mirror), and color. Maybe browse our other blogs for some inspiration or DIY tips!
Step 3: Choose the best kind of cabinet material for you, your lifestyle, and your theme. There are lots of different options with a range of prices and strengths. We would of course suggest solid wood!
Contact Us
If you're in need of any further assistance in choosing your bathroom cabinets or in any other stage of the remodel process, feel free to contact us for more customer support. 
At Lily Ann, we value your patronage and would be happy to help you realize your ideal home spaces. Happy shopping!


FAQ:

How to choose bathroom countertops?
According to Family Handyman, there are a few factors to consider when choosing your bathroom countertops:
Durability: Will the countertop sustain wear and tear from everyday use?

Cost: How much are you willing to spend on new countertops?

Availability: Will they be available to you when you need them?

Installation: Will you be able to install the countertops yourself or will you need help?
Lily Ann Cabinets sells three different quartz tops online, ranging from pure and bright white to a beautiful marbled design. Engineered quartz is produced from 93% quartz under extreme pressure, which creates a top that is very hard, as well as stain and heat resistant. Quartz countertops also don't chip or crack and many say that they feel softer and less harsh than other stone countertops. Therefore, if you are looking for a high-quality, stunning countertop option, then a solid quartz countertop is the way to go!
How to choose a bathroom cabinet color?
Choosing your bathroom cabinet color comes down to the design and look you want your bathroom to have! At Lily Ann Cabinets, we offer a wide variety of cabinet colors and styles for you to choose from to help make your decision easy. 
How to choose bathroom cabinet hardware?
Need help choosing the right hardware for your cabinets? Check out our Guide to Choosing Cabinet Hardware blog!