When most people hear the word "glazed," donuts are probably the first thing that comes to mind. But aside from the delicious breakfast treat, glazing also refers to a finishing method for cabinets. Let's explore what cabinet glazing is, how it's done and why you might want to consider it for your kitchen remodel.
What Is Cabinet Glazing?
Glazing refers to the application of a secondary color to the surface of kitchen cabinets. It can help features of your cabinets, like decorative paneling, stand out and can also give your cabinets a more unique feel. Glazing can even give your cabinets some vintage flair!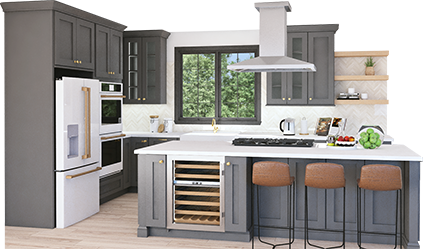 Get your FREE 3D kitchen design today!
Start Now
How Is Cabinet Glaze Applied?
There are a few different methods for painting glazed cabinets. First, there's the pinstriping method, a form of glazing that outlines the decorative elements of your cabinet doors and drawers. For example, if your cabinet door has a recessed center panel, glazing would trace along the inside of that panel's edge to create a frame. You can glaze as many grooves and panels as there are on your cabinets to create a high-impact look.
Second is the wiped method. To achieve the wiped look, glaze is applied to the entirety of a cabinet's surface and then wiped away. The process creates a subtle shading or shadowing effect that naturally gathers in the cabinet's grooves. It's a more toned down way to accentuate the details you love about your kitchen cabinets (which might have been the reason you chose them in the first place).
How Many Cabinet Glaze Colors Are There?
Cabinet glaze comes in a variety of shades but generally stays within the neutral families of white, brown, gray and black. When choosing your glaze color, consider the color scheme of your kitchen and cabinets. If you have lighter tones throughout, choose something darker and vice versa. Additionally, if you have mostly brown tones, it would probably be best to stay within that color family and choose brown for your glazing. The same goes for kitchens with prominent black, gray or white features.
Why Choose Glazing?
As we mentioned earlier, glazing can create an antique, aged feeling for your kitchen cabinets. This would be perfect for remodelers who are looking for a unique way to achieve a traditional style. Glazed kitchen cabinets can also contribute to a rustic or country style kitchen design, creating a cozy atmosphere and stunning focal points.
Add Extra Flair To Your RTA Cabinets With Lily Ann Cabinets
Lily Ann Cabinets has a wide selection of RTA kitchen cabinets and, as such, we also have a wide variety of finish options to choose from, including cabinet glazing. It's just one more way we make RTA cabinets feel custom-made for a fraction of the price. Get started today!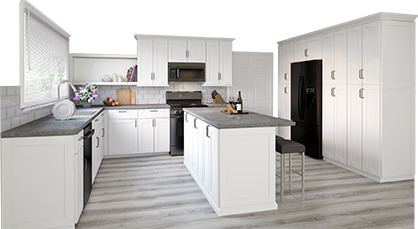 3D Kitchen Visualizer Tool
Bring your dream kitchen to life with our free kitchen visualizer!
Design Now