Spring is a beautiful season! Fresh air. Sunlight on your skin. Singing birds and blossoming flowers. It's a feeling that's all too fleeting. So why not capture it in your kitchen design?
Just like spring, a kitchen is meant to be filled with warmth and life. And Lily Ann Cabinets can help. Check out these three ready-to-assemble (RTA) kitchen cabinet designs that can make spring feel eternal within your home.
Named after a bright and lively place where you'd go to refresh, these cabinets make your kitchen feel just as bright and refreshing. White naturally reflects more light than other colors. As a result, this true-white cabinetry helps makes any space look brighter and small kitchens feel larger.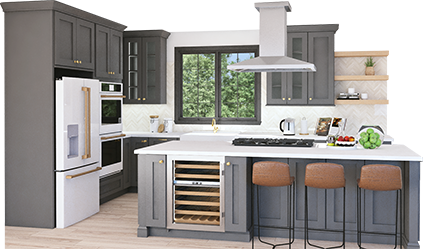 Get your FREE 3D kitchen design today!
Start Now
White RTA kitchen cabinets also work with practically every other color and kitchen design. So you can decorate your space with vivid details if you like, but there's still room to change your mind later. In fact, white remains the most popular color for kitchen cabinets because it's flexible and doesn't go out of style.
This particular design features a raised center panel and clean contours for a look that's just the right mix of elegant and carefree.
These pure white cabinets feature lines as crisp as the spring Colorado air. That's the beauty of their delightfully simple Shaker door style. It's like spring cleaning for your decor: toss aside the non-essential details and discover a gorgeous blank slate.
Once again, the bright white color of these RTA cabinets is ideal for capturing the warmth and energy of spring. But they're also a timeless classic that endures season after season.
Spring is nature at its best with the new growth on trees, the vibrantly colored flowers, and the bustling wildlife. Bring a little piece of nature into your home with our Toffee Madison RTA kitchen cabinets.
Made from Grade-A birch wood that is Toffee-stained, these RTA cabinets have a lightness and warmth to them that helps keep a little sunshine in your kitchen year-round.
The use of real, solid wood not only makes all our RTA kitchen cabinets feel more natural; it also makes them very durable and easy to clean.
Ready to renew your space? Order your new RTA cabinets today.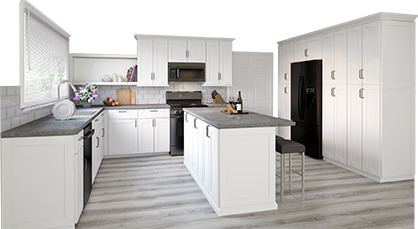 3D Kitchen Visualizer Tool
Bring your dream kitchen to life with our free kitchen visualizer!
Design Now