Ready-to-Assemble (RTA) cabinets are becoming increasingly popular among homeowners who are rebuilding their homes, renovating their bathrooms, and remodeling their kitchens. If you're interested in using RTA cabinets for your next project, get answers to your questions here.
What Are RTA Cabinets?
Unlike assembled cabinets that are pre-built by a manufacturer, ready-to-assemble (RTA) cabinets are meant to be assembled on-site at your home or the location of your project. After buying an RTA cabinet online or from the store, you will receive the cabinet you purchased in a broken-down or unassembled form commonly known as "flat packed." This form is called "flat packed" because all the unassembled components of the cabinet can be laid flat when they are packed, shipped, and delivered to you. RTA cabinets are significantly less expensive than assembled cabinets because the labor of building the cabinet is your responsibility. While RTA cabinets require a little bit of your time, they don't require highly technical skills and knowledge to be assembled. With the help of a few everyday tools and our extremely detailed assembly instructions and how-to videos, your RTA cabinets can be very practical to install.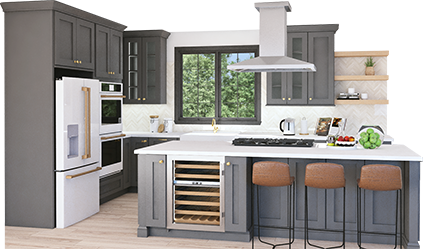 Get your FREE 3D kitchen design today!
Start Now
How Long Does It Take to Assemble an RTA Cabinet?
The assembly time varies depending on the type and size of the individual cabinet you purchased. Typical wall cabinets can be assembled in 7-10 minutes and base cabinets in 10-15 minutes. Assembling larger or more complex kitchen cabinets such as Lazy Susans, pantries, and oven cabinets can take longer than 15 minutes due to additional components and the overall complexity of the cabinet. Assembly times may also vary with your level of experience.
How Many People Does It Take to Assemble and Install RTA Cabinets?
You can assemble and install an RTA cabinet by yourself. The whole process only requires one person. However, additional help can make the overall process much easier to complete in a timely fashion. If you have never assembled or installed an RTA cabinet, an extra helping hand or two will be beneficial. More help is especially important when assembling or installing larger RTA kitchen cabinets.
Do I Need Help from a Professional to Assemble or Install RTA Cabinets?
Help from an expert is not required for assembling or installing RTA cabinets. The assembly and installation process does not require you to possess the knowledge, skill, or experience of a professional contractor. However, you are more than welcome to seek help from an expert. If you are purchasing your RTA cabinets from Lily Ann, we have an extensive dealer network that includes contractors who can assist you with the assembly and installation process. The availability of our contractors and experts depends on your location. Please call or contact us and we will help connect you with our contractors near you.
What Tools Will I Need for Assembly?
When assembling an RTA cabinet, you only need a few everyday tools to get the job done. Here are the tools you will need:
Cordless Drill - A drill is necessary for properly fastening cabinet faces, corner braces, assembly clips, and other components using the screws included with your RTA cabinet. We recommend using a cordless drill so you can freely move and drill with greater ease.
Wood Glue - When assembling the cabinet faces, you will want to apply all-purpose wood glue to the connection groves. This creates a strong hold between the connected cabinet surfaces and ensures a durable construction overall. The experts at Lily Ann Cabinets use Titebond II Premium Wood Glue when assembling RTA cabinets, but any all-purpose wood glue will do. You can get Titebond or other all-purpose wood glues at The Home Depot, Lowe's, and any local hardware store.
Rubber Mallet - When sliding cabinet faces into place, a few light taps with a rubber mallet will help secure them. Our proprietary dovetail joint assembly process will also require a few taps with a rubber mallet to make the joints secure and flush with each other.
Rags or Paper Towels - You will want to have an old rag or roll of paper towels on hand during the assembly process to wipe away any excess wood glue.
Protective Layer for Workstation - If you are assembling your RTA cabinet inside your home, make sure you cover your workstation with a protective layer like a plastic tarp. This will protect your home from scratches, wood glue, etc.
What Are RTA Cabinets Made Out Of?
Many other brands' RTA cabinets are made from particleboard, cheap fillers, or other inferior imitation wood materials. At Lily Ann Cabinets, all our RTA cabinets are made from genuine wood. Our cabinet face frames and doors are made from either Birch or North American Maple. Drawer and box construction features furniture-grade A plywood. RTA cabinets from Lily Ann are well-made, extremely durable, and capable of achieving an overall level of quality that competes with pre-assembled cabinetry.
Can I Get RTA Kitchen Cabinets With Special Storage Features?
Absolutely. Lily Ann RTA kitchen cabinets are compatible with a wide range of clever and convenient kitchen storage solutions that can help you save space and stay organized. Popular choices include drawer organizers, pull-out baskets, and cabinet door mount storage. Lily Ann Cabinets offers all these and more. Just make sure to order only storage solutions that are listed as compatible with the specific RTA kitchen cabinets you ordered.
How Long Do Lily Ann RTA Cabinets Take to Ship?
In general, RTA cabinets have shorter shipping lead times because (1) the cabinets are already in stock and (2) they don't require assembly before shipping. Manufacturers or companies that sell pre-assembled cabinets don't always keep their products in stock, and they have to assemble the cabinets after your order has been placed. When you order from Lily Ann Cabinets, your cabinets will ship within 1-21 business days after your order is placed. It is possible for us to expedite the shipping process, so you receive your order faster than 1-2 weeks. The fastest turnaround time is 3 business days. If you are pressed for time and need your RTA cabinets delivered quickly, call or contact us. We will do our best to work within your timeline. If you have a question or concern that is not addressed by this guide, please do not hesitate to get in touch with the RTA cabinet experts at Lily Ann. Please call 1-800-551-1438 or send us an email. As the manufacturer, we know our entire selection of RTA cabinets inside and out. We pride ourselves on being able to find an RTA cabinet solution that perfectly meets your needs and the unique specifications of your project.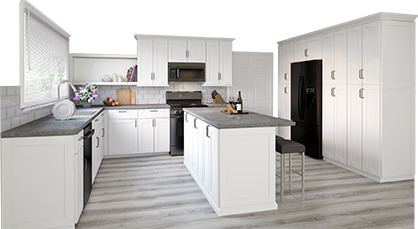 3D Kitchen Visualizer Tool
Bring your dream kitchen to life with our free kitchen visualizer!
Design Now