Picture this: you're relaxing in an elegant, rustic kitchen in the South of France, sipping a freshly brewed cappuccino. The earthy colors of the room around you melt into the sunny vineyards beyond. Now, what if we told you that you can recreate this rural French charm in your own home? That's right! There's no need to travel across the globe because today we're sharing our favorite tips to design your very own French country kitchen.
Earthy Tones
What sets French country kitchens apart from English or American country styles is their color palette. French country kitchens are characterized by their soft, muted tones and earthy colors inspired by rich farm landscapes. Typically, French country kitchen cabinets are painted in elegant pale colors, creating a natural and inviting look. These calming colors give the impression of an open atmosphere, a must when it comes to achieving the French country look.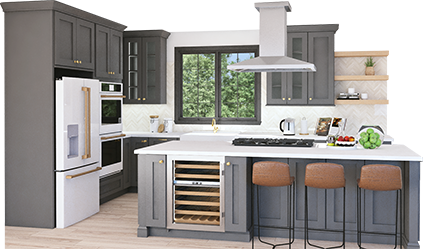 Get your FREE 3D kitchen design today!
Start Now
Additionally, when it comes to details like curtains or backsplashes, it's not uncommon to see a pop of warm red or royal blue. Occasionally, bolder colors like these are used to match any French antiques or hand-painted details in the space.
Sophisticated Furniture
French country kitchens are also known for their detailed furniture. Curtains and cabinet skirts are typically adorned with delicate toile prints and symmetric floral patterns. Unlike English country kitchens, which have mostly straight lines, French country kitchens feature furniture with scrolls and intricate moldings. Other elegant furnishings often found in French kitchens are wrought iron light fixtures, farm sinks, wooden beams and patterned window tapestries.
However, the most iconic characteristic of a French country kitchen is an oversized island. The French kitchen style emphasizes space for family and guests to cook and spend time together. So, a huge kitchen island is a must! One of our favorite French kitchen design ideas is to paint the island a different color than the rest of the kitchen — it immediately draws the eye to the heart of the room.
Elegant but Lived-In Style
Since the original purpose of the French country kitchen was to be a gathering place, it wasn't meant to look pristine. That's the beauty of this kitchen style — it has an undeniably elegant look, but it's also meant to last! Many French country kitchens are decorated with well-worn antiques, giving them a rustic look. Adding to the durability of this kitchen style, most French country homes are furnished with hardy materials like stone, brick and wood. Not only do these materials resist daily wear and tear, they contribute to the natural, earthy feel of the home.
One of the best kitchen design ideas for achieving the sophisticated yet lived-in French style is opting for a weathered look. Distressed cabinetry, shelving, and window frames can bring a charming French feel to any kitchen. Plus, distressed furnishings are very forgiving when it comes to scrapes, stains and scratches.
French Country Kitchen Cabinets
The most important element of any French country kitchen is the cabinets. As one of the first elements to draw the eye when you enter any kitchen space, it's important for the cabinets to properly match the decor. Opting for raised panel cabinets is the easiest way to ensure your cabinetry will fit the French country style.
At Lily Ann Cabinets, you will find a large selection of raised panel RTA kitchen cabinets to choose from. Not sure where to start? We recommend our Bristol Antique White cabinets for a muted yet elegant French country look. Or, if you want to go darker, our deep brown Charleston Saddle cabinets feature sophisticated detailing to add farmhouse charm.
Create Your Dream French Country Kitchen with Lily Ann Cabinets
On a tight budget? No worries! Lily Ann Cabinets offers top quality raised panel kitchen cabinets for wholesale prices. We have everything you need to craft an elegant, French country style kitchen in your home. Visit our website today to schedule a FREE 3D kitchen design consultation with our professional design team.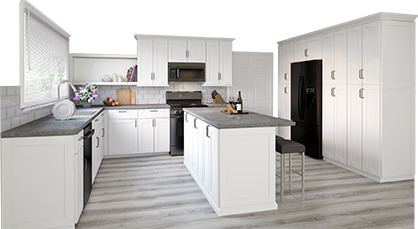 3D Kitchen Visualizer Tool
Bring your dream kitchen to life with our free kitchen visualizer!
Design Now