Create your very own in-home spa with these creative ideas!
Everyone wants a space where they can relax and recharge. You know, a space that feels dreamy, quiet, and serene, with an aura of zen. What better place to unwind after a long day than a spa bathroom? Whether you want a dark space, bright, busy or minimalist, we're sharing all the best spa bathroom ideas here! Without breaking the budget, you can turn any bathroom into a place where you can unwind and find peace from the busy world around you.
Let's jump into it - here are 19 unique ways to turn your bathroom into a true 5-star spa experience!
Minimalist Design
A spa is somewhere you go to relax and unwind. A minimalist color scheme and minimalist furniture ensure that you won't feel attacked by looming clutter or stress when you enter your spa bathroom. Colors are also a large factor when it comes to the serenity in the space. Without further ado, let's explore three very different yet calming bathroom color palettes.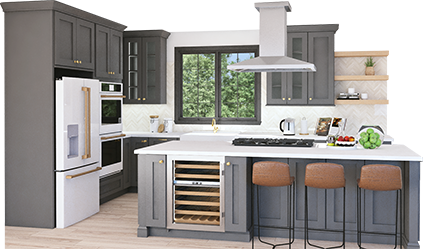 Get your FREE 3D kitchen design today!
Start Now
Dark
A dark color scheme can easily feel drab or depressing, but it can be made serene and calming when done the correct way. Make sure there are no distracting colors, clashing of colors or fixtures. A darker theme does not have to be black; it can be dark blues, dark greens, or dark browns.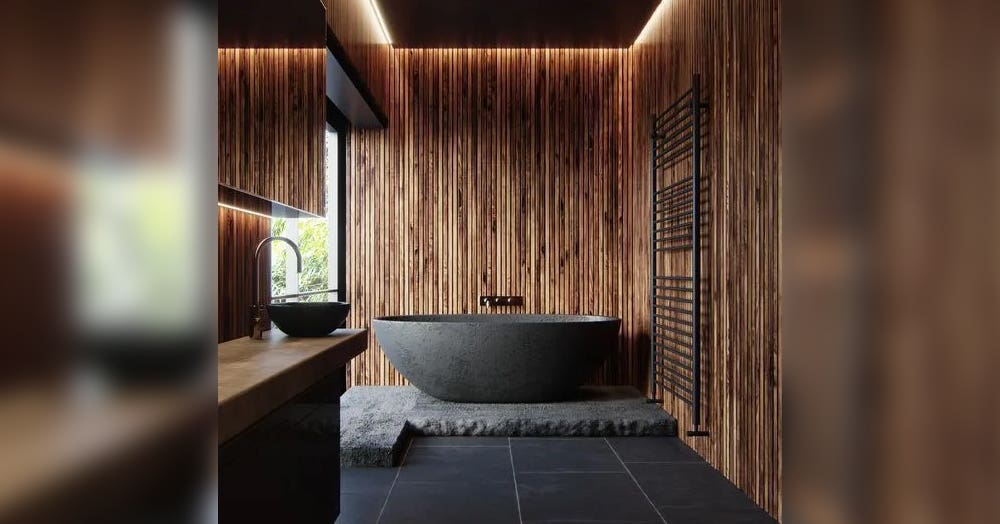 Pinterest
This bathroom looks like a relaxing nap in the bathtub waiting to happen. The natural wood walls, which can be easily obtained with wallpaper or wood slats, bring liveliness into the space without making the room too dark. The ambient lighting coming from the ceiling also adds to the calmness of the space by not having any distracting bright light fixtures. A darker cabinet with concrete materials, black tiles, black sink fixtures and natural wood elements will add this look to any bathroom space!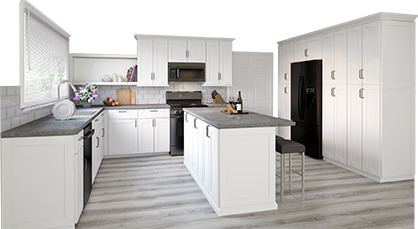 3D Kitchen Visualizer Tool
Bring your dream kitchen to life with our free kitchen visualizer!
Design Now
Bright & White
A bright white bathroom space is sure to clear your head during a much needed spa day. A color scheme like this won't become boring or stale as long as it's decorated correctly. All white surroundings can get boring fast, but with the right additions, this space is sure to feel serene.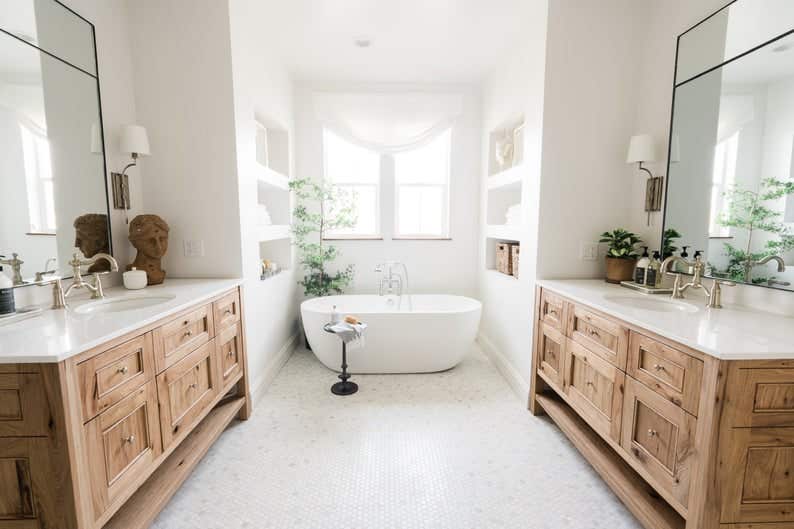 Pinterest
This bathroom spa is beautiful and bright with it's natural lighting, crisp white walls and soaking tub, white countertops and subtle patterned tile flooring. The job to make sure this space doesn't feel stale and plain is left to the mirrors, vanities, decorations and flooring. The tone and texture of the wood vanities bring a warm feeling to the space, and the addition of plants brings a liveliness as well. To ensure that the space is not just a stale white, the addition of black-framed mirrors and decor does the job. White shaker cabinets would also make this space dreamy if you don't like the wood, and the addition of a rug would then make sure that the space still feels warm and relaxing.
Color Pop
To obtain a calming atmosphere for a bathroom spa does not mean you have to stick to whites, blacks, and neutrals. It's your own personal spa, so if it's your vibe, then add an earthy-toned color to make it more you. When you want to relax, why not do it in a space that reflects who you are and the colors that you enjoy? Any earthy-tone will do: greens, blues, yellow, shades of brown, etc.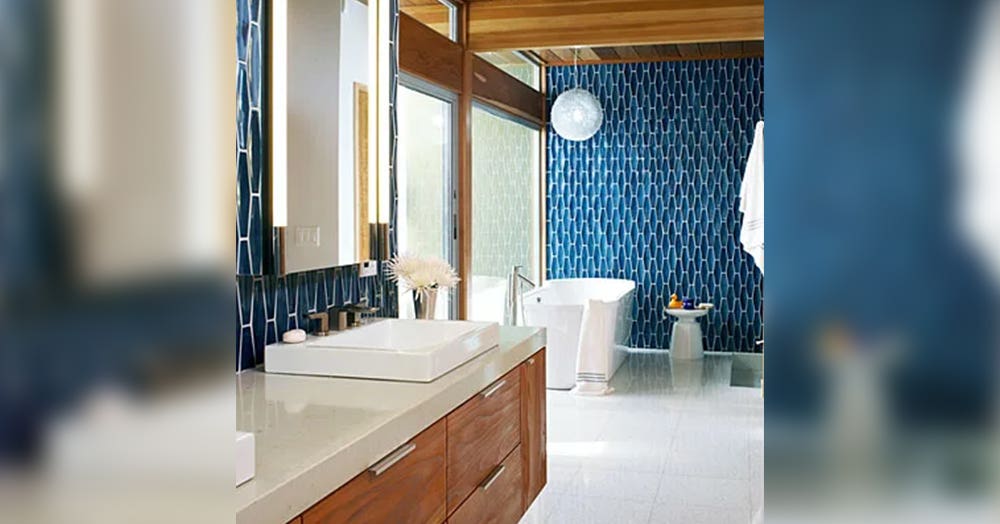 This bathroom spa is a blue fanatic's dream room. Something similar to this is easily achievable just by finding the right pattern and colored tile for the walls or floors. After you pick your tile, a simple colored shaker cabinet or natural wood cabinet will make this space irresistible to leave!
Cabinets
Cabinets are an important factor of obtaining your dream spa bathroom. When you think of spas, they are minimalist with little clutter. Which means all personal items such as toothbrushes, hair brushes, cleaning products, towels, etc., must be hidden away and out of sight. This calls for cabinetry with organizational systems within them to hide away personal items.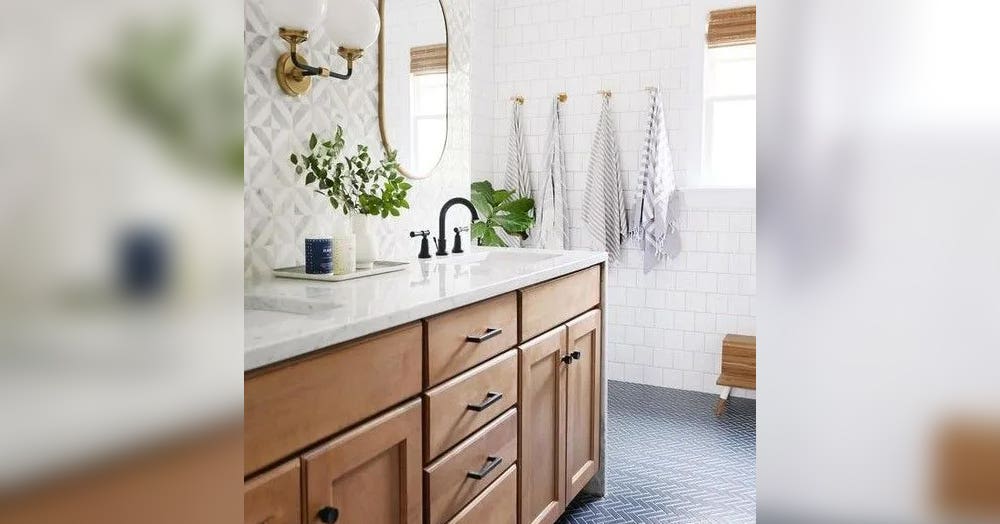 This is a very simple bathroom vanity with traditional cabinetry. In order to keep your bathroom vanity clean and cleared of items, cabinet organization units can help to stow things away from sight. You can get cabinets that allow the addition of cabinet inserts— handy additions to hide away things like a toothbrush or a hair dryer. And voila! A clean, relaxing and clutter-free space to enjoy time at your personal spa.
Plants & Art
When it comes to creating your ideal bathroom spa space, you want it to feel as spa-like as possible. Part of being able to obtain this feel is to incorporate the right decor. Plants and minimalist art are staples to creating a zen-filled environment.
Plants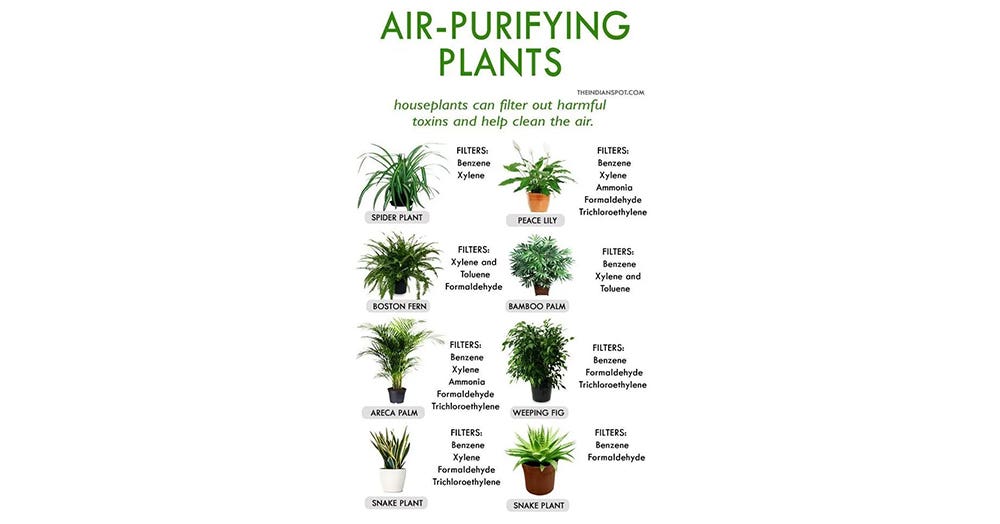 If you have a green thumb and are willing to make the sacrifice of plant upkeep, these plant options are perfect for a spa bathroom. Not only will they make the space look like a true spa, but they will also help clean the air. This way, you can relax while breathing in the most fresh and clean oxygen all in your own personal spa.
Art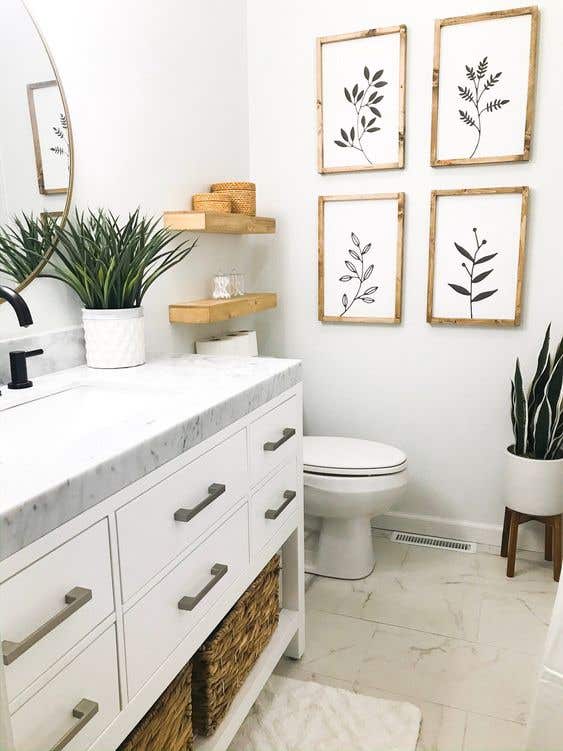 Pinterest
Minimalist art such as the ones shown in the picture will add to the zen aesthetic. Earthy themed art that doesn't distract from the rest of the space ensures that the walls are not left empty. The simple addition of a few fake or real plants finishes off the space, and then it's ready to be put to use!
Technology
Adding subtle touches of technology throughout your spa bathroom make the space even more comfortable for you to enjoy. If it's not breaking the budget, these technological additions to the space will only enhance the experience!
Heated Towel Rack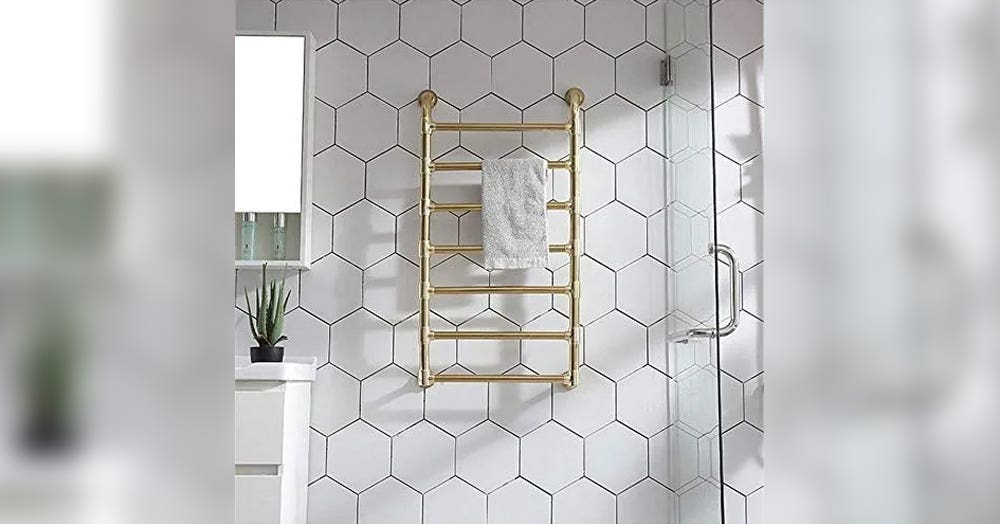 Who dreams of having a warm towel to wrap themselves in after a shower or after bathing in the tub? Surely everyone does, and this is a great way to incorporate technology into your design of the bathroom. Heated towel racks are offered in all styles, colors, sizes, and materials so it will match any bathroom spa aesthetic.
Lighting
Backlit Mirrors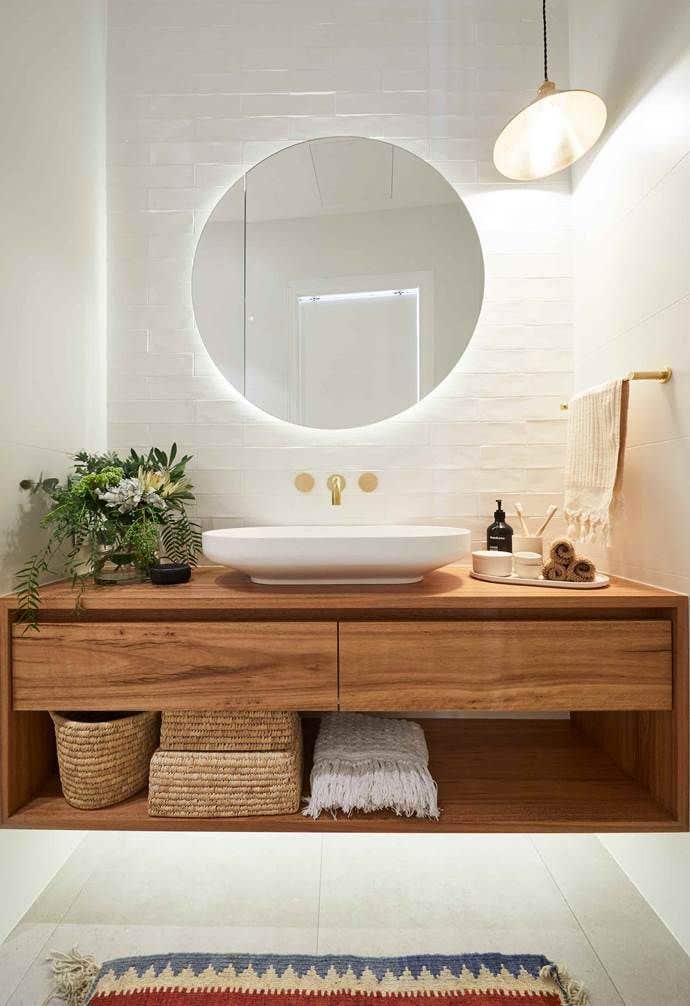 Throw out the idea of recessed lighting! Backlit mirrors are trendy, affordable and look amazing in bathrooms. With no other additional lighting, a backlit mirror can create an aura that matches the zen of a bathroom spa perfectly. It's not too harsh and gets the job done perfectly!
LED Lighting
Placement of LED lights around the space can turn just an ordinary bathroom into a serene bathroom spa. These lights can be placed in the niche of the walls, under sink vanities, and behind furniture to give off a radiant effect in the space. With LED lights, you can turn all the main lights off and all that remains is an ambient atmosphere.
Aromatherapy
Oil diffusers are a great addition to any bathroom spa atmosphere. Not only do you get to choose what scents you want, but they can also pose as a piece of decor.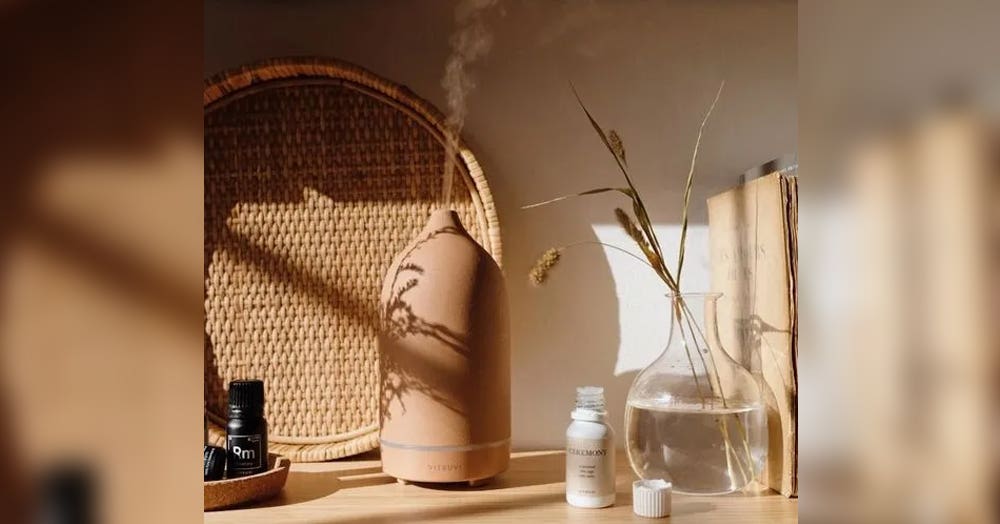 Vitruvi
This diffuser is destined to complete a bathroom spa with amazing scents. As you relax in your spa tub, you could add lavender oil to the diffuser and fully unwind.
Bathtub Types & Styles
What's a bathroom spa without a beautiful bathtub as a focal point? There is an ongoing list of different styles to choose from, as well as colors, materials, and patterns of bathtubs you can choose from. Whichever you choose is sure to only add to the relaxation and style of your bathroom spa!
Let's take a look at 8 different types of tubs you can choose from to finish off the spa space.
Soaking Tub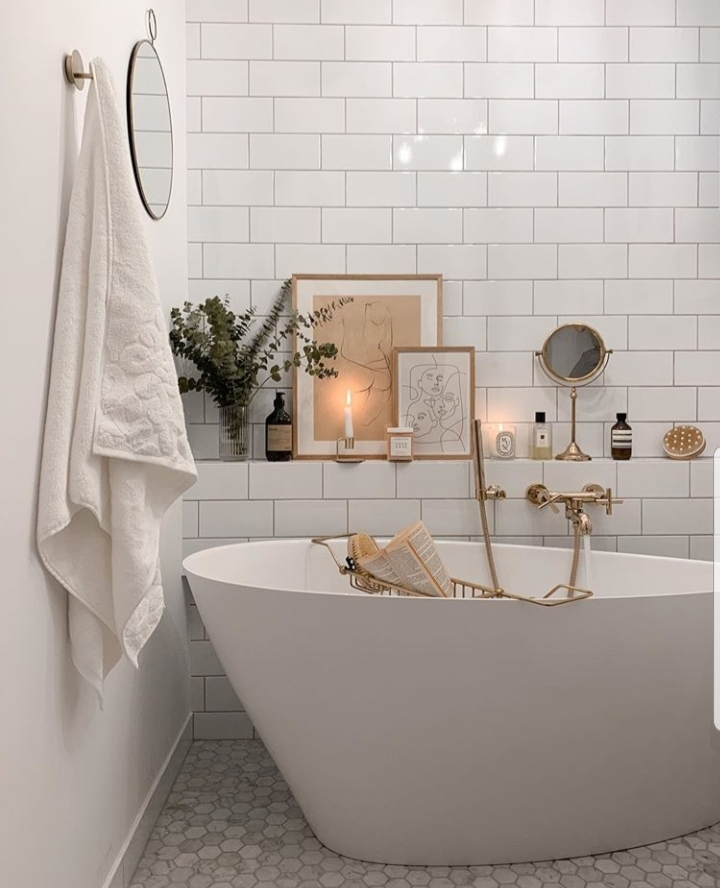 Soaking tubs are a step up from a standard tub due to their deeper depth which is perfect for getting a fuller soaking experience. They are a little more expensive than the standard tub, but it's worth it in order to obtain comfortable relaxation in your bathroom spa.
Whirlpool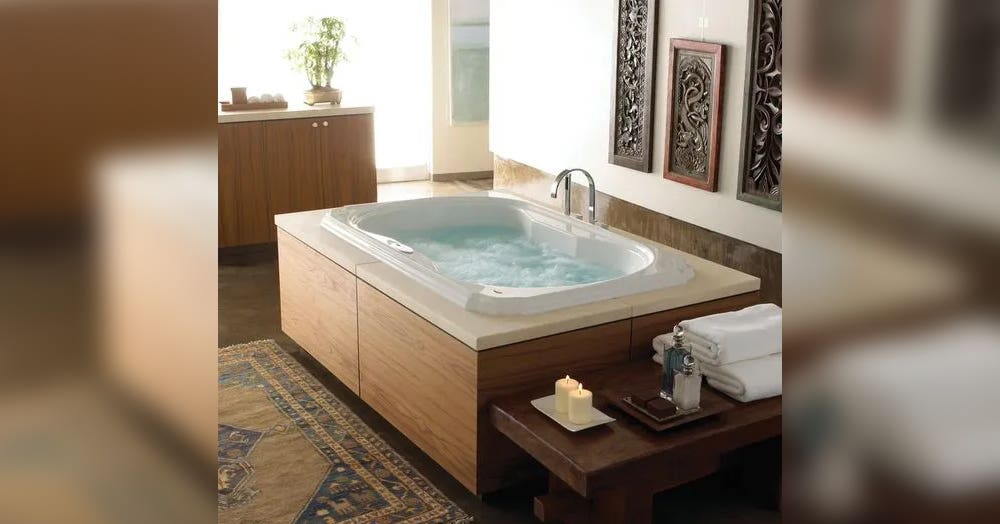 Pinterest
A whirlpool tub has jets specifically placed in spots where a person's major muscle groups are. If you're looking to spend a little extra for a jet massage, then these tubs are the perfect choice for your bathroom spa.
Freestanding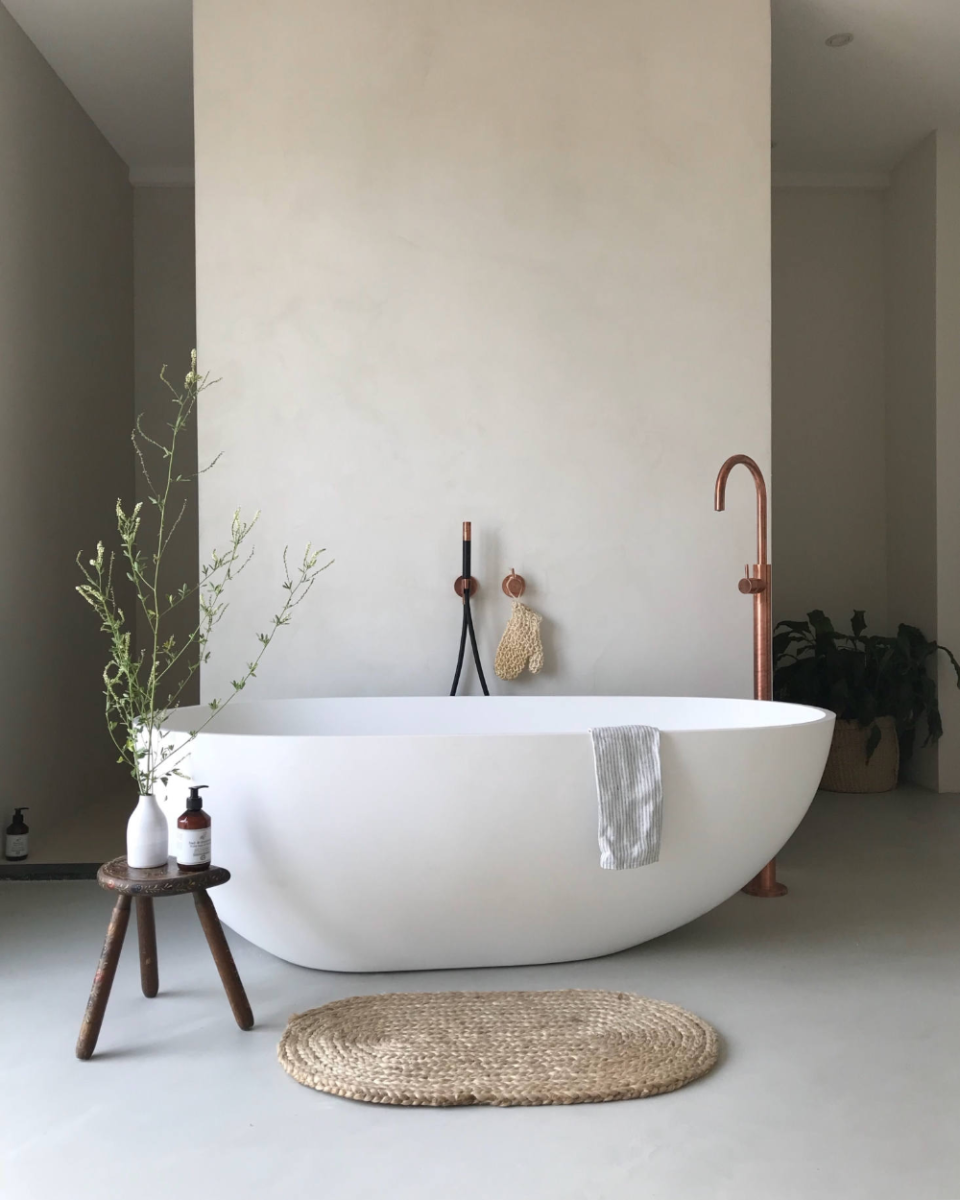 Freestanding tubs are designed so that none of the sides are touching a wall. This makes the tub a focal point that your eyes are immediately drawn to. These tubs usually are only able to be placed in large spaces, but sometimes you're able to get creative with the tub placement if the space is on the smaller side.
Clawfoot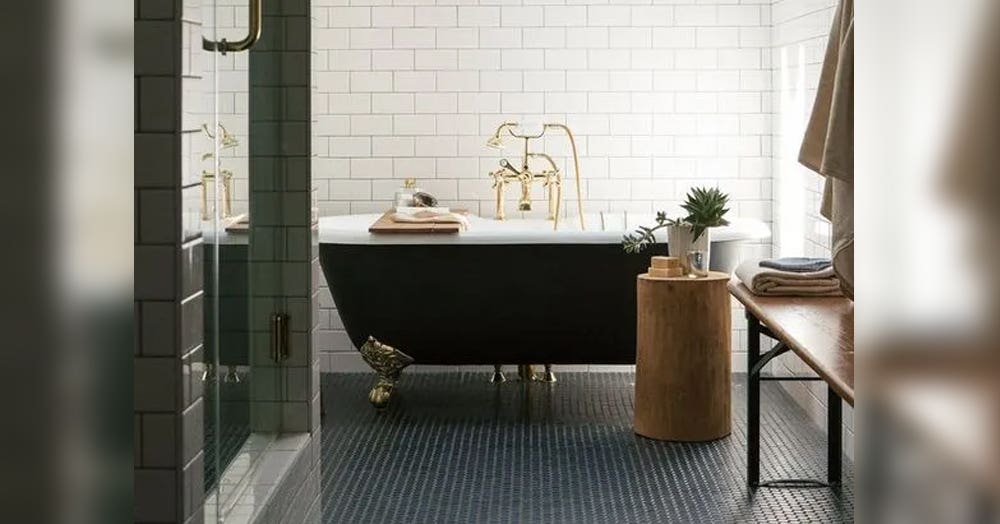 Clawfoot bathtubs are a blast from the past, yet they are making a comeback with trendy bathroom interiors. They look like a functional piece of art that adds to the artistic feel of the space. If this is a look you enjoy, then a clawfoot tub is perfect for your bathroom spa!
Undermount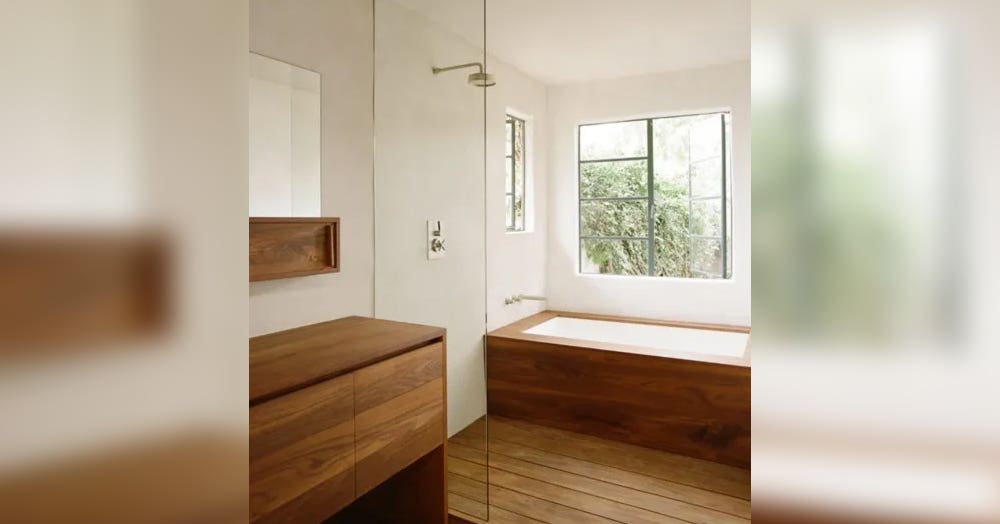 An undermount tub is perfect for when you want seamless matching lines throughout the entire bathroom. They have a deck around the rim of the tub that is usually matching to the surrounding tile or material. This bathtub will disguise itself amazingly in a bathroom spa!
Copper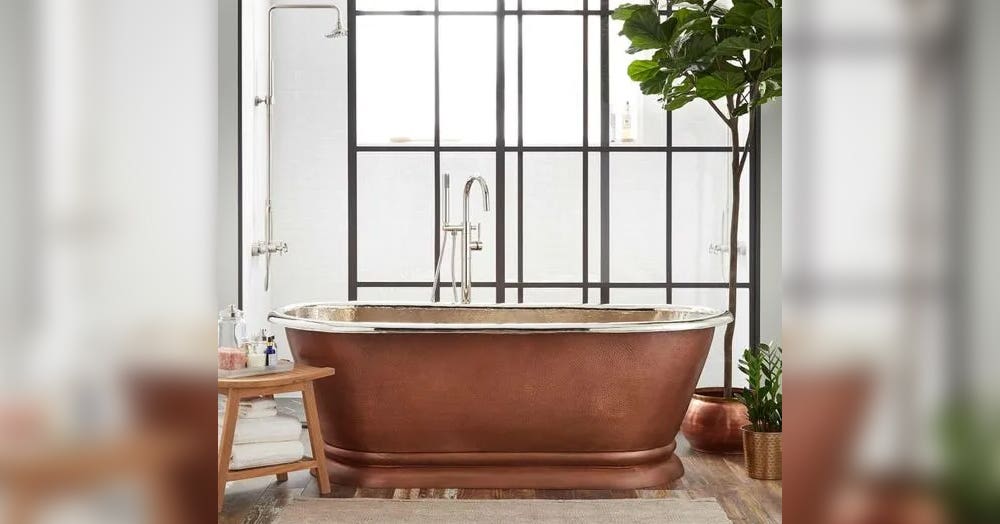 Not only are copper bathtubs functional, but they can serve as a work of art as well. Although they are much more expensive than a standard bathtub, they are sure to be a showstopper!
Marble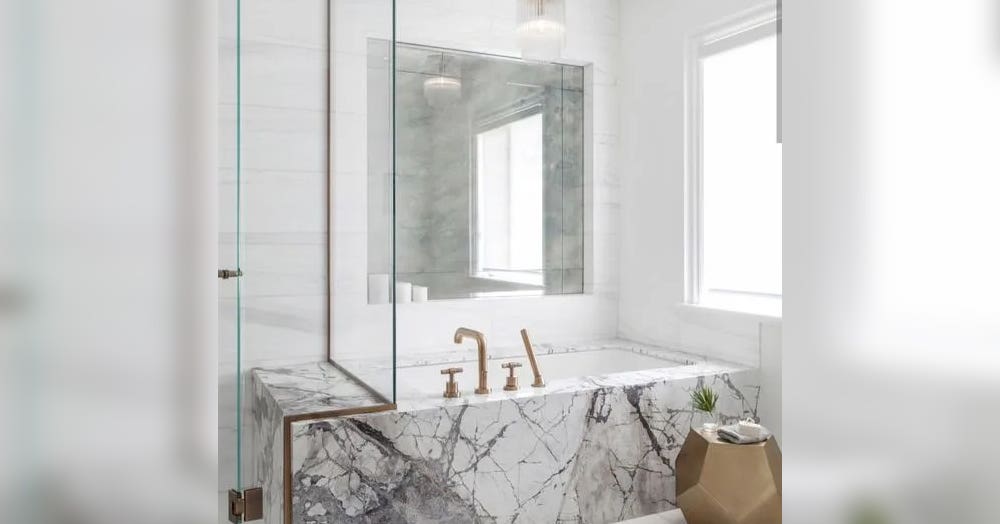 Similar to a copper bathtub, marble bathtubs are a work of functional art for your bathroom.They can be wrapped in any marble you want, therefore it is able to match seamlessly with the surrounding marble in the bathroom if there is any. Marble comes in many colors and patterns, yet is more expensive and requires more maintenance. But with those aspects aside, a marble tub is definitely a contender for creating the most beautiful bathroom spa!
Concrete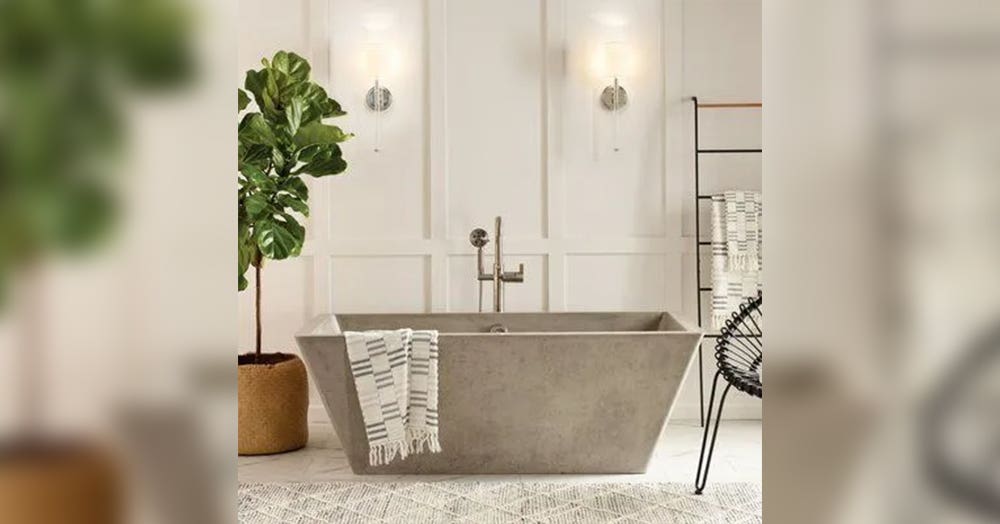 Pinterest
A concrete bathtub is one of the most durable bathtub options. The rawness of the concrete brings an earthier feel to the space and is a perfect option for anyone going after this type of look for their bathroom spa!
There are many options to choose from, from relatively cheap (maybe even DIY if you're up to the challenge) ideas, to expensive but worthy ideas to keep in mind when designing your personal bathroom spa. These options are sure to give any 5-star professional spa a run for their money!
Create Your Dream Personal Spa with Lily Ann Cabinets
Dark or bright, large or small, we're here to help you create the bathroom spa of your dreams. We offer a wide selection of premium cabinetry, hardware, shelving and more to help you create a timeless bathroom that stands the test of time. Our professional designers are on standby to work with you — we offer FREE samples and FREE design and quote. Visit our FREE 3D design tool to get started today!