Think you're not a do-it-yourself? Think again! Lily Ann Cabinets has developed a proprietary design that makes it easier than ever to save money by putting our cabinets together yourself. The components of our cabinets easily lock together like puzzle pieces. This unique process also makes our ready-to-assemble cabinets faster to assemble. Plus they're stronger and more aesthetic. Unlike competitive cabinets requiring many unattractive metal clamps to hold them together, most of our cabinets only require two clips … and they are not even visible!
And if you run into a snag and have questions, we offer unparalleled customer service. Unlike companies who buy their cabinets from a manufacturer, and then mark them up and resell them, we make everything we sell. So if you need help with assembly, just call. We know our cabinets inside and out and can offer practical advice instead of passing the buck.
Our commitment to offering the best customer service starts even before you make a purchase. Don't know where to start? We offer professional design assistance – free of charge – to help you figure out what components you need and how to get the perfect fit. You can even request free quarter-door samples to see exactly how a specific line will look in your very own kitchen.
Save 50 percent with discount RTA cabinets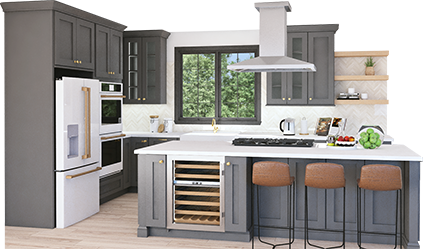 Get your FREE 3D kitchen design today!
Start Now
Of course, the main reason people choose ready-to-assemble cabinets is to save money. Lily Ann can save you even more than most companies selling RTA cabinets because we are a manufacturer. By selling directly to consumers, we eliminate middleman markups, so you can save about 50 percent more than if you went to a "big box" store.
Quality that rivals custom-made
The popularity of RTA cabinetry is growing at an amazing pace! That's because the quality is so much higher now than it was in the past. Instead of being forced to choose from cheaply made, chintzy-looking options, customers today can find high-end cabinets in an RTA version. And Lily Ann takes it one step further with workmanship that goes above and beyond the competition.
Lily Ann's ready-to-assemble cabinets feature all-wood construction with no particle board anywhere. Our experienced craftsmen pride themselves on their painstaking attention to detail. The rails and stiles forming the core of the cabinet box are constructed from the best solid wood. Drawers and doors are equipped with the finest accessories.
Most Lily Ann cabinets are coated with 12 layers of hand-applied stain and glaze. This unique finishing process gives the cabinets a more refined look, as well as offers better protection against the stresses of a kitchen environment. Furthermore, this process surpasses the standard six-to-nine steps of our competitors. Even the sides are finished, which other companies would only provide for an additional fee.
Better yet, you can get this design excellence and construction expertise FAST compared to a custom-made order that would take two months to complete.
So if you have been thinking about a ready-to-assemble kitchen, don't hold off any longer. Lily Ann Cabinets make it easy and affordable to give you the adaptability and tasteful style you desire.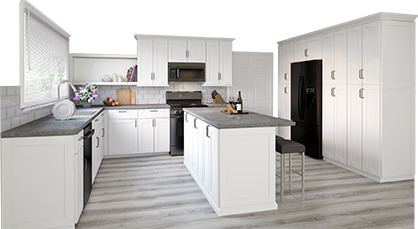 3D Kitchen Visualizer Tool
Bring your dream kitchen to life with our free kitchen visualizer!
Design Now