Home improvement can be expensive. That is why DIY projects are sometimes necessary when remodeling your home. In recent years DIY projects have become more and more popular, making DIY crafts and home decor more relevant than ever.
The accessibility to DIY tips,  how-tos, and guides has become increasingly easy due to social media platforms like TikTok, Youtube, and Instagram being saturated with DIY influencers sharing their projects.
Lily Ann Cabinets has both Instagram and TikTok where we share project inspiration and tips with our followers so they can have everything they need when tackling their next DIY project or renovation.
According to Comfy Living, one of the reasons DIY has become so popular is because it allows people to spend more on the material and tools they use rather than labor. This way, they can invest in high-quality products that will last and are exactly what they want for their home.
That is why we have created a list of a few easy DIY projects that you can do to upgrade your home on a budget!
Best Products
Use String Lights
String lights are a great way to make your home appear more welcoming and comfortable. Whether you use them as outdoor patio lights or as a form of indoor decor, they are a cheap alternative for more permanent lighting.
 If you don't have access to a pergola or fence, you can install wooden posts in planters to hold up the lights, creating a beautiful DIY outdoor space. Creating these posts requires only a few materials and can be done by virtually anyone!
Acquire four barrels, concrete, four wooden posts, string lights, potting soil, and plants. Start by filling your barrels with concrete. Then insert the wooden post and let the concrete dry. Then you can add your potting soil and the plants you chose to the top of the planter. Finally, add hooks to your posts and attach your string lights!
Other ways to upgrade your outdoor lighting is by changing out the fixtures you have currently and installing new scones, flood lights, or lamps. Lily Ann Cabinets offers a few options for outdoor lighting.
Outdoor lighting creates a much warmer welcome to guests if they arrive after sunset, lighting the path to the door. It forms a dramatic effect upon the landscaping or architectural features, helps create defined outdoor living spaces like a patio, enables grilling at night for the seasons when the sun is not out for long, and strongly increases curb appeal for your entire home.
The outdoor floodlight that Lily Ann sells online is perfect for illuminating backyards. Floodlights are very useful if you have pets that go outdoors at night because you can fully illuminate the yard to make sure your animals stay safe.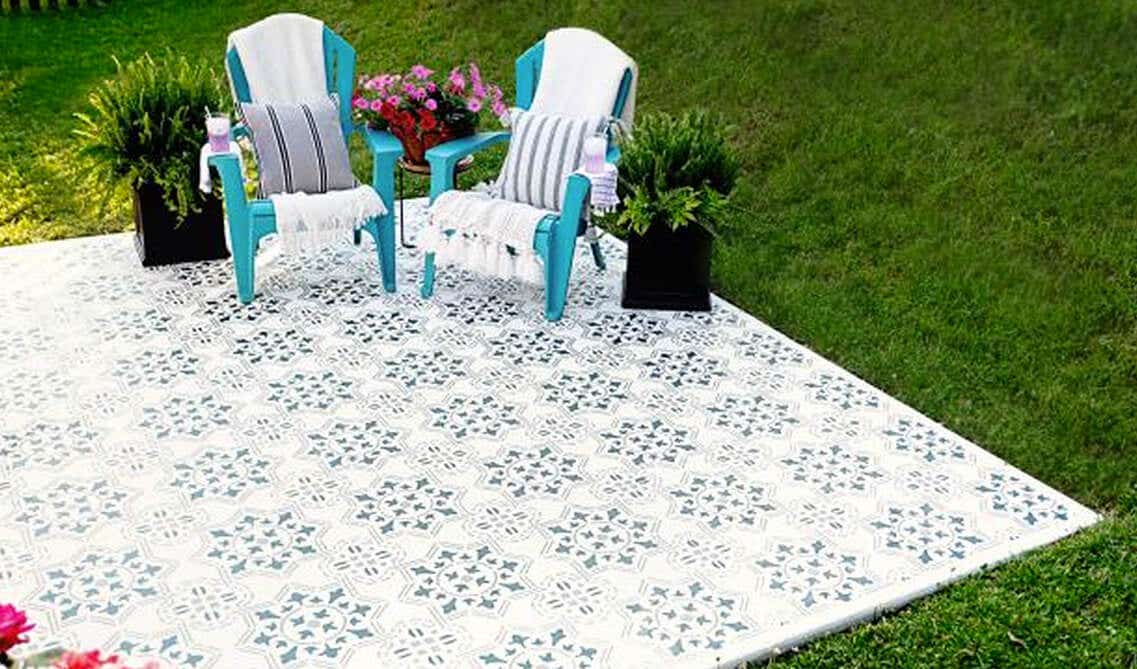 HGTV
Stencil Your Concrete Patio
A concrete patio can often look drab and unappealing. But you can change this with the help of concrete stain, a brush, paint, and a plastic stencil. The process is fairly easy and requires that you prep and clean your patio thoroughly then apply a concrete stain. Once you do both of those steps, you can begin to paint on your stencil, and then seal it with a concrete sealant.
There are many great stencils for under $20 dollars that can be used to create a pattern on an otherwise boring concrete patio. This is a great solution for anyone looking for a cheaper option than a complete patio remodel.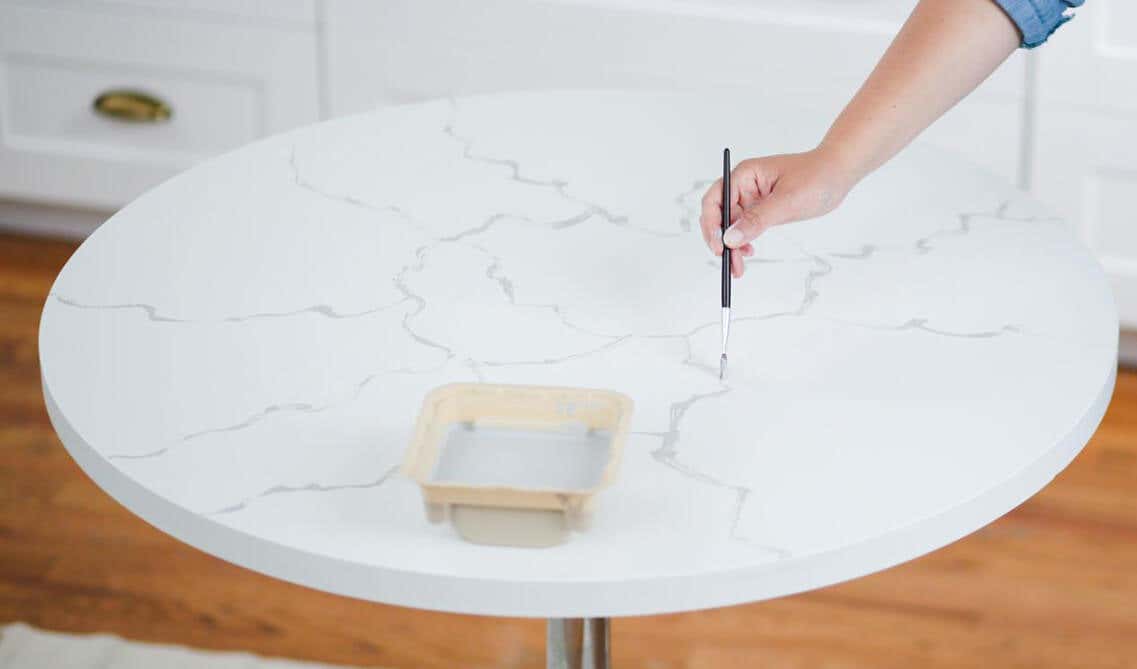 HGTV
Create Fake Marble
Marble can be expensive, but it is a very popular design trend. Luckily, there are two options for anyone looking to recreate the look of marble without the price tag.
The first way to create a marble look is by painting your countertops. Prep your workspace by washing your countertop, sanding it, and priming it. The next step is to create color variations by dabbing three different gray colors in order from lightest to darkest. You will then need to blend the paint and use a smaller paintbrush to create the veining that is characteristic of marble.
Finally, seal your countertops using an oil-based polyurethane.
The second option to mimic marble is by using an adhesive marble wallpaper. You can find many different types and colors of marble, making this choice great for anyone who wants an easily customizable option.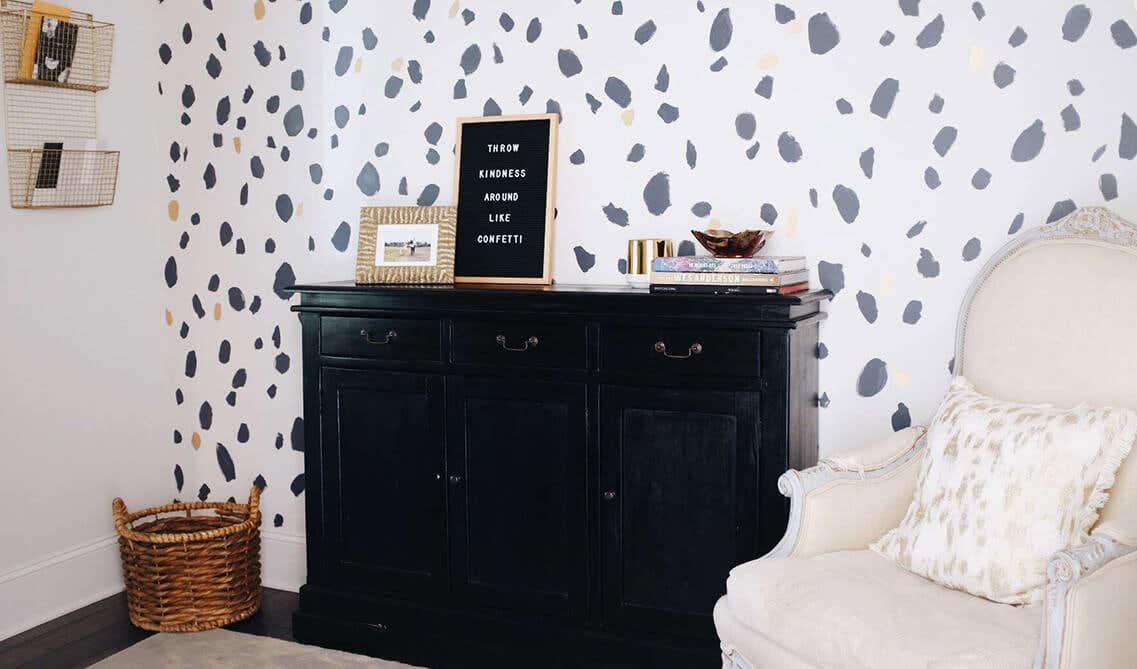 The Spruce Crafts
Use Peel and Stick Wallpaper
As we mentioned in the last DIY project for the faux marble countertops, peel and stick wallpaper can take a small space and completely transform it to look brand new.
Wallpaper has made a comeback in recent years, giving a temporary and cheap solution to a space that might be considered boring at the moment. While it may seem expensive to install wallpaper, there is a cheap alternative to traditional wallpaper that doesn't include a ton of steps.
Installing stick and peel wallpaper is easy and only requires two materials; the wallpaper and your desired surface.
When installing the wallpaper, start by measuring the paper, trimming it, placing it on your wall or surface, and smoothing it down. You can use this material as an accent wall, on a table to make it stand out, or even on your dresser for a fun and fresh look!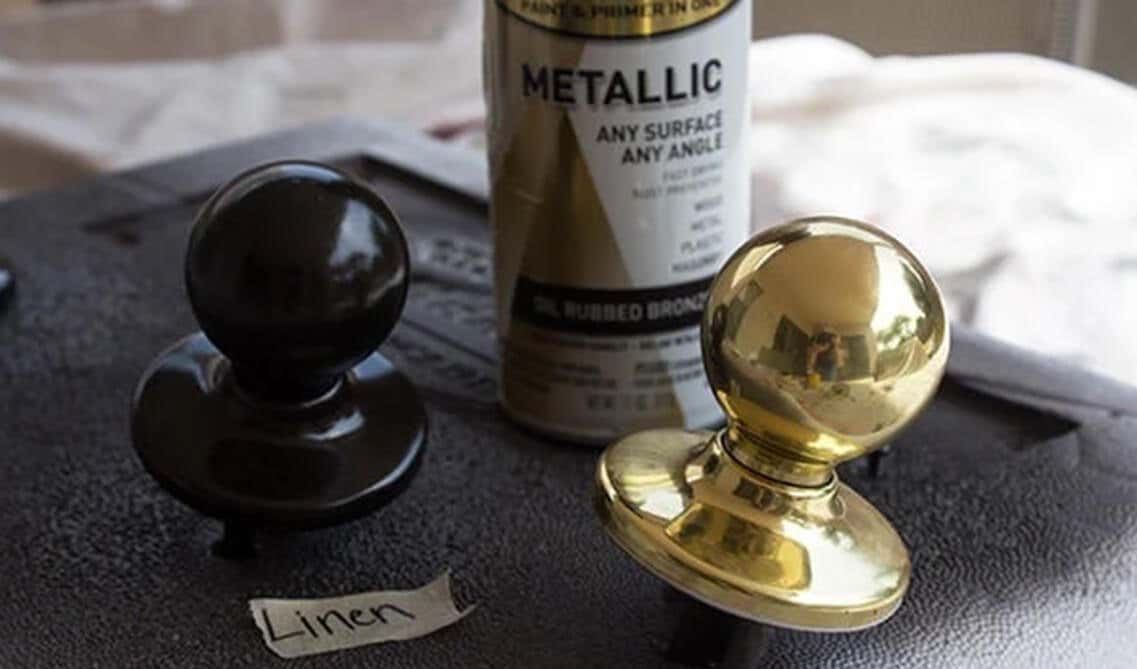 Handle the Heat
Spray Paint Your Hardware
Buying new hardware can be both expensive and taxing when they don't fit the aesthetic you are going for anymore. Finding the correct color and shape for an affordable price is not an easy task for hardware including door knobs and cabinet pulls and knobs. That is why spray painting your hardware with metallic paint can be a really great alternative.
Start by carefully removing your hardware from their location, then sand them down so the paint will stick. Place them on a surface like a piece of cardboard or a plastic tablecloth and then use a liquid deglosser which will degloss and clean the knob. Finally, you can start spray painting! This process is easy and quick and can truly transform your home's look.
If you don't want to deal with the mess of refinishing your hardware around the house, Lily Ann Cabinets offers great options for new decorative hardware at an affordable price! Check out our selections to see if we can match the look and feel of your home improvement vision.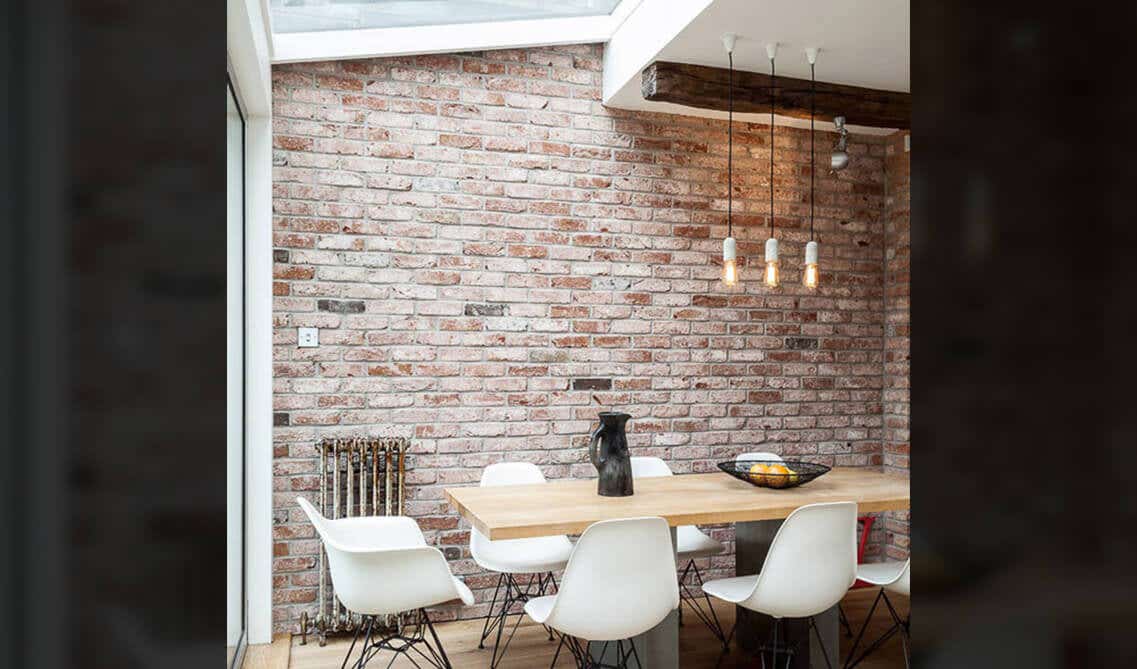 S&S Pavers
Whitewash Brick
Another simple DIY project is whitewashing brick accents within your home or the entire exterior of your home's brick surfaces. Because of the natural color of brick, it can make your space feel confined. By coloring it white you can expand your space and make it feel far more open due to the light reflection of the color making the space brighter and more appealing.
The process of whitewashing brick is also very inexpensive and easily done.. Simply start by cleaning the brick surface, making sure to remove any paint. Then use painter's tape and cover the areas you do not wish to paint. Next, you need to create your whitewash. This is a mixture of one part water and one part white latex paint. Finally, use a brush or a rag and paint the brick.
After letting it dry you'll have a new and trendy surface that is sure to make your home look great!
Wrapping Up
Home improvement doesn't have to be expensive and the amount of DIY projects you can do for your home is endless! These were just a few of our favorite DIY inspirations, but if you are interested in more projects, tren, ds and home inspirations, check out more of Lily Ann Cabinets' blog!
Frequently Asked Questions:
What home improvements will add the most value?
The home improvements that will add the most value to your home are the bigger projects like kitchen or bathroom remodels. Luckily, Lily Ann Cabinets can help with all of your remodeling needs! Search our website to find high-quality and affordable cabinetry for your kitchen, bathroom, laundry room, and more!
How can I remodel my house on a low budget?
As we mentioned above, DIY projects are great when looking to remodel your home to help save time and money on large renovation projects. Choosing to tackle smaller projects that are affordable within your budget is also a great strategy when looking to save money. We came up with a few ways to cut costs when thinking about a kitchen remodel on our blog! Read more here for more tips!