Cabinets are a major part of what refreshes a kitchen and makes it feel unique after a remodel. To achieve a high-quality look and feel, some renovators debate between custom kitchen cabinets and semi-custom or RTA kitchen cabinets. But the term "custom" is often misinterpreted, with most people actually winding up with semi-custom cabinetry instead. Let's explore the difference between RTA cabinets vs. custom cabinets.
Truly Custom Cabinets
"Custom cabinets" refers to cabinetry that's designed specifically for the home it's going into. It's often hand-built on-site and installed with your unique kitchen layout and preferences in mind. The level of craftsmanship and personalization found in custom kitchen cabinets is indeed the best, but the price tag makes most homeowners think twice. Custom cabinets can cost tens of thousands of dollars and, if they're built in non-standard sizes, you may have trouble finding storage accessories to fit inside them and keep your kitchenware organized.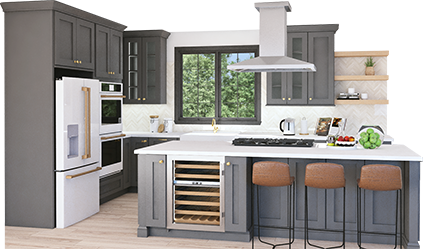 Get your FREE 3D kitchen design today!
Start Now
If you have a hefty renovation budget and want to create truly unique kitchen cabinets, custom cabinets might be for you. But there are semi-custom options that can be just as beautiful and sturdy without the sky high price.
Semi-Custom Cabinets
Semi-custom cabinets are the most common cabinet option. This form of cabinetry is pre-designed and offered to the public with several options to choose from in order to piece together a custom kitchen. Rather than being hand-crafted, most are made in a factory. They can be found in most box stores and can be bought pre-assembled and ready for installation.
The downside to a lot of semi-custom cabinets is their construction. They are often made of medium-density fiberboard (MDF) or particle board, which won't last as long as real hardwoods. Always check the construction of cabinets before you buy to ensure you get the highest quality option for the lowest price.
RTA Kitchen Cabinets
Ready-to-assemble (RTA) kitchen cabinets are actually a sub-type of semi-custom cabinets. The difference is that RTA cabinets don't come assembled — it's a simple fact that makes this style even less expensive than regular semi-custom cabinetry. However, not all RTA cabinets are created equal. Look for these features to help you determine the best set of cabinets:
Solid wood drawers and doors
Plywood or hardwood construction
Drawers with dovetail joinery
Easy-to-follow assembly instructions
Multiple layers of finish or paint applied by brush
Lily Ann Cabinets offers all of these features and more in our line of RTA kitchen cabinets. But that doesn't make our prices any less competitive. As a wholesale cabinet manufacturer, Lily Ann is able to cut out the middlemen that would ordinarily drive up prices. We even offer a whole host of cabinet modification options to make your cabinets even more customizable, including glass door inserts and size reductions.
Ready to get started on your kitchen remodel with us? Browse our cabinet styles and request free cabinet door samples to see our high level of quality and care for yourself.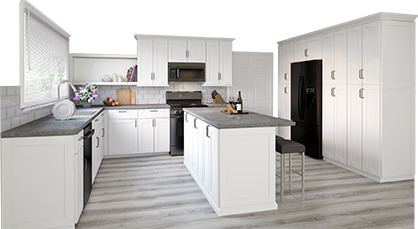 3D Kitchen Visualizer Tool
Bring your dream kitchen to life with our free kitchen visualizer!
Design Now