When you invest in new kitchen cabinets, you want to be confident that they'll look and feel premium — not just now, but for many years to come.
The tricky part is that even some cheap kitchen cabinets look nice when they're brand new, especially in photos or in a showroom. But the illusion doesn't last. In fact, sometimes you can feel the flimsiness as soon as you get up close.
So how can you predict whether apparent quality is even real, let alone lasting?
Here are seven factors to look for.
1. Soft Close Hinges And Drawers
Kitchen cabinets with soft close hinges and drawer glides are protected from accidental slamming. This can help ensure that your kitchen cabinets last longer because they'll suffer less wear and tear from daily use.
Soft close hinges and drawer glides also make your kitchen cabinets quieter to use. Plus, you can literally feel the added quality each time you open and close a cabinet or drawer.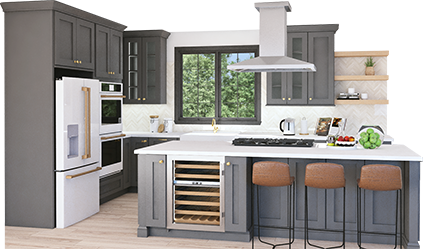 Get your FREE 3D kitchen design today!
Start Now
2. Dovetail Assembly
Look at the joints of the cabinets. Some cabinets are held together with brackets, which is not necessarily wrong, but is also not the highest quality out there.
You may want to opt for kitchen cabinets in which the joints of the wood panels interlock with each other (without the need for separate fasteners). This is called a dovetail assembly, and it offers optimal strength as well as visual appeal.
3. Real Wood Construction (Not Pressed Board)
Some cheap kitchen cabinets are made of particle board, which tends to feel unreliable from the start and fall apart easily with use.
For sturdiness and lasting durability, look for kitchen cabinets made of real, solid wood throughout.
While cabinet doors and face frames may be made of birch, maple or other attractive wood, remember to look at the sturdiness of the entire cabinet construction. Cabinet boxes should be made of at least ½" solid furniture-grade plywood.
4. Finished Cabinet Sides (Not Just Fronts)
Almost all cabinet runs end somewhere. Unless all your kitchen cabinets butt up against a wall on each end and you don't have an island, you're bound to have an exposed side somewhere.
Some cabinets have unfinished sides that would require you to purchase a separate panel for the end. But other, higher-quality kitchen cabinets, such as Lily Ann Cabinets, come standard with finished ends.
5. Thick, Durable Finishes
Your finish may be one of the most noticeable parts of your kitchen cabinets, so be sure not to skimp there.
Kitchen cabinets with a high-quality UV-coated finish will look and feel nicer, resist fading over time, and be easier to keep clean.
6. Positive Reviews
Most companies will promise high quality, but don't take their word for it. Look at what past customers have to say.
Online cabinet reviews are especially useful if you're buying your kitchen cabinets online. A real customer's description can help you feel more confident about what they'll look and feel like in person.
7. A Satisfaction Guarantee
A reliable cabinet company will stand by its products. Look for a brand with a customer satisfaction guarantee and a clear return policy. Although, if you've done the quality checks above, you almost certainly won't need it.
Now that you know what to look for, browse Lily Ann kitchen cabinets and find the quality and style you want.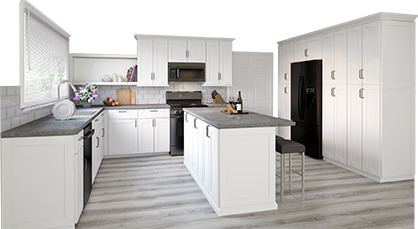 3D Kitchen Visualizer Tool
Bring your dream kitchen to life with our free kitchen visualizer!
Design Now