So you've decided to get new kitchen cabinets. Picking out your dream cabinets can be a fun and exciting time. What's less fun? Being blindsided by the final price tag.
This is why it's a good idea to always make sure you factor in all the costs related to getting your new kitchen cabinets in place and look for savings where you can.
If you've never purchased cabinetry or it's been at least 15-20 years since you've had to, it can be a really overwhelming process. So today, we're going to break down all the expenses commonly associated with purchasing kitchen cabinets to help you get a better idea of your final total. Then, we'll show you how you can cut some of those costs down and save yourself headaches and money. This way you can continue your purchasing process with know-how and confidence.
Taxes
Taxes are something you just can't avoid, and they add up … fast. While taxes vary by state, this is something you should never forget to account for when estimating your cabinet (or any home improvement) costs.
While you can't "cut costs" when it comes to your taxes, you can be smart in your cabinet search. While browsing for cabinets, when you see the ticket price, quickly do the math to account for taxes. This will give you a better idea of the actual, out-the-door cost.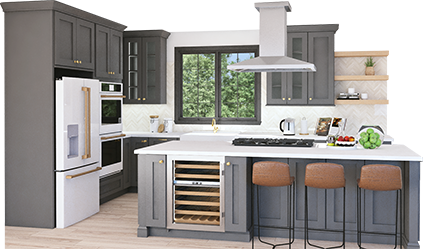 Get your FREE 3D kitchen design today!
Start Now
Shipping
Sometimes cabinet makers will offer free shipping on your order, but that can be a rarity. Kitchen cabinets are big, clunky and heavy, and all that usually equates to pricy shipping fees. Ready-to-assemble cabinets, on the other hand, take up less space in delivery trucks and thus ship much more affordably. Make sure to check with your cabinet maker about their shipping policy.
And feel free to ask the cabinet company if they'd consider offering free shipping. Sometimes in order to secure the job, companies will waive shipping fees. It never hurts to ask.
Removal Of Old Cabinets
Most cabinet companies will not remove and take away your old cabinets for free. This can be a costly add-on if you're not careful. But most companies rely on the fact that customers would rather pay to have someone remove their kitchen cabinets than attempt to do it themselves.
In order to save some money, opt to demo and remove the old kitchen cabinets yourself (hopefully with the help of some kind friends and family). Then simply call a local charity or Habitat for Humanity and they will gladly come take your old cabinetry for free. And remember, this can be written off on your taxes as well.
Hardware
While the hardware is not nearly as much as the cabinets themselves and in fact can seem quite cheap on the surface, keep in mind that it can also add up quickly. Most people just think about the door knobs and hinges when they hear "hardware." But hardware can include door hinges, cabinet pulls, door knobs, drawer slides and track guides, door dampers, latches, backplates, locks and bumpers. Then when you multiply those pieces by the number of cabinet drawers and doors you have, it can be a shock.
Be sure to ask your cabinet maker what hardware, if any, is included in the cost of your cabinets. And just be aware of this potentially hidden cost when choosing your cabinetry.
Plumbing
Whenever a remodel is going on, there's a chance you'll find plumbing issues lurking behind your cabinets or walls. This risk gets higher the older the home. And faulty or broken plumbing is something that needs to be fixed prior to installing your new kitchen cabinets. You don't want to get your brand-new cabinets put in only for them to get ruined by water damage.
While you obviously can't know you have a plumbing issue hiding in your walls prior to removing your old cabinetry, you can prepare for it. It's a good idea to set aside a contingency budget whenever doing a large construction project on your home. And yes, new cabinetry counts as a large construction project.
Installation
Installation can be a very costly aspect to getting new kitchen cabinets. It's also a cost that will vary based on kitchen size, timeframe, type of cabinetry and a slew of other factors. Make sure you ask the cabinet company up front about installation cost in order to give you a better idea about what it will cost you in the end.
Save Money All Around With Lily Ann Kitchen Cabinets
One way to save a lot of money is to install your new cabinetry yourself. In addition to traditional kitchen cabinets, most people don't know that there's another route: ready-to-assemble (RTA) cabinets. Lily Ann Cabinets offers high-quality, all-wood RTA cabinets with a factory-direct pricing model that can save you thousands of dollars on your home improvement project.
The cabinets are easy to install, and if you have a question, the expert team at Lily Ann Cabinets is there for you with advice, troubleshooting or assembly help. And with their price-match guarantee, if you do happen to see a lower price on comparable kitchen cabinets, Lily Ann Cabinets will do everything they can to match or beat the competition's pricing.
With free shipping on all orders over $2,499, free door samples, free 3D kitchen design, easy financing and no sales tax in most states, Lily Ann Cabinets offers you premium cabinetry at a price that you can afford.
To learn more, call or contact Lily Ann Cabinets today. We're here to help you find your dream kitchen cabinets at an affordable price.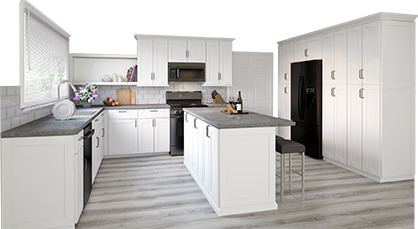 3D Kitchen Visualizer Tool
Bring your dream kitchen to life with our free kitchen visualizer!
Design Now