Generally, the rule of thumb for choosing a kitchen backsplash is that it should match your floors or countertops. However, cabinets are another important element of kitchen design that shouldn't be neglected when choosing a backsplash. Today, we're sharing some simple backsplash ideas for any cabinet style.
Multicolor Mix-Up
If you want to create a visually interesting design for your kitchen backsplash, try multicolor tiles. You can incorporate the colors of your cabinets, countertops and floors into the tiles to unite all the tones in the space. A multicolor backsplash serves as a great statement piece in your kitchen. Just make sure to keep the rest of the room simple so things don't get too busy.
Perfect Match
Matching the kitchen backsplash to the color of your cabinets is another great way to create a seamless color scheme. One look we love is matching white subway tile with bright white cabinets — this helps other elements of the kitchen, like appliances, stand out. Or, if you want to go modern, try pairing grey cabinets with a grey glass subway tile backsplash for a sleek and classy vibe.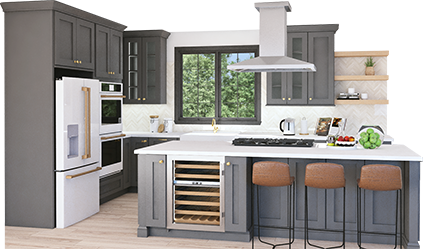 Get your FREE 3D kitchen design today!
Start Now
Play with Contrast
Dark cabinets can be tough to find a backsplash for since they are already quite bold. The trick is to find a backsplash that compliments your dark wood kitchen cabinets without taking away from their beauty. One of our favorite kitchen backsplash ideas for dark cabinets is choosing a light backsplash color, like white or marbled grey. Going lighter with the backsplash is a great way to add light and compliment dark cabinets without taking away too much attention.
A Splash of Color
If you have white cabinets or countertops, your backsplash is the perfect way to add color, whether it's a mosaic pattern or some cool sea glass-colored subway tile. Don't be afraid to go bold! A pop of color in the backsplash can add a touch of eclectic style to any space. Some of our favorite color accents for a white kitchen are turquoise, bright red and pale yellow.
Choose the Right Cabinets with Lily Ann
Now that you know which backsplash is right for you, make sure to choose high quality cabinets to match! Lily Ann Cabinets offers an extensive collection of premium all-wood RTA kitchen cabinets. Plus, we offer FREE door samples to help you visualize our cabinets in your space. Visit our website today to get started on your dream kitchen!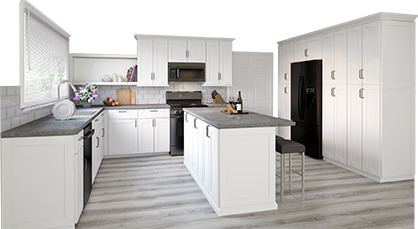 3D Kitchen Visualizer Tool
Bring your dream kitchen to life with our free kitchen visualizer!
Design Now