When you want to update your kitchen, you have three general cabinet options: refinish them, reface them or replace them. In an attempt to save money on kitchen remodeling projects, many people consider refacing or refinishing their cabinets instead of replacing them. While refacing and refinishing are often viewed as more cost-effective options than fully replacing cabinets, the savings discussed in many articles don't paint a complete picture. Let's explore some of the pros and cons of all three kitchen cabinet options.
Cabinet Refinishing
Rather than replace kitchen cabinets or even reface them, many people like the idea of refinishing them. Cabinet refinishing is the process of stripping off a cabinet's old coating to replace it with new paint or stain. Since you only need to buy your desired paint, stain or other product (along with new hardware if you so choose), refinishing can sometimes cost only a few hundred dollars. If you're an experienced DIY'er, refinishing can also take less time than having completely new cabinets installed. Two other benefits are that you're still able to use your kitchen while refinishing, and you're revitalizing what you already have rather than dumping your cabinets in a landfill.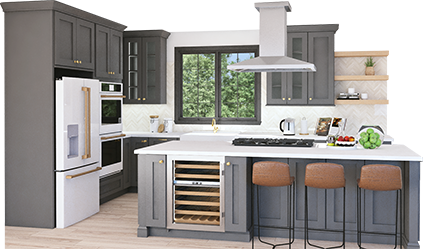 Get your FREE 3D kitchen design today!
Start Now
However, there are drawbacks to refinishing. First, if you aren't an experienced remodeller, refinishing without brush marks and blemishes can pose a challenge. And it isn't a cure-all — if the structural integrity of your cabinets has been compromised by mold or water damage, or are just generally time-worn, refinishing isn't going to fix your problem.
Refinishing is also not the most flexible of cabinet options. In fact, it's only an option at all for people who are keeping their original kitchen layout. If you want to completely change the orientation of your kitchen, you need to get replacements. Plus, if your cabinets are made of particle board or other low-quality filler material, trying to refinish them will just wind up ruining them.
Cabinet Refacing
More involved than refinishing, refacing cabinets can change more than just their paint or stain color. Refacing is when you replace kitchen cabinets' doors and drawers entirely, and the frames of the cabinets get covered with a matching veneer.
The refacing process is extremely challenging and requires a great deal of precision. And if you make a mistake, getting more veneer can be expensive. These factors make it less than ideal for most DIYers. The alternative is to hire a third party to complete the work, but that is of course even more costly.
Another consideration is the look, quality and longevity of the results. There are plenty of veneer options out there, and many look beautiful when new. However, remember that their beauty is only surface deep. Any nicks, scratches and other marks from normal wear and tear will not be repairable down the line. Plus, if it's not perfectly applied in the first place, it can blister and peel with time.
Finally, cabinet refacing holds some of the same challenges as refinishing in terms of structure and layout: It won't fix internal damage, and it won't help you improve your floor plan.
Replacing Cabinets
While other cabinet options aren't always viable, replacements are always a possible solution. Many remodelers dread having to replace kitchen cabinets because of the perceived increase in cost and time commitment. However, the numbers shown in many "refacing vs. replacing" articles usually only account for full-price custom or semi-custom cabinetry, not wholesale RTA kitchen cabinets.
RTA kitchen cabinets, especially when purchased wholesale, are one of the most affordable replacement kitchen cabinet options on the market. In fact, if you hire a professional cabinet refacer, you might wind up spending the same amount of money as you would by simply replacing your current cabinets with RTA cabinets. Replacing your cabinets also gives you greater flexibility to alter your kitchen layout and organization options, and create a completely new space.
Should I Refinish, Reface Or Replace?
Refinishing and refacing can be challenging tasks for people new to the world of DIY, and hiring a professional can be costly. On the other hand, installing RTA cabinets is something that just about anyone can do with time, patience and a little bit of wood glue.
So, rather than spending time debating whether to reface or replace kitchen cabinets, head to Lily Ann Cabinets to browse our extensive selection of RTA kitchen cabinets, and then see what you think. Our wholesale prices are some of the best you can find online, and our cabinets are made with real, high-quality wood rather than particle board fillers. Request free cabinet door samples to see and feel your favorite styles in person and choose a look you'll love for years to come.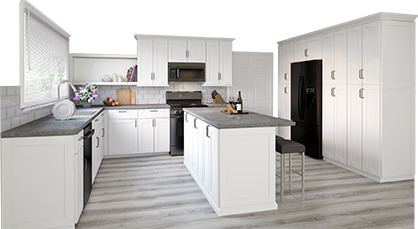 3D Kitchen Visualizer Tool
Bring your dream kitchen to life with our free kitchen visualizer!
Design Now