The most important stylistic element of kitchen cabinets is their doors. Choosing the right door design goes a long way toward achieving the kind of look you want for your kitchen, be it sleek and modern or ornate and formal. But how many different cabinet door styles are there to choose from, and which ones will be the best fit for your kitchen design? Find all the answers below.
Popular Cabinet Door Styles
The following are the three most popular cabinet styles, which are commonly found in stores today. We've also included some examples from the Lily Ann Cabinets catalog to give you the best idea of what they look like and how they might feel in your home.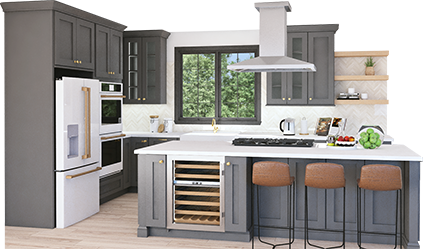 Get your FREE 3D kitchen design today!
Start Now
Raised Panel
Raised panel kitchen cabinets feature a raised central panel to give the door style depth and interest. Some raised panels are framed more subtly than others. For example, our Key Largo White kitchen cabinets have a single contour framing the central panel while our Bristol Linen cabinets have several framing lines along the inner and outer edges of the door for a more detailed look. Raised panel cabinet styles fit well in traditional or transitional kitchen styles.
Flat Panel
Flat panel kitchen cabinet doors are similar to raised panel in that they have a framed central section. However, as opposed to raised panel, the center section of flat panel doors sits totally flat behind the outer framing, with no contouring. Some people also call this a recessed panel door style. The sleeker design allows it to fit a wider range of kitchen styles than raised panel cabinets — whether you're going for a traditional, contemporary or transitional look, flat panel doors are a great match. Our Carolina Hickory kitchen cabinets and our Grey Shaker Elite cabinets are wonderful examples of the diversity offered by flat panel doors.
Slab
Of the cabinet door styles, this is the simplest, which is why it's so frequently used in ultra-modern kitchen designs. Slab style cabinets have no ornamentation aside from the hardware you choose (if you choose to have hardware at all). Some industrial designs use light, natural wood slab cabinets, but other popular colors include white, black and gray.
Accent Cabinet Door Styles
There are a variety of other cabinet styles to choose from, although because of their level of detail they're often used as only as accent pieces. Some are also harder to come by as they get replaced by more modern styles. Even so, they can help you add unique flair to your kitchen, no matter your concept.
Beadboard Cabinets
Beadboard cabinets have a central panel that gives them a rustic or country feel. The beadboard panel looks a bit like wainscoting and pairs well with other country elements like a farmhouse sink. They look great in white and would be quite eye-catching if used as base cabinets or the base of your kitchen island.
Single And Double Arch Cabinets
Also known as cathedral cabinets, single arch cabinet doors are essentially the raised panel style with an arch on top. Double arch cabinets have an arch on both the top and bottom. Both cabinet door styles look great in a traditional kitchen.
Glass Door Cabinets
There are plenty of glass insert cabinet door styles to bring a little extra personality to your kitchen, plain glass and leaded glass doors. Many glass cabinet doors are adorned with mullions. Mullion doors look a bit like house exterior windows, with a wood cross section dividing a glass pane into multiple sections. This style is great for display cabinets, giving you a glimpse of the dish or drinkware inside.
Full vs. Partial Overlay Cabinet Styles
Finally, when choosing your kitchen cabinets, you should consider whether the doors are full overlay or partial overlay. Partial overlay cabinets sit atop the cabinet face, leaving a gap that leaves the cabinet face frame visible between them. Full overlay cabinet doors also sit on top of the frame, but don't have frame gaps like partial overlay, giving a flat, uniform look to your cabinets.
At Lily Ann Cabinets, we offer full overlay cabinet styles. Because of their uniformity, full overlay cabinets are more visually appealing — plus they have the maximum amount of storage room, since they don't require the vertical stile between the left and right cabinet doors. You're left with plenty of space to store even the bulkiest cookware.
Find The Perfect Cabinet Styles For Your Kitchen At Lily Ann Cabinets
Lily Ann Cabinets has the best variety of RTA kitchen cabinet styles online at the most competitive prices. We also have a great list of kitchen cabinet modifications to bring an extra level of personalization to your home. Not sure which styles will look best? Request free cabinet door samples to see them in person. Get started today!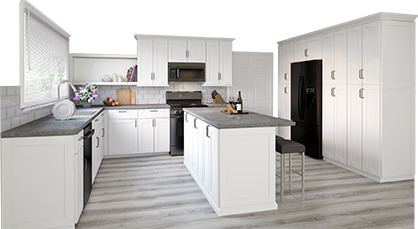 3D Kitchen Visualizer Tool
Bring your dream kitchen to life with our free kitchen visualizer!
Design Now