Buying new cabinets is an exciting experience for you and your family. Updating your kitchen or bathroom is one of the best ways to increase equity in your home. Being able to enjoy those new cabinets once they're installed is also a significant way to improve your quality of life around the house. Buying cabinets online is a great way to save time and money with that home improvement project. Instead of going from one big box store to the next, you can purchase your cabinets from the convenience of your own home. But before buying cabinets online, it's important to consider the top tips highlighted below.
How to Save Time and Money When Buying Cabinets Online
Measure Your Room First
Generate a 3D Rendering
Use Your 3D Rendering to Place Order
Consider Your Room Design or Theme
Review Style Options
Identify Delivery Details
Confirm Lead Times
Capitalize on Sale Opportunities
Contact Customer Service with Questions
Measure Your Kitchen First
Before you begin the purchase process for your new cabinets, it's important to first measure your kitchen cabinets or bathroom cabinets to find out the exact dimensions each room will require. This will help identify the size and quantity of cabinets you will need to order. Don't ever assume or estimate dimensions when buying cabinets online. This will create extra costs and delay installation. At Lily Ann Cabinets, after you measure your room and describe your cabinet project, our team of experts will generate a free 3D kitchen design rendering. Using this rendering to order your cabinets will allow you to purchase exactly what you need to get your job done the right way.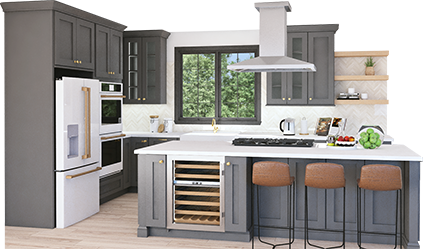 Get your FREE 3D kitchen design today!
Start Now
Consider Your Room Design or Theme
It's important to consider the overall design or theme of your room when buying cabinets online. If you are designing a modern kitchen, for example, it's best to order cabinets that accentuate the modern design of the room. The same can be said of a rustic style kitchen. If you're unclear about which style of cabinet works best with a modern or rustic design, we've offered these helpful resource guides here or here. For a modern kitchen, this means focusing on white cabinets. For a rustic kitchen, this could mean selecting a darker cabinet. In either case, receiving cabinet samples to match your floor or countertops prior to purchasing is highly recommended to make sure your cabinets fit with the overall theme of the room.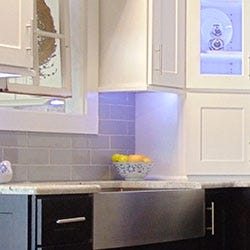 Delivery Details and Lead Times
Make sure you understand delivery details prior to buying cabinets online. The listed cabinet price could be increased significantly based on where the cabinets will be shipped. An expensive shipping cost could impact which style of cabinet you ultimately choose. At Lily Ann Cabinets, free shipping is available on RTA cabinet orders over $2,499 within select areas. Lead times could also impact your construction schedule and it's important to get an estimate of when your cabinets are most likely to ship and arrive prior to ordering and planning for install.
Capitalize on Online Sales
When you're buying cabinets online, it's important to capitalize on online sales and discount offers to save money on your purchase. At times throughout the year, Lily Ann Cabinets will offer a Fire Sale with up to 30% off selected cabinets. You will also be able to find discount offers during Cyber Monday and several other days throughout the year. Stay tuned for those opportunities and when you see them, take advantage of the offers.
Cabinet Experts Standing by to Assist with Your Purchase
Buying cabinets online does not mean that customer service representatives are unable to assist with your purchase. Our cabinet experts at Lily Ann Cabinets are standing by to answer any questions you may have about your cabinet options. We also have physical store locations in several areas throughout the country. By calling or emailing our customer service team at 800.551.1438 or info@lilyanncabinets.com, we will be happy to discuss any questions you have and help in any way that we can.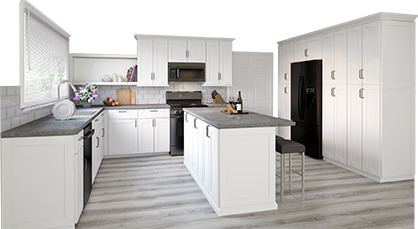 3D Kitchen Visualizer Tool
Bring your dream kitchen to life with our free kitchen visualizer!
Design Now