The kitchen is typically the focal point of the home. Good lighting can make all the difference between a pleasant, bright kitchen and a dark, cold kitchen that's less than inviting.
If you're designing a new kitchen, remodeling, or simply making some small updates, you may consider installing under-cabinet lighting. Under-cabinet lighting consists of light fixtures that are installed directly underneath your cabinets or inside of the cabinets.
Take a look at this example from Lily Ann Cabinets. The LED under-cabinet lighting here adds visual interest to the space, creating a cool, bright atmosphere.
Cabinet lighting can be incredibly beneficial for everyday use and is also easy to install. However, it's important to do your research on the different kinds of cabinet lighting and where exactly they should be installed. This article will help you determine the best under cabinet lighting for you.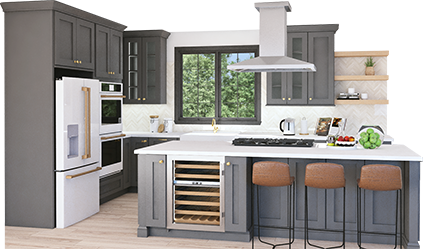 Get your FREE 3D kitchen design today!
Start Now
Benefits Of Under-Cabinet Lighting
For starters, under-cabinet lighting enhances the quality and quantity of light in your kitchen by providing a light source directly where you're working – the countertops. Overheard lighting tends to create shadows, which isn't always ideal for your countertop workspace.
Not only are under-cabinet lights brighter, they're also nicer than plain overhead lighting. A soft glow illuminating the room adds depth and makes the kitchen stand out.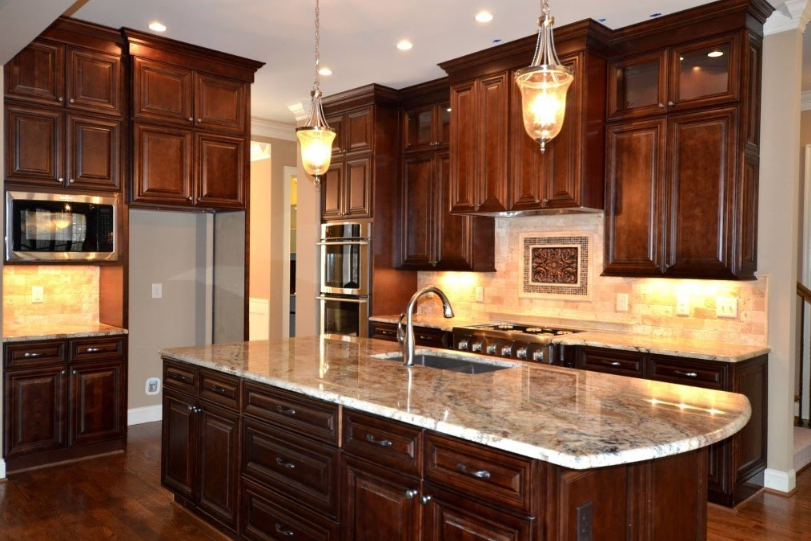 Here's a wonderful depiction of how Lily Ann Cabinets' under-cabinet lighting meshes perfectly with a few overhead light fixtures to create a warm glow throughout the kitchen.
Another benefit of under-cabinet lighting is that it will save you money over time. Your energy bill will decrease because you'll be able to light up the room without turning on the overhead lights as often. These savings will increase if you use LED lights, too.
Lastly, under-cabinet lighting will increase the value of your home. During resale, homes with under-cabinet lighting recoup 60% of the cost of a kitchen remodel project on average. Adding smaller, inexpensive quick fixes like lighting can increase your house's overall ROI.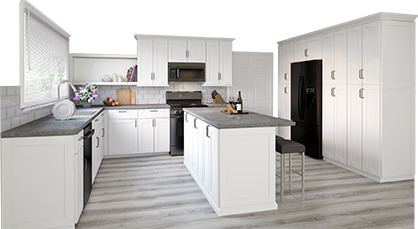 3D Kitchen Visualizer Tool
Bring your dream kitchen to life with our free kitchen visualizer!
Design Now
Types of Under-Cabinet Lighting
When considering under-cabinet lights, you'll first need to look at the multitude of different styles. There are numerous electrical variations, customizations, types of light, etc. You'll need to choose between built-in or aftermarket, to strip and puck, to LED or fluorescent bulbs. Understanding which style is right for you and your kitchen is crucial.
When it comes to electrical choices, the options are hard-wired, where you can turn the lights on by a pre-existing switch on the wall; plug-in, where the strips of light plug into an existing socket; and battery-operated, which have to be turned on individually.
For hardwired cabinet lights, you can use one switch to control all of the lights, or you can group them separately so different areas can be turned on individually. The latter is a nice option for kitchens that are larger and have more square footage of counter space. When it comes to plug-in lights, a lot of older kitchens have built-in sockets on the underside of the upper cabinets for this very purpose. Lily Ann Cabinets offers plug-in LED under-cabinet lights that can also be customized for hardwired setups.
Battery-powered lights are another good option, but you will have to replace the batteries over time. They have a shorter lifespan than lightbulbs, and they must be turned on and off individually.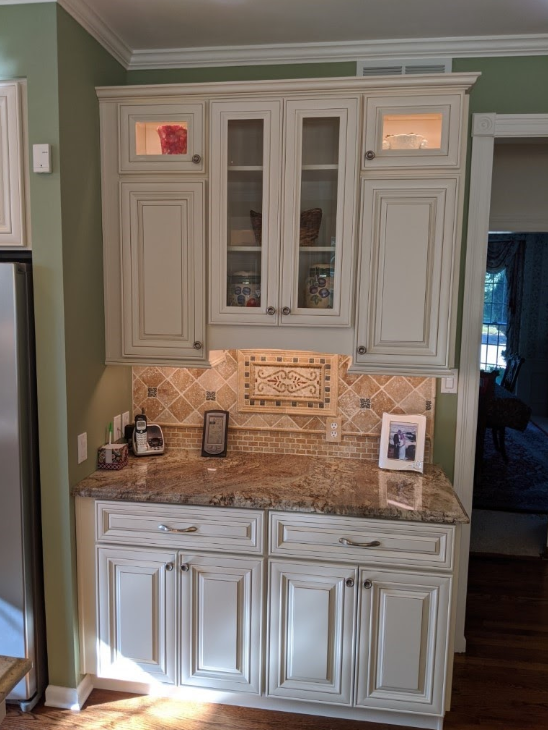 Under-cabinet lights are also available in either line voltage or low voltage styles (Lily Ann only sells low voltage lighting). Line voltage means the lights run on the same line and voltage as the rest of your house. Low voltage means you'll have to get a transformer to convert your home's voltage supply to a lower voltage. Though it seems like more work, low voltage lights are smaller, last longer, and use much less energy than their counterparts.
All of these different styles vary in cost, so make sure you're not only getting the right choice for your lifestyle, but also your bank account.
More Options
The next thing you must decide on is style. There are two common formats: light bars, or linear lights, and pucks.
Light bars are rectangular. They consist of long strips of either smaller bulbs or one single long light bulb. They can be encased in tape, rope, or a hard plastic. Lily Ann Cabinets offers a variety of different styles of light bars in all different sizes, including linkable varieties.
Pucks are small, round, hockey puck-like lights that are often battery-powered and concentrate the light into a smaller area. They're better-suited for smaller spaces or areas without a plug.
When choosing the right type of under-cabinet light for you and your kitchen, you must also consider what type of light you want to use. There's LED lights, incandescent lights, Xenon, and halogen bulbs. Taking that into account, you must also consider color temperatures and brightness for the different bulbs. Some under cabinet lights offer a cooler glow, while some offer a warmer light throughout your kitchen.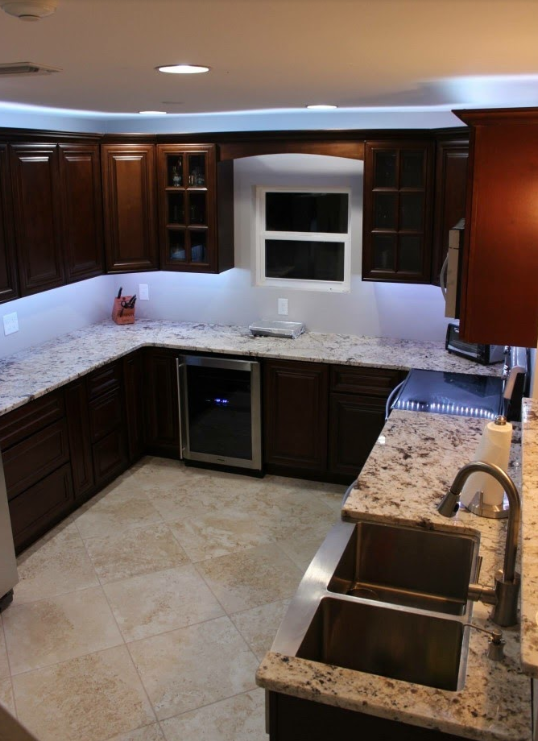 In this picture, you can see how the under-cabinet lights have a cooler tone, making the kitchen seem more refined and brighter.
The color temperature you choose should be determined in part by your style, but also by the colors in your kitchen. Warm colors, like yellows and reds, should have warmer lighting. Cooler colors like grey and white pair well with cooler lighting. Also, take into account what finish your countertops are. Matte finishes reflect light more smoothly, while shinier countertops create more glare.
All different styles of bulbs are unique in their own ways and offer a variety of benefits. However, LED has proven time and time again that it is the standout choice and offers the most benefits.
LED lights give off a temperature that is on the cooler end of the spectrum, but they can be placed behind a shaded lens, changing the temperature to the hue you want.
Additionally, LED lights are never hot-to-the-touch and burn cool, which is a great benefit since they are attached to the underside of cabinets and can be touched, bumped up against, or are above food. If you have young children, these are a great fit for you and provide peace-of-mind when it comes to safety.
LED cabinet lighting is also the most sustainable option if you're worried about the planet. LED lights use less energy and last longer. They are also easier to recycle and don't have any toxic chemicals.
Lastly, LED lights produce no UV emissions and very little infrared light. That means they're great for items that are sensitive to heat, like your precious wine collection or that painting hanging on your wall. They also are designed for any temperature. Live in Arizona and have those 100-degree days? No problem. Call Alaska home, with negative-degree nights? No big deal! They can withstand frigid climates and won't overheat or burst in hot temperatures.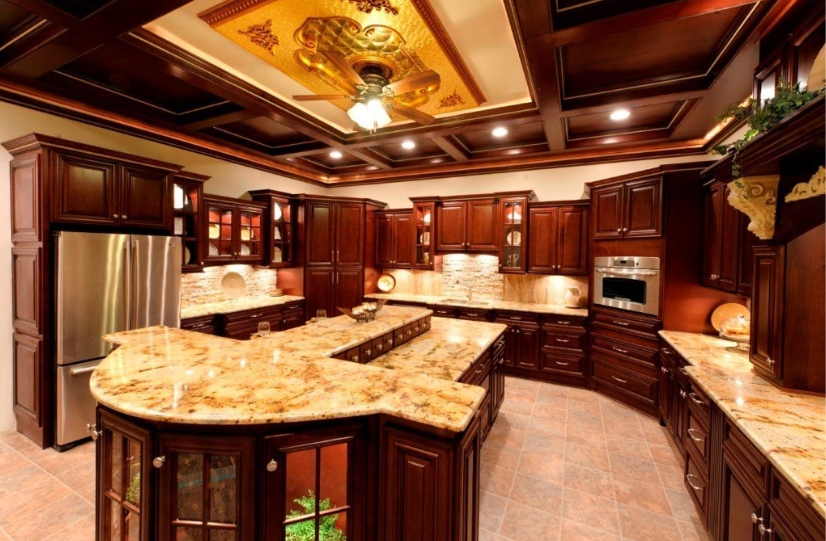 These aren't even all the amazing benefits that LED lighting can give to you and your home. By installing Lily Ann Cabinets' LED under-cabinet lighting, you'll save time, money, and even the planet!
Well-executed and carefully designed under-cabinet lighting, whether LED or another style, will make your kitchen an even more inviting place to spend time in. Not only that, but it's easy to install and the longevity will save you time and money. Visit our website today to browse our affordable selection of under-cabinet lighting! Need assistance with your kitchen design? Visit our FREE 3D design tool to connect with a professional kitchen designer today.