Cost is often a huge concern when remodeling a kitchen. However, nobody wants to sacrifice quality just to save a buck. As one of the biggest expenses you'll encounter, getting the best kitchen cabinets for the money is important. With the tips below, we'll show you how to get exactly what you need without breaking the bank!
Set Your Budget
When embarking on any major home project, it's vital to have a clear budget. Some people find this limiting, but it helps to think of it as how much you can spend, not how much you can't. By establishing a number up front, you'll be able to stretch each dollar to get the best cabinets for the money.
Since the cabinets will likely account for the largest chunk of your kitchen remodeling budget, be prepared. Do some research on materials, styles, and sizes to get a sense of what's out there before you commit to anything. It helps to know what you want beforehand as well so you don't end up spending money on styles and features that don't matter much to you.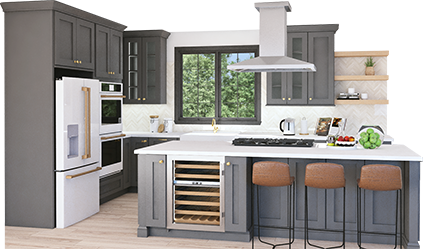 Get your FREE 3D kitchen design today!
Start Now
Be Flexible
It's always a balancing act to stay within budget and create the kitchen of your dreams. To stay on track, it's good to know where there is wiggle room on both sides. For instance, try not to confine yourself to one specific type of cabinet. Have a few different styles in mind, then weigh your options so you can pick the best quality kitchen cabinets for the money. Or, if you need to spend a little more on a particular feature, try to go with a more cost-effective wood.
Decide Which Features You Need
Depending on the type of kitchen you have, and how much time you spend there, certain cabinet features may be important. Knowing which of these details matter to you will let you decide if it's worth the added cost. For example, soft-close hinges and drawers are nice, but might not be necessary if you don't have children to worry about. Doors with pulls cost less overall and can still be made with the same high-quality materials.
Consider Quality vs. Price for Kitchen Cabinets
While you always have to think about cost, you still need to get the best kitchen cabinets for the money. When weighing quality against price, it usually comes down to three factors:
Wood
Materials
Construction
Certain species of wood, like hickory and maple, tend to be more expensive. On the other hand, birch is still very high-quality, but it often doesn't cost as much. Be on the lookout for low-cost materials, though - if something seems extremely cheap, it's probably made with lesser components, such as furniture board.
When it comes to construction, especially when shopping for ready-to-assemble (RTA) cabinets, seek out dovetail assembly — it's affordable, high-quality, and easy-to-use.
Go with RTA Cabinets Over Custom-Made
Having fully customized cabinets is great, but quite expensive. Every custom component adds to the bill, so it all goes back to deciding what you really need. That's why many people consider RTA kitchen cabinets the best for the money. Additionally, assembling the cabinets yourself cuts down on labor costs, the next biggest factor in price.
Shopping at Lily Ann Cabinets is a Great Start
If you're looking for the best quality kitchen cabinets for the money, you've come to the right place. We manufacture our easy-to-assemble RTA cabinets with top-notch materials, and since you're buying wholesale, you'll be saving a lot of money. Plus, we offer samples and a FREE 3D kitchen design tool so you're sure to get exactly what you want. Shop Lily Ann Cabinets today!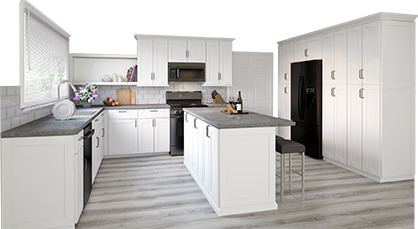 3D Kitchen Visualizer Tool
Bring your dream kitchen to life with our free kitchen visualizer!
Design Now