There are a lot of factors to consider when buying new kitchen cabinets, but the materials they're made of should always top the list. If you want your new kitchen to last, you need to choose cabinets made of sturdy woods that won't split or warp over time. And there's one particular phrase that's only used to describe kitchen cabinets that are NOT truly sturdy. That phrase is "furniture board."
What Is Furniture Board?
You may have seen this phrase come up in your search for kitchen cabinets. It may sound like a legitimate material — if people are building furniture with these boards it has to be decent quality, right? Not necessarily. Furniture board is actually just a sneaky way of saying "particle board" or "medium-density fiberboard (MDF)." Particle board is a manufactured wood made of wood chips and resin, and generally covered with a veneer, laminate or lacquer afterward to improve its appearance, since it has no natural grain. If particle board is used in furniture, it's the kind you would find in a college dorm.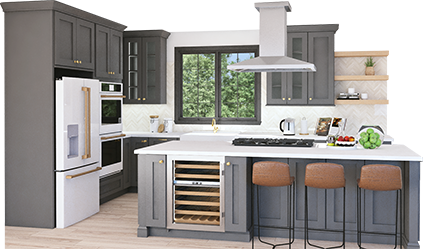 Get your FREE 3D kitchen design today!
Start Now
Drawbacks of Furniture Board
Furniture board poses a lot of problems, especially for RTA cabinets. During the assembly process, particle board cabinets are prone to splitting. Once they're installed and have the weight of your dishes, food, and other kitchen essentials inside, they also tend to sag. These kitchen cabinets are not built to last, either. Over time, particle board cabinets can swell along with any other splitting or sagging that may have occurred early in the installation process. They are also easily discolored from sunlight and everyday wear. Overall, they just aren't a smart choice for your kitchen.
What To Look For
Instead of opting for particle board, which is tempting given how inexpensive it can be, choose kitchen cabinets made of plywood or natural hardwoods. Sometimes particle board is combined with plywood to increase its durability, but it's still better to avoid MDF altogether. At Lily Ann Cabinets, all of our RTA cabinets are made of either plywood, your choice of hardwoods or a combination of both. On top of having great materials, our cabinets also frequently use the dovetail assembly method, giving them extra strength where it counts. Being RTA wholesale cabinets also means that, in spite of our superior materials, you won't find prices this good at your average big box store. View our entire selection of RTA cabinets for your kitchen or check out our free design tool to get started on your dream remodel!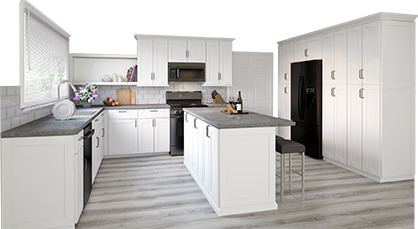 3D Kitchen Visualizer Tool
Bring your dream kitchen to life with our free kitchen visualizer!
Design Now