Bring functionality and charm to your galley kitchen remodel with these 9 smart Kitchen design ideas.
What Is A Galley Kitchen?
In a galley kitchen layout, two parallel runs of cabinets are installed along opposing walls, leaving a long, straight walkway in between. This kitchen design style is sometimes cast in a negative light as it can easily feel small and cramped. However, there are many tweaks that can be made to make a galley kitchen feel larger and more welcoming. Bright colors, efficient lighting, open shelving, and cabinet storage are all easy solutions that can take a galley kitchen from dark and drab to bright and beautiful in no time.
Our professional kitchen designers have helped hundreds of customers with their galley kitchen remodels. In this blog, we've compiled their best tips for turning a small galley kitchen into a beautiful, functional space. Read on to explore 9 clever ideas for enhancing a galley kitchen layout.
1. Try A Two-Toned Design Scheme
This small apartment galley kitchen features two-toned cabinets in blue and white, with bright white walls and matching white countertops. To balance out the design, dark colors are confined to the bottom with light colors on top. This way, the eyes are drawn upwards and don't focus as much on the narrow layout of the space.
Read More: Get the Two Toned Cabinets Look | Creative Tips & Photos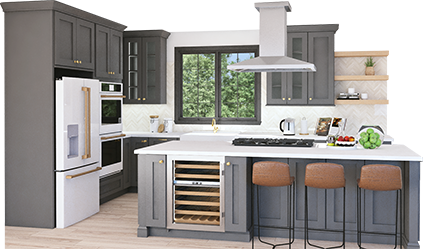 Get your FREE 3D kitchen design today!
Start Now
2. Open Up The Wall
To make a galley kitchen feel larger, cut out a square in the dividing wall to open up the space to the rest of the house. To add functionality, turn the gap into a small dining nook like designer Sarah Sherman Samuel did in this contemporary home remodel.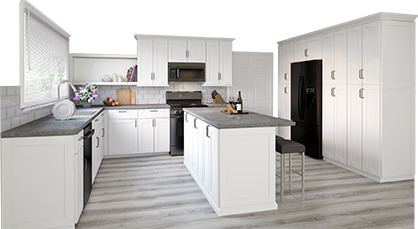 3D Kitchen Visualizer Tool
Bring your dream kitchen to life with our free kitchen visualizer!
Design Now
3. Let There Be (Artificial) Light
If the natural lighting isn't an option in your galley kitchen, invest in a high quality ceiling light. Be sure to choose a large light fixture that illuminates the entire space. With a galley kitchen, the last thing you want is for the space to feel dark and shadowy. For the lightbulb, try halogen bulbs—this type of incandescent light is the closest in variation to natural light, also called "white light." Colors look sharper with halogen lights and your kitchen will appear bright and vibrant, even without natural light from a window.
4. Install Open Shelves
Donna Griffith
In some small galley kitchen designs, homeowners opt to forego upper cabinets in favor of open shelving. Using open shelves (also called floating shelves ) keeps the space from feeling closed off by bulky cabinets. Oftentimes, additional base cabinets are added to make up for the lost storage space.
The aesthetic appeal of open shelves is paralleled by their affordability—kitchen shelves are widely available and match almost any kitchen design scheme. To ensure the end result looks fresh and clean, avoid leaving clutter on the shelves. Instead, choose your favorite dishware, cookbooks, and small decor items to showcase in the open space.
Read More: 8 Stylish Floating Shelf Kitchen Ideas for Kitchen Storage
5. De-Clutter The Counter Space
With any kitchen layout, it's important to keep the countertops clear. The blank slate of a clean counter allows the eye to be drawn to design elements like cabinetry, appliances, and of course, the countertops themselves! Keeping the counters clutter-free is especially important for galley kitchens.
Since the kitchen is confined to two parallel walls, the countertops become the "dividing line" separating the top and bottom halves of the kitchen. To illustrate, this kitchen by Allisa Jacobs features clean and crisp white countertops to complement the white shaker cabinets. However, if there were stray food containers, extra appliances, and random household items strewn among the counters, the kitchen would feel cramped, disorganized, and out of balance. If you find you need more storage space to stow away these items, read on to our next tip!
6. Utilize Clever Storage Solutions
Pinterest
With any small kitchen design, efficient storage is of utmost importance. Finding proper cabinet storage solutions can make the difference between a cluttered design disaster and a well-organized, functional kitchen.
Cabinet organizers such as roll out shelves, pull out trash can inserts, and utensil dividers ensure that you're maximizing every inch of your kitchen cabinets. Especially for narrow galley kitchens, cabinet storage solutions like roll out shelves can make base cabinets more easily accessible within a cramped space.
7. Embrace Contrast
When it comes to small spaces, homeowners tend to shy away from dark colors. However, dark colors like deep browns, navy blue, and black can drastically enhance the overall look of space if paired with a bright contrasting color. For example, this classic tuxedo galley kitchen utilizes black floor tile accents, black countertops, and a few other black decor items to bring drama to an otherwise monotonous white galley kitchen.
Bare in mind that it's not always necessary to go as bold as this design. Choosing something as simple as a darker cabinet hardware color can create an eye-catching contrast. Even in the smallest of galley kitchens, contrasting colors can distract the viewer from the size of a cramped space.
8. Accessorize with a Floor Runner
Pinterest
Add some personality to a galley kitchen with a fun patterned floor runner. Sometimes, all a drab kitchen needs is a touch of design flair—and a rug is an easy solution. The great thing about rugs is they are very affordable and easy to swap out when you're ready for something new. Plus, a long rug running the length of a galley kitchen can make it appear larger than it really is. A win-win!
9. Add An Island
Pinterest
Galley kitchens with islands are popular with homeowners who desire extra countertop space. If the width of the kitchen is large enough, adding a center island is a great way to increase the amount of storage and cooking workspace available. For smaller galley kitchen designs, a narrow table can be substituted for a center island. When installing an island or adding a table, just ensure that the neighboring cabinet doors can still open fully.
Read More: 10 Incredible Small Kitchen Island Ideas You'll Want to Copy Immediately
Design Your Dream Galley Kitchen Today
Lily Ann Cabinets has everything you need to complete your dream galley kitchen remodel. Browse our extensive selection of affordable ready-to-assemble cabinets to get started. Need some help visualizing our cabinets in your kitchen? Take advantage of our FREE 3D design tool!